Harvests improve despite COVID-19
By WANG XIAODONG in Beijing and LIU KUN in Wuhan | CHINA DAILY | Updated: 2020-09-24 09:13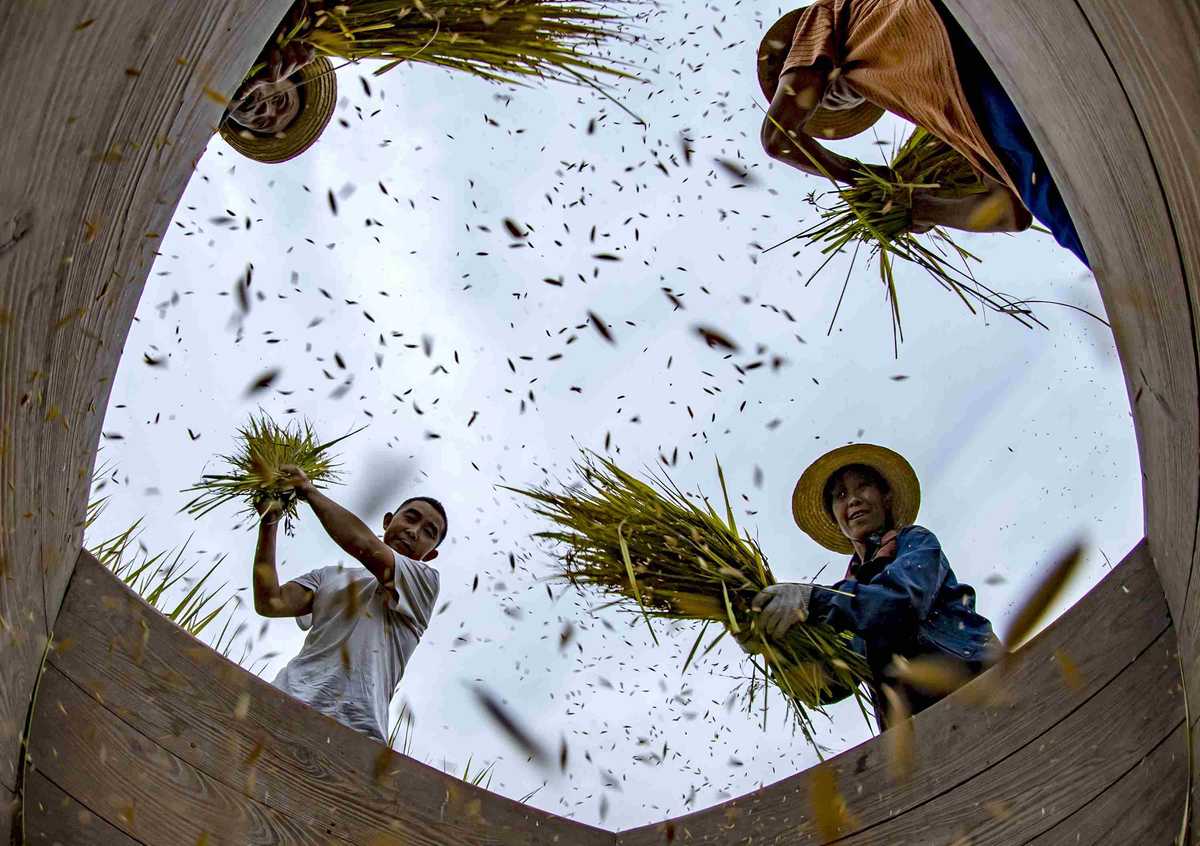 Favorable policies initiated by central government cited as reason for boost
Having reaped a good crop of wheat in the first half of the year, Wang Wenjun, a farmer in Xiangyang, Hubei province, is now busy preparing for a fall harvest of rice and sweet potatoes.
With 5.7 hectares of rice ripening, Wang expects a harvest of 51 metric tons in the following weeks. Then he plans to reap his sweet potatoes-he planted 2.7 hectares of the tubers this year, more than triple last year's area.
Wang, from Xiazhuang village, said this translates into an increase of his total harvest this year, despite the impact of the COVID-19 outbreak that temporarily hindered pest and weed control.
Hubei province, the area hit hardest in China by the COVID-19 pandemic and that is also a major grain producer, has already seen a good harvest despite the disease. Total grain production for the summer harvest reached 4.7 million tons in the province this year, a year-on-year increase of 3.2 percent, according to the provincial government.
Throughout China, total grain production for the summer harvest this year exceeded 142 million tons, a rise of 0.9 percent compared with last summer, according to the National Bureau of Statistics.
Furthermore, a good autumn harvest, which accounts for the bulk of total grain production for a whole year, is almost certain this year, judging by the growth of major grains such as rice, corn and soybean, the Ministry of Agriculture and Rural Affairs said on Wednesday.
It is expected that total grain production in China will remain at 650 million tons for the sixth consecutive year, which will effectively ensure food security, the ministry said.
Food security has been a top priority in China, which has the world's largest population. President Xi Jinping has been attaching great importance to food production and ensuring food security. During an inspection tour in July in Jilin province, a major agricultural production base in China, Xi urged local authorities to try their best to ensure a good autumn harvest, following a good summer harvest.
After decades of efforts, China has gained self-sufficiency in the supply of major grains, such as rice and wheat, and food security has been improving. Per capita ownership of grain in China has reached 470 kilograms, higher than the 400-kg international standard for food security. With just 9 percent of the world's farmland, China has successfully fed nearly 20 percent of the world's population, an achievement applauded by the United Nations.
Despite consecutive good harvests in recent years, this year's good harvest is hard won and has special significance considering the COVID-19 pandemic, said Han Changfu, minister of agriculture and rural affairs.
Because of the ongoing pandemic, which has had a tremendous impact on global food trade-along with the occurrence of natural disasters such as severe drought, as well as pest swarms such as the locusts that have ravaged more than 20 countries-food crises are widely anticipated, he said.
"Under such a situation, it is urgent for us to ensure a good domestic agricultural harvest to cope with the uncertainty of the global market," he said.
Although China has a sufficient domestic supply of major grains such as rice and wheat, China will continue to need imported soybeans, which are mainly used for oil and animal feed, to make up for its shortage in domestic production, he said.
Although prices of rice, wheat and corn in China have increased slightly compared with last year, they are normal fluctuations and will not have a big impact on the market, Han said, while also urging the public to take measures to reduce food waste.
Multiple factors have contributed to a good harvest this year, including favorable policies by the central government to encourage grain production such as providing financial support and subsidies, Han said.
The ministry also made great efforts to guide grain production, including formulating guidelines to help farmers cope with natural disasters in agricultural production, and sending more than 40 expert teams across China to provide technical assistance to farmers, he said.
Li Jianjun, an official from the bureau of agriculture and rural affairs in Yichang, Hubei province, said the city is expected to have a good harvest in the autumn, with a total expected production of 1.3 million tons, an increase of more than 6 percent compared with last year's autumn output.
The city has taken a slew of measures to counter the impact of COVID-19 to ensure good agricultural production, including improving services to agricultural companies so farmers can have access to materials such as fertilizers, pesticides and machinery in a timely manner.