'Groundless' US accusations rebutted
Share - WeChat China hopes the United States will face the facts squarely and treat relations between the two countries and the two militaries in a correct way, Senior Colonel Tan Kefei, spokesman for the Ministry of National Defense, said on Thursday.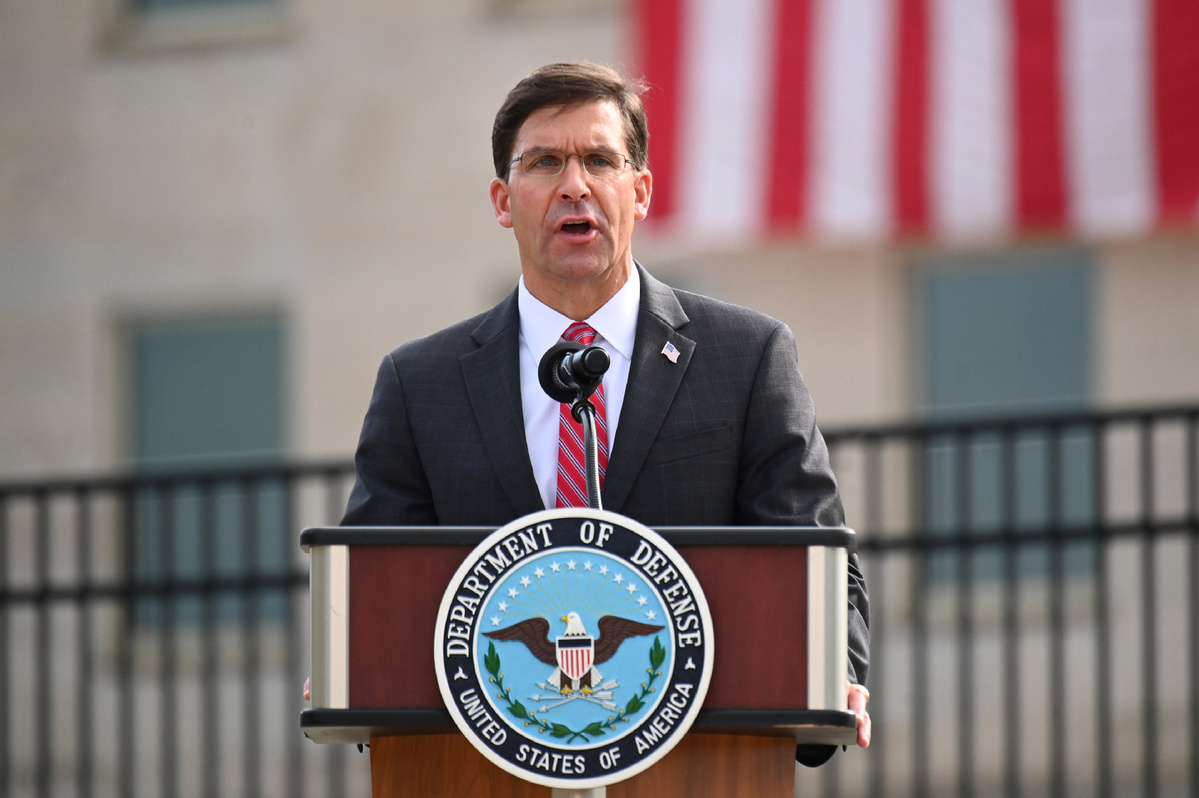 Tan made the remark at a news conference in response to recent statements made by US Secretary of Defense Mark Esper against China and the Chinese military. Esper said China and Russia want to disrupt the international order that the US led the world to establish after World War II, and China may have supplied artificial intelligence surveillance equipment to authoritarian countries.
Tan, calling the accusations "false and groundless", said China firmly opposes these statements and hopes the US will properly handle relations between the two militaries.
He said China is committed to developing a nonconfrontational and nonconflicting relationship with the US based on mutual respect and win-win cooperation, while firmly safeguarding national sovereignty, security and development interests.
Tan pointed out that China firmly defends the purposes and principles of the United Nations Charter, which promotes the maintenance of international peace and security and says all member states should settle international disputes by peaceful means.
China also resolutely upholds the international system with the United Nations as the core, as well as the international order based on international laws. The nation also conducts exchanges and cooperation with countries around the world in accordance with the basic norms of international relations, he said.
As an active advocate and practitioner of international justice, China has participated in 25 UN peacekeeping operations and dispatched more than 40,000 peacekeepers over the past 30 years, making it the second-largest contributor to the UN's peacekeeping budget and the largest contributor of peacekeepers among the five permanent UN Security Council members.
It has faithfully fulfilled the mission of peacekeeping and made positive contributions to safeguarding world peace and promoting common development. The US, on the other hand, has insisted on pursuing unilateralism, protectionism and power politics, constantly evading international responsibilities, and has successively decided to withdraw from a series of international organizations and treaties, such as UNESCO, the UN Human Rights Council, the World Health Organization and the international Paris Agreement on climate change brokered by the UN, Tan said.
The US still owes more than $2 billion in UN membership fees and peacekeeping funds, making the country a violator of international rules and destroyer of international order, he added.
Calling the steps of the Chinese nation's great rejuvenation "unstoppable", Tan said cooperation is the only correct option that will benefit both countries. Frictions, he said, will only lead to mutual damage.
"We hope that the US will meet China halfway, strengthen communication and understanding, manage risks and divergences, show goodwill, match words to deeds on cooperation issues and work together to promote the stable development of relations between the two countries and the two militaries," he said.