Xinjiang villagers see huge changes after relocation
By Cao Yin in Kashgar, Xinjiang | China Daily | Updated: 2020-09-28 09:12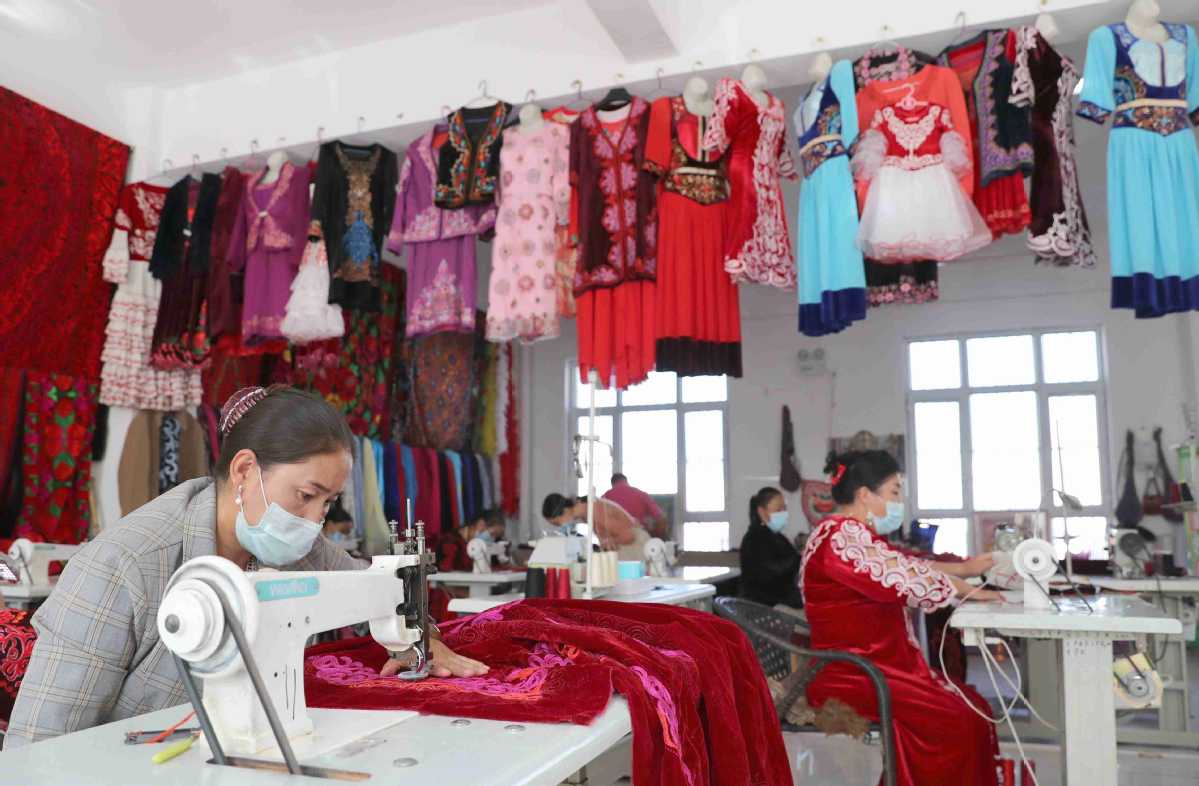 Two years ago, it took Aytursun Abdureshit at least three hours to travel from her home to a railway station in Yecheng county, Kashgar prefecture, Xinjiang Uygur autonomous region.
Now, it takes her just a 15-minute drive.
The change came after Aytursun moved to a new community in Aktax township, about 20 kilometers from Yecheng's downtown area, from a village in a mountainous area some 60 km further away.
"My old home's roof was always leaking on rainy days, and few vehicles went to our village due to our bumpy roads," Aytursun, a member of the Uygur ethic group, said. "I planted flowers, but they couldn't be sold in winter because of the mountainous area's harsh natural conditions."
After the relocation, the 19-year-old has been able to grow and sell flowers year-round since she leased a greenhouse in the community. She estimated she will earn about 30,000 yuan ($4,394) this year from flower sales and vegetable cultivation.
Since 2017, some 14,000 impoverished people from the mountainous area have gradually moved to the community under the county's plan to resettle poor households and help lift them out of poverty.
Besides new homes, the community also provides the relocated residents with various facilities offering opportunities for employment, including markets, a kindergarten, a primary school, factories, livestock farms and vegetable planting bases.
Bumayram Wubul, another Uygur woman, has been earning a better living by selling handmade clothing since she moved to the community last year.
"In the past, when our crops were ready to be harvested, flash floods came and washed them away," she recalled. "Everything was gone in a few seconds, which always made me want to escape the terrible living environment."
At the time, though, her family could not make enough money off the barren land to move away, "so I had no choice but to endure the suffering," the 41-year-old said.
Thanks to the relocation, Bumayram lives in an apartment building and uses what she earns from sewing to buy fresh vegetables. Her two daughters-one in middle school and the other in primary school-no longer need to go to school by donkey cart.
Bumayram said the most important change she has seen is the diversity of jobs offered in the community.
"I took the initiative to seek the sewing job, as I want to earn money with my own efforts," she added. "I don't want to live a life growing low-quality crops by relying on weather anymore."
More than 200 km from Yecheng, the lives of about 6,000 members of the Kirgiz ethnic group have also improved since they abandoned shabby houses, muddy roads and barren land in their villages at the foot of the Kunlun Mountains and moved to a new community in Aktaw county in Xinjiang's Kezilesu Kirgiz autonomous prefecture last year.
"I never thought I could do what I love in a place closer to my home. I appreciate the relocation," said Zuraykh Yusan, who has organized a sewing team with 20 other women in the community, making Kirgiz clothing, carpets and handicrafts.
She said she can make as much as 2,000 yuan a month from the job, adding that having a stable income helped her escape poverty last year and made it easier to take care of her family.
Xinjiang Daily reported in May that the task of alleviating poverty through relocation was completed in the autonomous region last year, with nearly 170,000 impoverished people moving to new homes.
Based on the improved living environment, Xinjiang has also been intensifying efforts to help relocated people earn sustainable incomes by teaching them more skills and providing them with more job options, the newspaper added.