Xi's speech to UN sets the tone for cooperative path to common future
Share - WeChat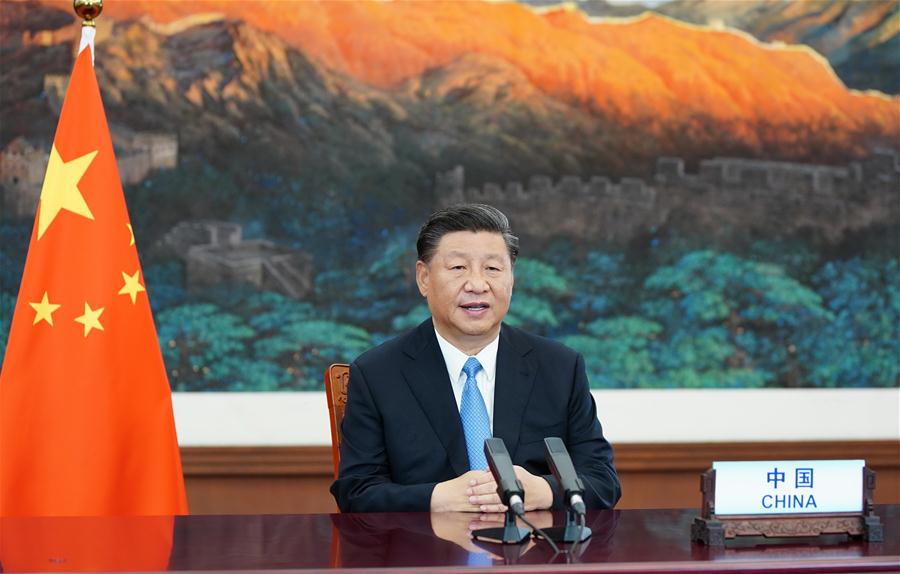 President Xi Jinping's speech on Sept 23 at the 75th Session of the United Nations General Assembly was thoughtful, conciliatory, constructive and dignified. It looked forward to a peaceful world in which any competition would be positive, healthy, and comply with international norms.
Due to COVID-19, he had to give the speech virtually, but both in content and presentation style, it was an effective piece of oratory and the most significant of the occasion's various speeches.
COVID-19 has been disastrous for the world economy and society and has affected international relationships. No surprise then that it dominated the speeches, including Xi's.
There were three main takeaway messages from Xi's speech.
The first was the need for international cooperation in fighting COVID-19. Just as he had done at the World Health Assembly on May 18, he committed China to $2 billion of international aid over two years to help other countries restore their economic and social development. He also committed several Chinese-developed vaccines, already in phase three clinical trials, as a "global public good".China will not horde the vaccines it develops, a good model in a world where "vaccine nationalism" seems the order of the day and each country is caring only about itself.
In line with such a cooperative approach, Xi said, "We should follow the guidance of science, give full play to the leading role of the World Health Organization, and launch a joint international response to beat this pandemic." Doesn't that seem completely obvious? Yes, but the fact is that US President Donald Trump's speech was largely about blaming China for the virus.
No wonder Xi commented that "any attempt of politicizing the issue or stigmatization must be rejected". How right he is.
The second takeaway message was the emphasis on multilateralism. "We should stay true to multilateralism and safeguard the international system with the UN at its core," Xi said. He warned against falling into the trap of the "clash of civilizations" and advocated instead that peoples see each other "as members of the same big family". They should not argue about ideology all the time but "pursue win-win cooperation". "More importantly," he added, "we should respect a country's independent choice of development path and model."
Xi also emphasized maintaining multilateral trade and opposing unilateralism and trade protectionism. Putting up trade barriers to benefit one against another on the basis not of mutuality but of petty competition can lead only to damage for everybody.
The emphasis on sharing a common future for humankind is very appealing. Moreover, again how different this is from Trump's speech. The US president said he was "proudly putting America first, just as you should be putting your countries first". Xi's conciliatory approach is infinitely preferable to the confrontative, even dangerous, road openly advocated by his American counterpart.
The third takeaway from Xi's speech was his approach to climate change. Science and our experience over the past few years tell us this is an urgent issue confronting humankind. The world must take effective action, but must do so without ruining economies. He called on all countries "to pursue innovative, coordinated, green and open development for all".
One point that stood out as particularly significant was Xi's aim for China to have CO2 emissions peak before 2030 and achieve carbon neutrality before 2060. A couple of points were striking about these aims.
For starters, this is the first time Xi has proposed such clear dates. Second, it is going to be difficult for China to achieve such aims. Still, to say it will be difficult is not to say China will fail. I know from experience that nobody should underestimate the resolve and hard work of the Chinese and their ability to make personal sacrifices to achieve community goals. So I wish them well with these environmental aims and am confident of their success.
Overall, Xi's speech is part of a long-term shift in China's favor. A green and shared common future for humanity is preferable by far to the kind of nationalism that wants to make this or that country "great again" or a powerful hegemon dominating the world.
The author is an emeritus professor at Griffith University in Queensland, Australia, and a Sinologist.