Miles apart, but sharing the same goals online
By GUI QIAN in Guangzhou | CHINA DAILY | Updated: 2020-10-09 08:57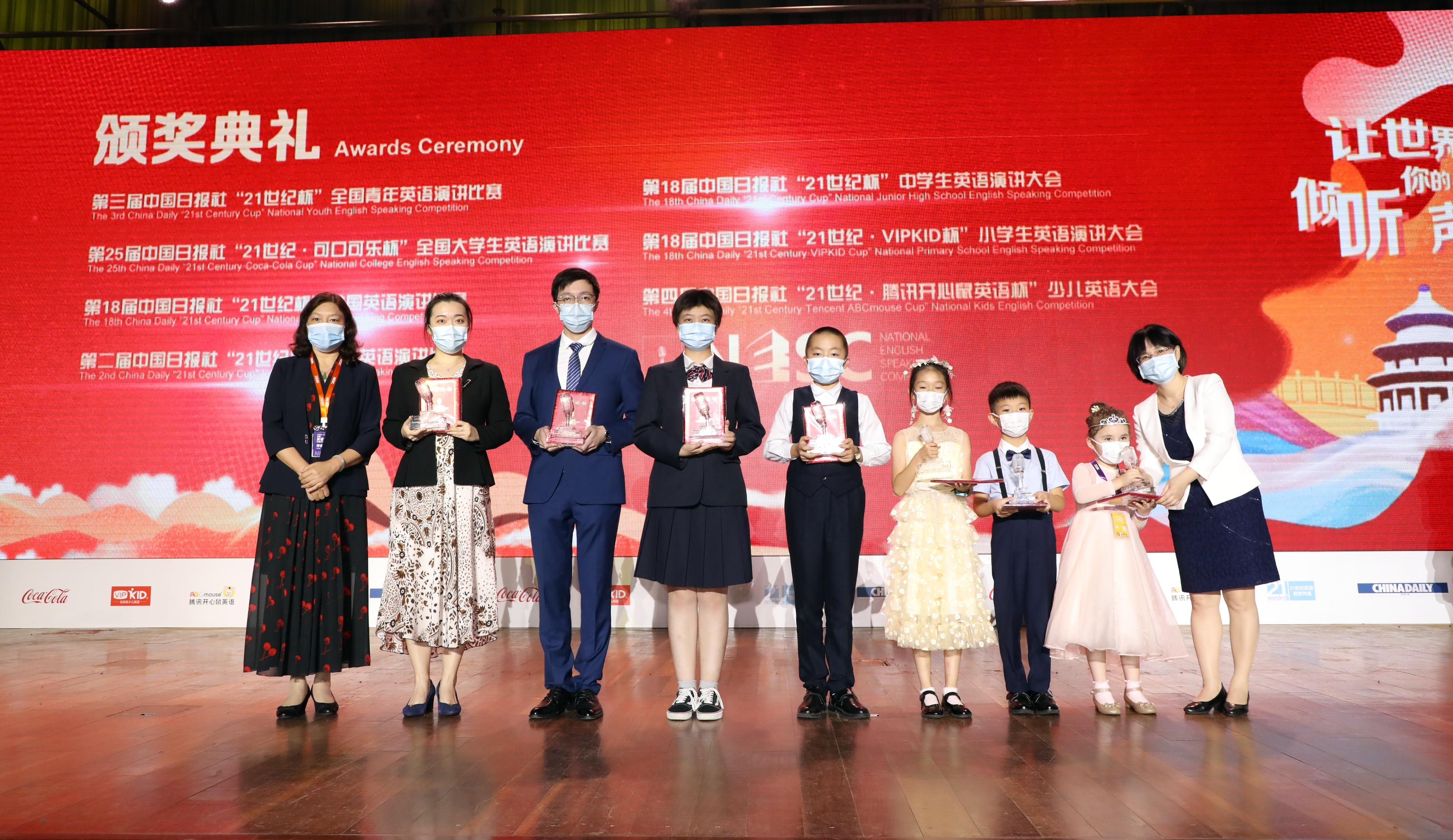 Young people from around the world had been eager to attend the international speaking competition as a way of reaching out to one another after the isolation caused by the COVID-19 pandemic.
Instead, they bonded by "gathering online" to take part in the China Daily 21st Century Cup International English Speaking Competition that finished on Wednesday.
The competition started in September last year and the finals were scheduled to be held in April, but had to be postponed due to the pandemic.
Nearly 400 finalists, from kindergarten children to young professionals, competed onstage at Guangzhou Baiyun International Convention Center in Guangdong province this week. Dozens of contestants from Hong Kong, Macao and foreign countries took part in the competition through videoconferencing due to quarantine requirements to curb the spread of COVID-19.
Wang Zongnan, from the Communication University of China, said his dream was shattered when he was told in spring that the competition finals had been delayed.
"I hoped to gain a large following from attending this competition, make a group of good friends, and, if I was lucky enough, find a girlfriend," said the finalist in the college section, who participated in the event in person.
Attending the national English speaking competition was a dream for many young public speakers, said Wang Guan, a CGTN host and a member of the judging panel. Many of the contestants had been preparing for the competition for a year, Wang said, and it was "a good reward" for them that the contest was successfully held.
Wu Bojin, from Zhejiang University, was first runner-up in the Belt and Road Youth English Speaking Competition. During the final on Tuesday, contestants from six countries logged on to an online platform and gave speeches to a panel of judges sitting in a conference room in Guangzhou.
Wu said it was a pity the speakers could not receive an instant response from the audience, but being able to participate made him happy enough. The competition "makes people realize that life is back on track", he added.
Afghan contestant Suraj Samim praised the competition for sending a positive message. "We are miles apart, but we have the same goals," he said. "It has also given me the lesson that nothing is impossible in this world."
The pandemic not only forced competitors online, but it also meant some of them had to change how they delivered their speeches.
Wu Ziyue, from Macau University of Science and Technology, said she trained herself to focus on a camera instead of a big crowd.
"Although I wasn't used to it at first, it was still a pretty special experience for me," she said.
When asked what she had taken away from the competition, she quoted two of the subject topics for finalists-"No person is an island" and "Seize the day".
"Public speaking events like the 21st Century Cup highlight the significance of connection, expression and communication," she said.
Wu Qian contributed to this story.