US urged to stop politicizing exchanges
By Zhou Jin | CHINA DAILY | Updated: 2020-10-15 09:40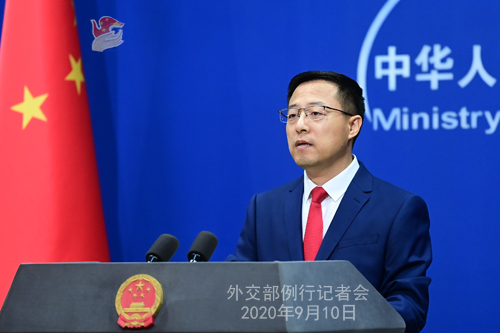 China urged the United States on Wednesday to stop politicizing bilateral people-to-people exchanges and make more efforts to promote mutual understanding and cooperation.
Foreign Ministry spokesman Zhao Lijian made the remarks after the US State Department demanded that US think tanks and foreign policy organizations that wish to engage with the department disclose funding they receive from foreign governments.
The move was unveiled on Tuesday, citing concerns that some foreign governments, such as China and Russia, seek to influence US foreign policy through lobbyists, external experts and think tanks.
The US has been hyping up so-called infiltration and influence from foreign governments for some time, suppressing, restricting and even intimidating US universities and think tanks from engaging with China, Zhao noted.
He told a news briefing that such practices harm normal cultural communication and people-to-people exchanges between China and the US, which run counter to the freedom and openness the US claims to champion, and go against public opinions of both countries.
Such practices have also exposed the "hypocrisy, weakness and lack of confidence" of some US politicians, he added.
Cultural exchanges between China and the US, including communication between their think tanks, are open, transparent and legitimate, and have helped enhance mutual understanding between the two peoples and have pushed forward bilateral ties, Zhao said.
"We urge the US to abandon the Cold War mentality and ideological prejudice, stop the wrong practice of politicizing people-to-people exchanges and do more that is conducive to enhancing mutual trust and cooperation, not the opposite," he said.
The US has taken various measures to block bilateral people-to-people exchanges, including political oppression of Chinese media outlets based in the country, restrictions on visas of Chinese students and suspending academic communication programs. China also took restrictive measures on US media outlets on the mainland in response.