Parliament endorses Bishkek emergency state
By Ren Qi in Moscow | China Daily Global | Updated: 2020-10-15 10:15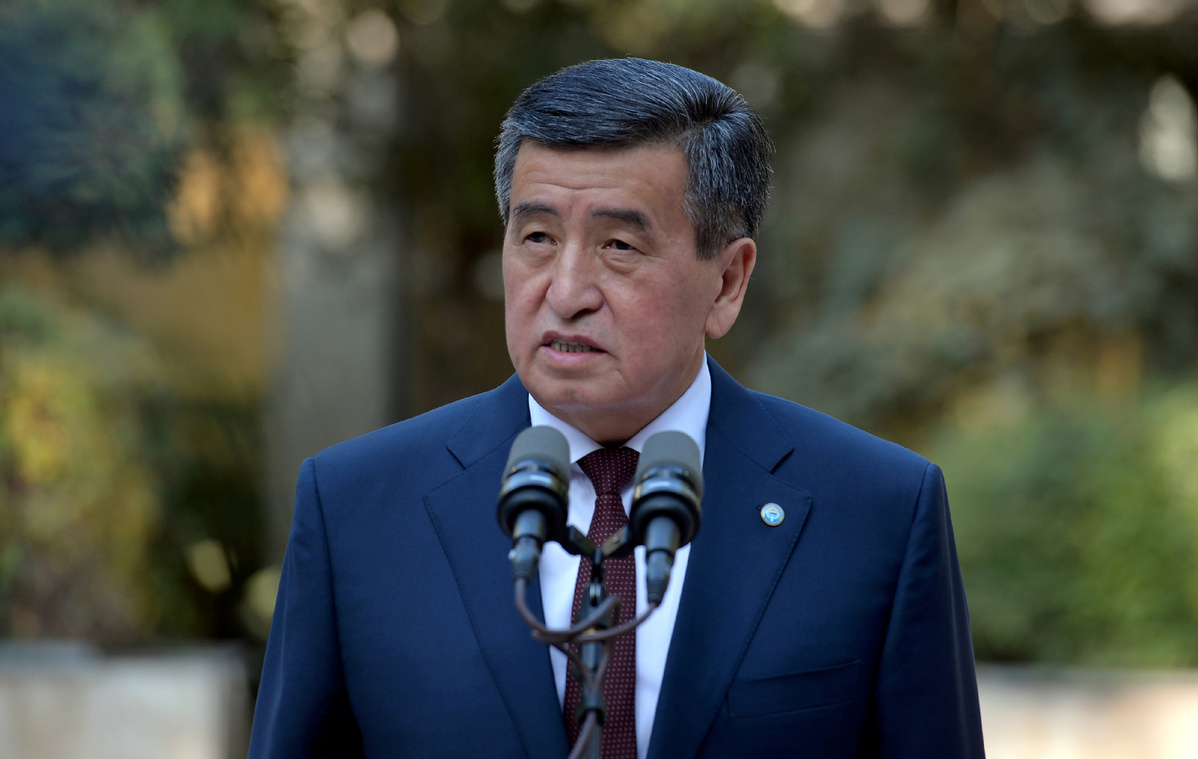 Kyrgyzstan's President Sooronbai Jeenbekov won parliamentary endorsement for his decree to introduce a state of emergency in the capital of the Central Asian nation on Tuesday.
Jeenbekov first announced a state of emergency in Bishkek on Friday, but the parliament failed to approve the measure within three days as required by law.
On Monday, Jeenbekov launched a second attempt to impose the measure, and lawmakers endorsed it on Tuesday.
Jeenbekov asked the parliament to vote again on a new prime minister after MPs backed Sadyr Japarov, an opposition politician recently freed from jail by supporters.
On Wednesday, Jeenbekov returned documents related to the appointment of Japarov's Cabinet back to Parliament.
The move came as the Kyrgyz president has faced pressure from the opposition and protesters who stormed government buildings a night after pro-government parties swept parliamentary seats in the Oct 4 vote.
Later on Wednesday, the parliament named Japarov as prime minister in a repeat vote, a step toward ending a political crisis.
Last week, the Central Election Commission overturned the parliamentary vote results and protest leaders moved quickly to form a new government.
Japarov was named by the parliament as the country's new prime minister after his predecessor stepped down on Saturday.
However, some lawmakers refused to recognize the legitimacy of the process, and raised questions about the session that endorsed Japarov and his cabinet, citing a lack of quorum.
Japarov then addressed the country's people, announcing his appointment and revealing his plan to run the government.
The program includes measures to "stabilize the situation in the country", protect investors and small and medium-sized businesses, ensure food security and "bring to justice all officials involved in corruption", he said.
Jeenbekov met Japarov on Tuesday. The president confirmed the appointment of Japarov as prime minister on Wednesday, Jeenbekov's office said.
Visit by Putin's aide
The president had said there were doubts over whether lawmakers had followed voting rules, prompting him to request the second vote in the parliament.
"To maintain and strengthen stability in the country, all our decisions must be legitimate and not be questioned," Jeenbekov was quoted as saying in a statement on Tuesday.
The president's announcement came shortly after Dmitry Kozak, a senior aide to Russian President Vladimir Putin, visited the country on Monday, meeting both Jeenbekov and Japarov.
Kozak came "on behalf of Russian President Vladimir Putin", it said, while giving no details of what was discussed, said a statement on the Kyrgyz president's website.
Kozak's visit was Moscow's first visible intervention in the crisis after post-vote protests grew into clashes, the Moscow Times reported.