UK nationwide lockdown in pipeline
By JONATHAN POWELL in London | China Daily Global | Updated: 2020-10-15 11:01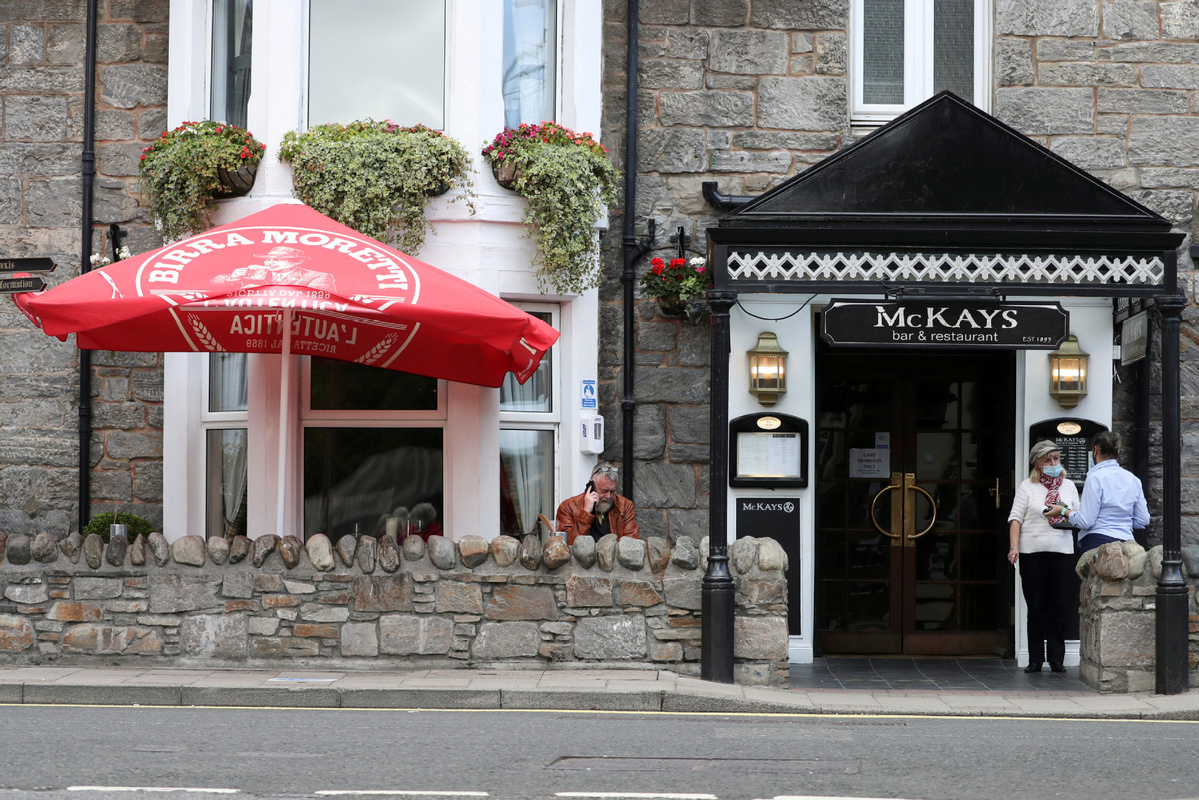 Two-week 'circuit-breaker' mooted as death toll registers four-month high
The British government is coming under concerted pressure to consider a two-week "circuit-breaker" lockdown action to contain the surge of the novel coronavirus across the nation.
The opposition Labour Party leader Keir Starmer warned Prime Minister Boris Johnson that the strong measure is needed to avoid the United Kingdom potentially "sleepwalking into a long bleak winter".
Speaking in Parliament on Wednesday, Johnson did not rule out a so-called circuit breaker if his three-tier alert system for regions brought in on Wednesday failed.
The Daily Telegraph newspaper reported that a decision would be taken toward the end of next week, with its government sources saying the chances of the circuit breaker happening were "at least 80 percent".
If the spread of the virus is not reduced by the latest measures, a circuit breaker would bring a two-week closure of pubs, restaurants and other businesses.
State schools in the UK start their mid-term break, known as half-term, on Oct 26, and it is believed it is on this date that the start of any temporary lockdown would begin.
The Telegraph noted that the prime minister prefers regional lockdowns only, after he likened a blanket nationwide restriction to a "nuclear deterrent".
It comes as some 82 members of Parliament, including 44 Conservatives, defied Johnson in a symbolic vote over the 10 PM pub curfew law and other restrictions in the House of Commons on Tuesday.
They say the rules in place will put many pubs and bars out of business. The government still won the vote as most Labour MPs abstained.
UK figures on Tuesday showed 143 fatalities caused by the virus, the highest number of fatalities in four months. Health officials were reported to say the spike of cases across the country was "hugely concerning".
Government science advisers have warned that between 3,000 and 107,000 deaths could be avoided by January if strict circuit breaker curbs are imposed.
In a new paper, seen by the Financial Times, Graham Medley, a member of the government's Scientific Advisory Group for Emergencies, and Matt Keeling, of the Scientific Pandemic Influenza Group on Modelling, warned that there were "no good epidemiological reasons to delay the break".
The situation with virus cases across Europe continues to be serious, with sharp rises in many countries and measures being tightened.
The Czech Republic said it will close schools, bars and clubs with a partial lockdown until Nov 3, while restaurants will be restricted to deliveries and takeaways.
A four-week partial lockdown in the Netherlands will see bars, restaurants and cannabis cafes being shut from Wednesday. The BBC reported that infections in the country have increased 60 percent with almost 44,000 new cases in a week.
"It hurts but it's the only way, we have to be stricter," Prime Minister Mark Rutte said in a news conference. He added that 75 percent of regular hospital care would have to be canceled if numbers kept rising.
Health officials in Germany reported more than 5,000 new cases, for the first time since April, and France was expected to announce new restrictions on Wednesday, with some cities including Paris to face evening curfews.
A new rule in Italy has banned school trips and amateur contact sports such as playing soccer in the park. Russia reported nearly 14,000 daily cases and 244 deaths, though authorities say they will not impose lockdowns.
Portuguese soccer star Cristiano Ronaldo tested positive for COVID-19 and was released from national team duties and isolated on Tuesday, the Portuguese Football Federation announced.
It said the 35-year-old Juventus striker showed no symptoms and no other players were infected. The Portugal team was preparing to play Sweden in Lisbon on Wednesday.
Ronaldo's positive test means it is now unlikely he will face his rival titan of the game Lionel Messi, when Juventus and Barcelona clash in a UEFA Champions League fixture in Turin on Oct 28.
Meanwhile, the Financial Times reported that hedge funds are now betting against stocks that soared during the pandemic lockdown.
Shares in home computing, gym equipment and in grocery retail saw growth, but investment managers say their value will return to pre-pandemic levels.
"We have begun shorting some of the COVID over-earners, companies where we feel the current trajectory of earnings is just not sustainable," said Tim Campbell, chief investment officer at Longlead Capital Partners.