Shenzhen miracle should continue to inspire nation
Share - WeChat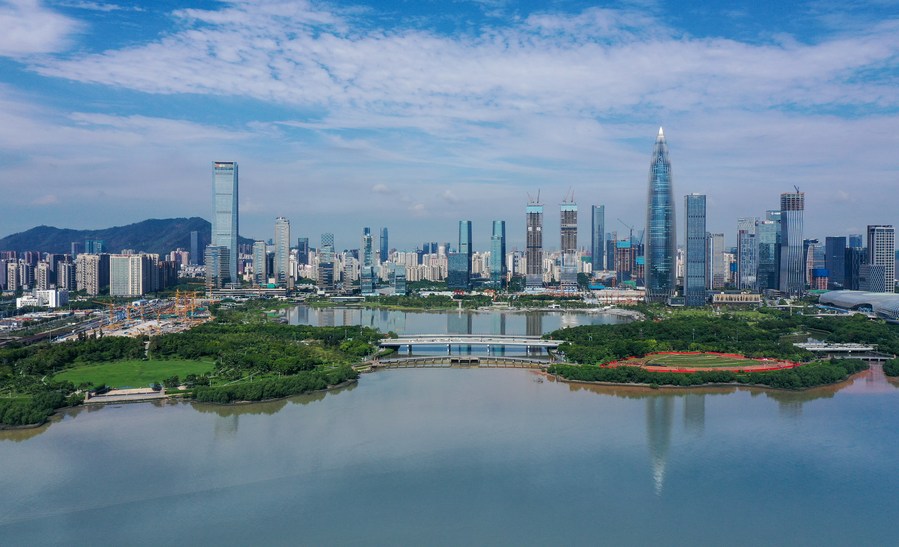 Two weeks ago when I found that my Belgian friend didn't know much about the history of Shenzhen despite being on a brief business trip there, I grabbed the chance to give him a crash course.
A fishing village bordering Hong Kong before it was designated one of China's first four special economic zones in 1980, Shenzhen today is the country's third-largest city in terms of GDP, behind only Shanghai and Beijing. Its GDP in 2019 was about the same as that of the Hong Kong Special Administrative Region, Singapore and Ireland according to the World Bank. It is also a leading technology hub given it is home to many tech companies including Huawei, ZTE, Tencent and DJI.
Shenzhen is a miracle that has inspired the rest of China to embark on a path of reform and opening-up that has transformed the nation.
The Spectator Index tweet on Tuesday served as a good reminder by comparing China's GDP over the past three decades: $396 billion in 1990,$1.21 trillion in 2000,$6.03 trillion in 2010,$15.20 trillion in 2020.
I still remember the envy among Shanghai residents in the 1980s as Shenzhen received preferential policies from the central government and acquired a can-do attitude. Shanghai, my home city and a latercomer to reform and opening-up, caught up in the 1990s by becoming the country's new showcase after former leader Deng Xiaoping's tour to South China in early 1992 to encourage bolder reform and opening-up.
With a futuristic skyline, Shanghai today has GDP higher than that of Sweden, Belgium or Thailand.
The 40th anniversary celebration in Shenzhen on Wednesday was indeed a proud moment for the whole of China. But this is no time for complacency.
China's nominal per capita GDP increased to $10,262 in 2019, but it still ranked 68th in the world, below the world's average of $11,429. Also, China ranks 85th on Human Development Index compiled by the United Nations Development Programme based on life expectancy, education and per capita income.
While China retained its 14th place in the Global Innovation Index 2020, jointly issued by Cornell University, INSEAD and World Intellectual Property Organization last month, it still has a long way to go to achieve its ambitious innovation-driven development strategy goal.
Shenzhen and the rest of the country have benefited enormously over the past four decades from reform and opening-up, globalization and learning from the outside world. And there is no reason for China to retreat from that path despite the rise of unilateralism and trade protectionism in various parts of the world.
Indeed, China has demonstrated that it remains a positive force for globalization and multilateralism at a time when many countries are suffering due to the US administration's "America first" policies. For example, while the United States has withdrawn from multilateral trade deals, China has been pushing forward the Regional Comprehensive Economic Partnership that is likely to be signed at the ASEAN Summit next month.
Some Chinese experts have also urged China to join the Comprehensive and Progressive Agreement for Trans-Pacific Partnership, now being anchored by Japan.
After being posted in Brussels for nearly two years, I have come to believe that the governments and business communities of both sides seek an early conclusion to the talks on the EU-China Comprehensive Agreement on Investment to further tap the huge potential of two-way trade and investment.
And trade and investment are just one aspect of the success story of Shenzhen and China. The whole story is about reform and opening-up unleashing the huge potential of the Chinese people. Which should be our constant endeavor if we are to realize the rejuvenation of the Chinese nation.
The author is chief of China Daily EU Bureau based in Brussels.
Most Viewed in 24 Hours
China Views