Educational exchange seminar highlights Sino-Filipino ties
Share - WeChat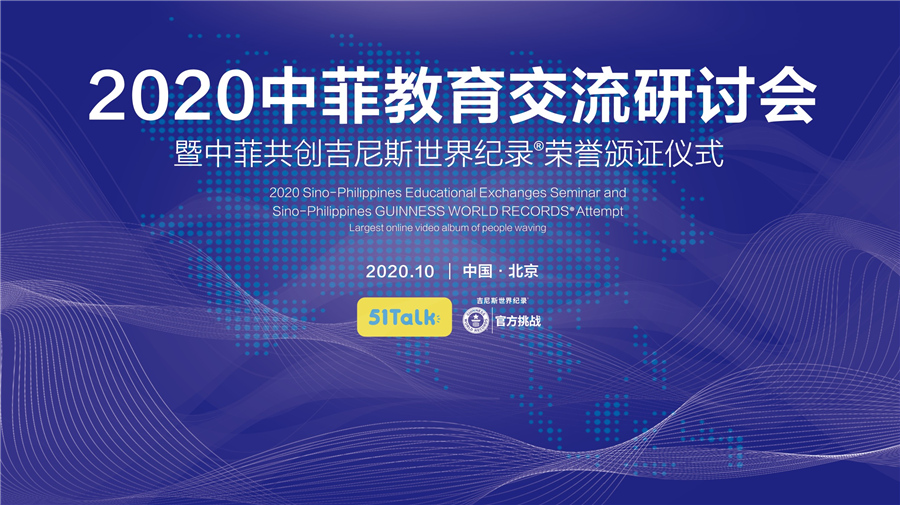 To celebrate the 45th anniversary of the establishment of diplomatic ties between China and the Philippines, the 2020 Sino-Philippines Educational Exchange Seminar was held in Beijing on Friday. Hosted by Beijing-based online English education platform 51Talk, the event was broadcast via live stream.
Jack Huang, 51Talk Founder and CEO, Huang Xilian, Chinese ambassador to the Philippines and Jose Santiago Sta. Romana, ambassador of the Philippines to the People's Republic of China, attended the event with the two countries' top diplomats, education officials and corporate representatives.
A Guinness World Record for "the largest online video album of people waving" was set during the seminar, with active participation from officials to the broad public – a heart-warming emblem of hope against the backdrop of the COVID-19 pandemic that highlights the friendship between China and the Philippines.
Ambassador Huang delivered the keynote speech and emphasized the people-to-people exchanges and cooperation between China and the Philippines.
"China's emerging industries, such as online education under the epidemic, have catalyzed a new win-win cooperation model for China and the Philippines. On the one hand, it has helped China's distance education, and on the other hand, it has provided a large number of online job opportunities for the Filipino people," Huang said.
"Under the strategic guidance of President Xi Jinping and President Duterte, China-Philippines relations have entered a 'new golden age', and the cooperation in various fields between the two countries has achieved fruitful results," the ambassador added.