Zoo boss works his animal magic
Share - WeChat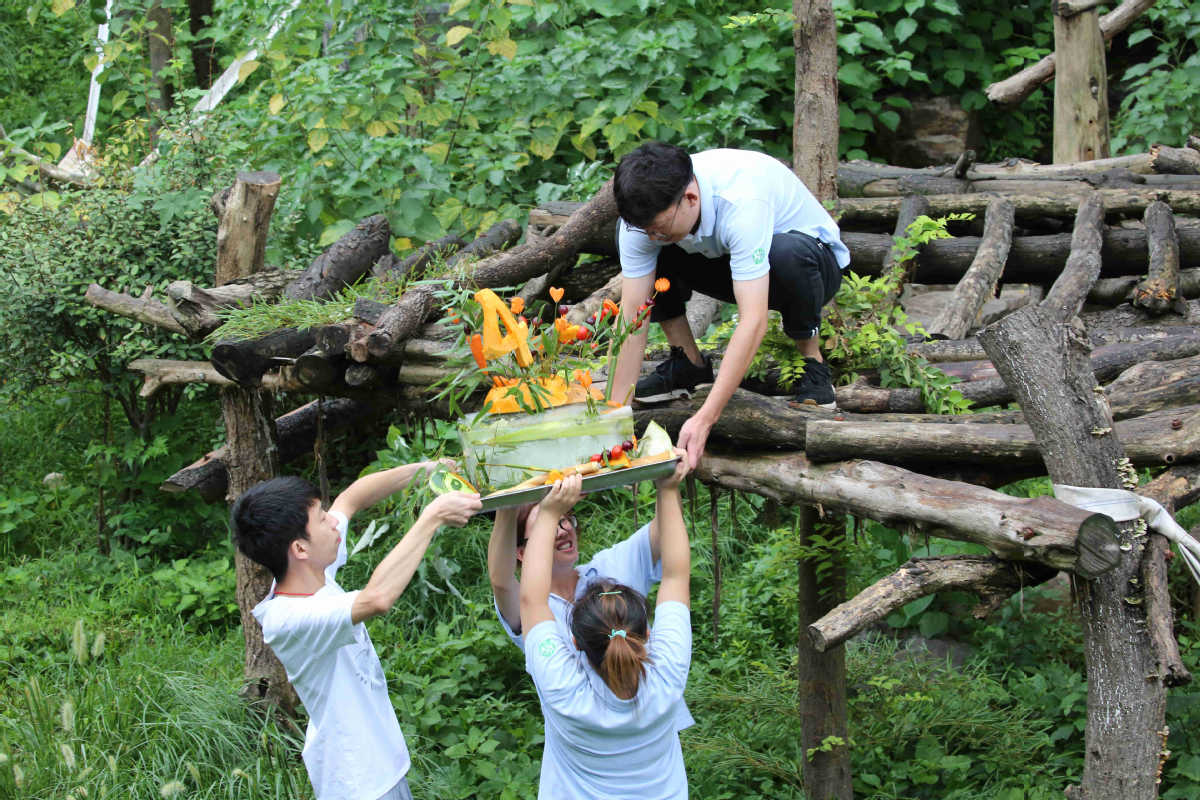 Food worries
The zoo had to ask for outside help for some animals who were particularly fussy about their diets. In January, it prepared some meat, fruit and grass, but was unable to buy fresh fish and shrimp due to transportation problems-including road closures-caused by the outbreak.
Each day, the zoo needs some 24 kilograms of fresh shrimp and fish to feed its birds.
Some of the birds, such as red-crowned cranes, pelicans and flamingos, refused to eat frozen fish and shrimp and showed signs of anxiety.
Many people offered to help, with fish farmers offering free aquatic produce, which was transported to the zoo by a supermarket company.
Food is not the only cause of concern for Shen. Since starting work at the zoo in 2008, he has improved animals' living conditions and tried to meet their psychological needs.
Nicknaming himself "King of the Animals" on social media, Shen patrolled the 68-hectare zoo almost every day in his first year, noticing that many of the animals appeared to be unhappy.
Wolves continually paced around a cage of less than 10 square meters, and the elephants just lay on a concrete surface in front of hordes of noisy camera-toting visitors.
Shen described the animals' lives as "boring, helpless and pathetic", and set out to improve their conditions.
The elephants became the first in the country to enjoy a manicure service. Workers learned from their counterparts at Dublin Zoo in Ireland how to beautify the animals' nails, and also just how important a pool is for them.
Shen said: "I was considering abandoning the idea of building a pool for the elephants before I visited Dublin Zoo. However, I changed my mind after seeing just how comfortable the elephants in Dublin were soaking and swimming in the water."
He and his team managed to dig a pool in rocky ground and also bought a small excavator to transform the frequently-trodden area where the elephants take sand baths.
With help from Bosch Group, the German multinational engineering and technology company, and a designer from the United Kingdom, the zoo also set up two giant clover-shaped shading systems for the elephants to stay out of the sun and take baths.
To make life more interesting for the elephants, holes were dug in one of the walls of their enclosure. Fruit was placed in boxes behind the holes for the animals to discover. They have to use their trunks to remove the fruit from the holes.
For the zoo's monkeys, more than 20 kinds of tropical plants were placed in their enclosure.
The plants must be non-poisonous and not endanger the monkeys, but sometimes the animals pose a threat to the plants by being too boisterous.
To keep them away from the plants, keepers have designed and installed new toys and equipment to distract them.
Since 2009, the zoo has renovated 19 animal enclosures, including those for wolves, koalas and tropical birds.
It has used 3D printing technology to replace a monkey's front teeth, provided a new beak for a red-crowned crane involved in a fight with another bird, and encouraged a baby chimpanzee removed from its family after a series of disputes to reunite with it.
The animal rescue center for Jiangsu, including Nanjing, the provincial capital, the zoo is tending to about 1,000 creatures that need help. Some 60 percent of them are non-native species that will have to remain at the zoo after being treated. The remainder will be released in the wild when they recover.
An "owl school" has been opened to prepare the birds for their return to the wild. Every year, the zoo receives 60 to 70 owls from local residents, who think that the birds need help. This is despite people being told that they should not touch young owls when they see them in the wild.
However, owlets continue to arrive. The birds live together at the school, learning how to catch food after they are released.
Over the years, Hongshan Forest Zoo has become popular among animal lovers and has earned their respect for its professionalism and caring approach.
However, many social media platforms that have contacted the zoo to propose cooperation projects have been rejected. Requests included allowing the animals to be touched and for them to perform certain movements to entertain audiences.
Shen said: "This simply makes fun of the animals ... they are not here to entertain us. Wild animals have their own way of life, and the best way to respect them is to allow them to keep their lifestyles and not disturb them.
"A zoo's publicity should also be professional, provide knowledge and raise awareness of animal protection."
He added that when it comes to zoos, there are usually two schools of thought. One, that there should be no zoos, as they keep animals captive, and the other that zoos are merely places for fun. The latter results in visitors bringing food to feed the animals and banging on the walls of their enclosures to scare them.