Preserving the past
By Wang Kaihao | CHINA DAILY | Updated: 2020-10-23 07:31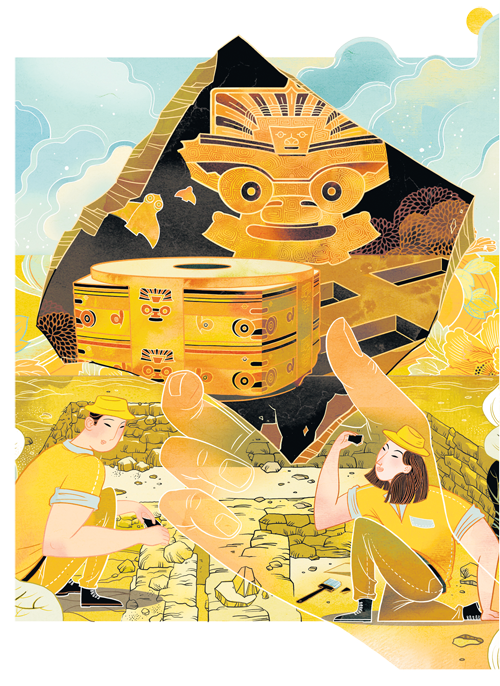 A new museum opened every other day on average in China over the past five years. People lined up for hours just for a glimpse of the Northern Song Dynasty (960-1127) milestone painting, A Panorama of Rivers and Mountains, at the Palace Museum in Beijing in 2016. In April, when the museum announced its reopening after a nearly 100-day closure due to COVID-19, 25,000 entry tickets were sold within hours.
People's zest for cultural relics remains unchanged. However, consciously or not, new formats of what they are pursuing have constantly come up. Phenomenal programs have gone viral on social media, reshaping people's ideas of cultural heritage.
Examples include Masters in the Forbidden City, the 2016 web documentary on the restoration of cultural relics at the Palace Museum; The Nation's Greatest Treasures, the 2017 variety show involving a long list of A-list celebrities and featuring collections from museums nationwide; and Every Treasure Tells a Story, the 2018 series of short videos enabling netizens to approach cultural relics with an amusing tone.
This year, some 2,000 virtual exhibitions had over 5 billion views within half a month since late January when the outbreak forced museums to close their doors overnight.
A chapter on strengthening cultural development and promoting traditional culture was listed as a key task in China's 13th Five-Year Plan (2016-20).
"Cultural relics bear the brilliant ancient Chinese civilization and inherit our history, as well as national spirit," says Guan Qiang, deputy director of the National Cultural Heritage Administration. "It can breed strength for people to pursue the Chinese dream."
The conservation of cultural heritage has involved more government bodies over the past five years. A news conference in Beijing in September on the protection of the Grand Canal, a UNESCO World Heritage site, saw the participation of officials from four departments of the State Council other than the cultural heritage administration. Each of the departments released guidelines for a safe and prosperous future of the 2,000-year-old canal linking the country's north and east.
Similar guidelines have also appeared in recent years on the protection of the Great Wall and other key historical monuments. Visiting museums and heritage sites has become a common interest for many Chinese. Museums in China received over 1.2 billion visits in 2019, a 75 percent jump from 2015.
Museum boom
For every 1 million Chinese people there are four museums on average, and 76 percent of the country's county-level administrative regions have at least one such venue.
"In the past five years, a widely beneficial system of museums has been established, expanding to the grassroots and cyberspace," Guan says.
"Museums have become key places for people to comprehensively understand China-from ancient times to the modern era-and has improved people's cultural and scientific literacy. Their rights to gain knowledge and nurture an artistic taste have been ensured."
He Yun'ao, a professor of history at Nanjing University, notes that free access to most museums in China has provided a constant impetus for the fast development.
According to the National Cultural Heritage Administration, 89 percent of the 5,535 registered museums on the Chinese mainland had been opened to the public for free.
"Thanks to supportive government policies and the museums' efforts on publicity in recent years, people's interest in visiting museums has increased," He says.
"And it also reflects a bigger picture that Chinese people tend to pursue higher living quality after basic needs are met."
The first national rule on museums was promulgated in 2015 to encourage dynamics for sustainable development by recruiting efforts of the nongovernmental sector. Museums have become more diverse in the past five years, He says.
About 30 percent of Chinese museums are now privately owned. The number was 23 percent five years ago. In September, the Chinese Museums Association also elected its first vice-president who comes from a privately owned venue.
However, He says the booming development of privately owned museums has also created new challenges on the professional protection of cultural relics and more up-to-date rules, regulations and evaluation standards are needed in the upcoming 14th Five-Year Plan (2021-25).
Pan Shouyong, a museology professor at Shanghai University, says the construction of museums is gradually being integrated into comprehensive urban planning.
The National Maritime Museum of China that opened in the Tianjin Binhai New Area last year is an example. Construction blueprints of new venues of Shanghai Museum and Shaanxi History Museum in Xi'an-among the biggest provincial-level museums in China-have also been approved. And two new museums, each covering over 100,000 square meters, will stand in new neighborhoods of both cities in the near future.
Nevertheless, Pan says the ambitious development of museums in China does not only rely on infrastructure improvement.
"A museum is becoming a comprehensive cultural service department," he says. "People go not only for visits. They want to use the resources in multiple ways."
Over 330,000 public education programs were held in the country's museums last year. And the fast adoption of digitization and new technologies on display and online and offline interactions also offer new experiences to the public.
Digitized information of about 3.5 million cultural relics has been unlocked for public access. The COVID-19 pandemic forced many museums to launch livestreaming tours and the promotion of souvenirs on e-commerce sites.
"But collections and related studies are still the foundation," Pan says. "For some small and medium-sized museums, there are still gaps between people's expectations and their academic research capacity."