Protecting visitors the top priority at venues
By ZHOU WENTING in Shanghai | China Daily | Updated: 2020-10-26 07:39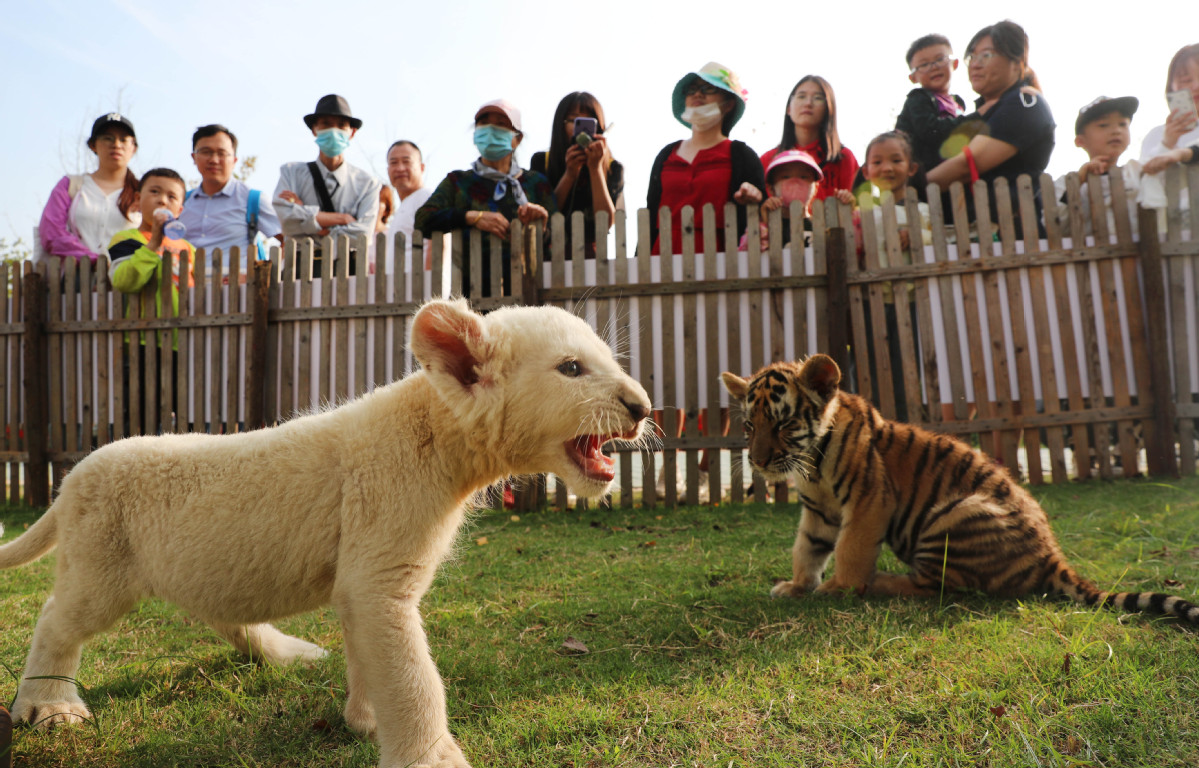 Different countries have their own regulations aimed at preventing attacks by wild animals in zoos and nature reserves.
For example, the United States has a set of strict rules for visitors to these venues. They must remain in their vehicles throughout the journey, keeping all doors and windows, including car roofs, closed.
Flags and other decorations protruding from vehicles are prohibited, and food and food waste must be kept in sealed packages inside cars to avoid attracting animals such as bears.
Drivers are told to follow a designated route, and visitors are prohibited from throwing food to the animals.
To allow animals to be observed more closely, drivers are allowed to stop their vehicles, but it is suggested that a distance of at least 90 meters be kept between visitors and potentially aggressive animals such as wolves and bears. For creatures such as buffaloes, elks and hunting dogs, the minimum suggested distance is 23 meters.
It is illegal to shout to attract the animals' attention.
Meanwhile, in Argentina, which boasts 41 nature reserves and nine world natural and cultural heritage sites, a comprehensive set of rules is in place to keep visitors to wild animal parks safe.
In the event of an animal attack, the government is responsible for medical expenses.
The parks tell visitors to be fully prepared. They must bring enough food and water, and drivers should have a navigation system in their vehicles. They must follow a designated route and are banned from driving in other areas.
Visitors are only allowed to camp at certain locations, and are not permitted to light fires. Those from Argentina breaching the rules face heavy fines, while miscreant overseas visitors are deported.
To avoid disturbing the animals, visitors are not allowed to shout to attract their attention. Bringing domestic pets on such visits is banned, as they may arouse the hunting instincts of wild animals.
Before visitors are admitted, park workers discuss the rules in detail with them.
The employees also tell visitors that if anyone is hurt during a vehicle accident in the park, a call for help should be made immediately, and rescue workers will take casualties for medical treatment. Those who are injured should never be left alone, as they could be targeted for attack by animals.
In Australia, there are stringent safety rules for visitors to wild animal parks.
The country also has a number of primeval forest parks, where visitors can experience a sense of adventure from their vehicles.
Safety rules and emergency phone numbers are posted at park entrances. Warning notices about species that pose a safety risk-usually poisonous spiders and snakes-are placed at locations where these creatures can be found.
To ensure safety, wild animal parks in Australia remind visitors to keep a safe distance from the animals. Even kangaroos that appear mild-mannered may suddenly kick out and put people's lives at risk if the animals become irritated.