Age of restoration
By Wang Kaihao | CHINA DAILY | Updated: 2020-10-28 07:08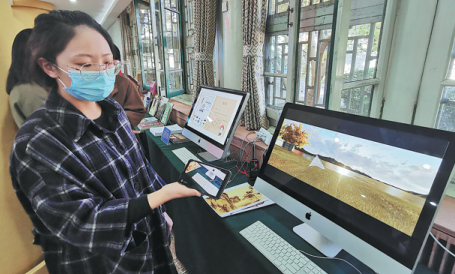 A student from Beijing Jiaotong University demonstrates an interactive game centered around the restoration of Yuanmingyuan on Oct 17. WANG KAIHAO/CHINA DAILY
A new alliance
In January 2018, Beijing Jiaotong University became the first Chinese university to establish a specialist research center on Yuanmingyuan. Over the following two years, five other universities-Tianjin University, Beijing Foreign Studies University, China Agricultural University, Central Academy of Fine Arts and Peking University-have followed suit.
To better coordinate the work of the research centers and enhance cooperation among the universities, China's first alliance of universities for the study of Yuanmingyuan was set up on Oct 17. On the same day, the Beijing Forestry University and Beijing Institute of Technology also joined the organization and opened research centers.
"The original Yuanmingyuan doesn't exist any longer, but its rich cultural and historical legacy is irreplaceable," says Li Xiangyang, deputy director of the administration of the ruins park. "Its stories can be better heard if we can enhance study of the ruins and explain its significance from different perspectives."
The administration has cooperated with members of the alliance to launch over 50 academic research projects on Yuanmingyuan since 2018.
"Systematic academic research at a deeper level will greatly contribute to the protection of the heritage sites and exhibition of the relics," Li says. "The alliance can be a think tank for sustainable development of Yuanmingyuan."
According to Guo Weidong, a history professor at Peking University, Yuanmingyuan played the role of the de facto imperial palace during the mid-Qing Dynasty.
"The Forbidden City was used for major rituals and ceremonies, but living at Yuanmingyuan felt more comfortable. The emperors stayed longer and handled more national affairs there," he explains.
"However, findings from current studies of Yuanmingyuan are insufficient. Related research has been too scattered, leading to many parts of its history remaining vague. The centers within the university alliance provide a good start to greatly improving that situation."