One last shot at Stanley for NHL's record veterans
Share - WeChat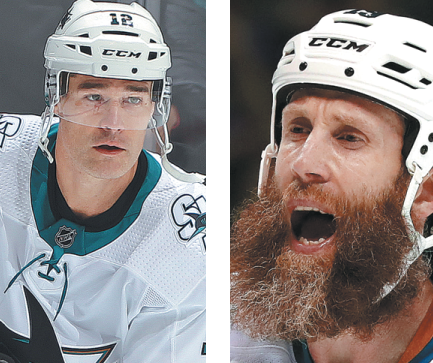 Twenty-three years after being selected 1-2 in the 1997 National Hockey League draft, Joe Thornton and Patrick Marleau again sit atop a storied NHL list-albeit one not so celebrated.
Marleau, who turned 41 last month, has played 1,918 regular-season and playoff games for the San Jose Sharks, Toronto Maple Leafs and Pittsburgh Penguins-the most in NHL history without winning a Stanley Cup.
Thornton, two months older, sits second on the all-time list, skating in 1,815 games for the Sharks and Boston Bruins without sipping champagne.
Teammates for a decade in San Jose and close friends off the ice, Marleau and Thornton both opted for free-agent deals this offseason to take one last shot at extending their Hall of Fame careers long enough to hoist the oldest championship trophy in pro sports.
On Oct 13, Marleau, who has 562 goals and 1,188 points, left the Penguins to rejoin San Jose on a one-year contract that will pay him the NHL minimum of $700,000. A week later, Thornton, who has sniped 420 goals and 1,509 points, signed a similar deal with the Maple Leafs after 15 years with the Sharks.
"I talked to Patty before I made the move and asked him about his experience with the Leafs organization (2017-19)," Thornton said in an interview with SportsNet in Toronto.
"He said it's first class, that they treat the players great … anything you need. That, plus the fact I could be close to where I grew up and where my parents live in St. Thomas (Ontario) meant a lot to me. The decision was a little about family… but mostly about hockey.
"When you're a young kid playing street hockey, it's all about imagining winning the Stanley Cup. It's the little kid in me that I still have at the age of 41. It's a big, magical thing that I want to bring to Leaf Nation now."
Before he signed on the dotted line, however, Thornton made one more phone call-to NFL Hall of Fame quarterback Joe Montana. The four-time Super Bowl champion knows what it's like to leave a legacy in the Bay Area after being traded from the San Francisco 49ers to the Kansas City Chiefs in 1993.
"That conversation meant a lot to me," Thornton said. "I had a chance to talk to a lot of people, but Joe's one guy that offered me great advice. Leaving San Jose was probably the hardest hockey decision I've ever had to make, but I truly believe Toronto, with the roster they have, with the guys they picked up this offseason, is ready to win now."
Thornton notched 1,055 regular-season points for the Sharks from 2005-20, second most in franchise history behind Marleau's 1,102. His 1,104 games with the club are second to Marleau's 1,551.
Returning to San Jose after two seasons with the Leafs and Penguins, Marleau will enter the 2020-21 campaign just 45 games shy of tying the legendary Gordie Howe's all-time record of 1,767 regular-season contests.
"Patty is one of the most iconic players in not only Sharks history, but all NHL history," said San Jose GM Doug Wilson. "And it's not just about breaking Howe's record. Patty wants to compete and he wants to win a Stanley Cup. His elite level of fitness is inspiring to everybody, especially our young players. "If he's going to break Howe's record, which is an incredible mark, he should do it in a Sharks jersey."