Homegrown hoopsters seizing chance to shine
Share - WeChat China's young guns holding court amid reduction in league's foreign contingent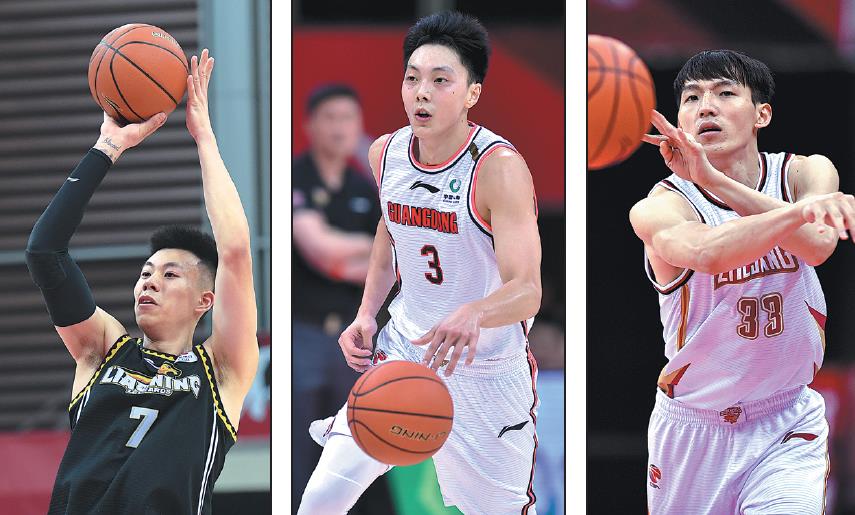 With their standout performances eclipsing the league's foreign legion, China's homegrown hoopsters are lighting up the new CBA season to raise hopes that the national program can turn its floundering fortunes around sooner rather than later.
After only briefly pausing for breath in a shortened offseason, the young guns are showing no signs of slowing down early in the 2020-21 campaign inside the league's bio-secure bubble in Zhuji, Zhejiang province.
A cursory look at the CBA's stats charts illustrates their domination. According to the latest figures before Tuesday's action, eight Chinese players ranked among the top 10 scorers, six made it into the top 10 for field-goal attempts, while nine were among the 10 leaders in assists per game.
With most of the league's foreigners stuck overseas due to travel restrictions amid the COVID-19 pandemic, Chinese players have made the best out of the bubble resumption since last season's restart in June, elevating their games and building leadership skills.
Currently, nine out of the league's 19 teams are competing with all-Chinese rosters.
"I think everybody in the league is paying more attention to developing local talents nowadays with so many teams having to go with all-Chinese rosters," Du Feng, head coach of defending champions the Guangdong Southern Tigers, said after Sunday's victory over Fujian SBS.
"It's always good to introduce youngsters to top-level competition as early as possible. Only by playing them on the court and giving them exposure to tough confrontations can we help them learn quickly in real combat situations so to speak," added Du, who also coaches China's national team.
A perennial league power with a record 10 CBA titles to its name, Guangdong's success is rooted in a strong talent production line, highlighted by the rise of youngsters such as 22-year-old guard Hu Mingxuan.
As the league's eighth-best scorer, Hu averaged 24 points, 4 rebounds and 2.8 steals in Guangdong's first four games, shooting 60.9 percent from the 3-point arc and 84.6 from the free-throw line.
His rise to prominence along with fellow young guards Xu Jie and Zhao Rui and forward Ren Junfei, who have all averaged double-digit scoring, has come as a timely boost for the Southern Tigers, with veteran powerhouse and Team China captain Yi Jianlian still recovering from an Achilles tendon rupture sustained last season.
The young guns' surge has allowed Du to cut minutes from the team's American tandem-Sonny Weems and Marshon Brooks-during the regular season and keep their energies in reserve for the playoffs if required.
"I really appreciate that coach Du has encouraged me to stand up and dictate the play more boldly on the court," said Hu, who hails from Urumqi, the capital of Xinjiang Uygur autonomous region, and made his CBA debut in 2017.
"With teammates younger than me coming up already, I feel like I have to shoulder more responsibility to help them, just as the veterans did for me."
Strengthening homegrown talent cultivation has been a priority for the CBA recently, and has prompted changes to league rules overseen by its chairman, Yao Ming.
Hoops legend Yao attributed China's embarrassing 24th-place finish at last year's home FIBA World Cup to the country's stagnant player development.
So, in a bid to give homegrown talents more minutes, especially in clutch time, the CBA has further limited the use of foreign players this season. This term each team is permitted to play only one import at any time during the regular season, down from two for a maximum of two quarters last season.
The policy has paid dividends for ambitious title contenders with competitive local players, such as the two Zhejiang teams, the Lions and the Golden Bulls.
As the league's second-best scorer this season behind Tianjin's Marko Todorovic of Serbia, Lions starting guard Sun Minghui has made his presence felt in a big way.
After notching 41 points to help the Lions stun Guangdong in their opener, Sun was named the league's Player of the Week. The 24-year-old hasn't let up since, averaging 33 points, 9 assists and 4.3 steals over the first three games in a team that has only one import-Serbian center Miroslav Radulica-at its disposal.
Having been named the CBA's most improved player last term, Sun is considered a future national team leader.
The Golden Bulls, meanwhile, are also on the charge thanks to the rise of their own backcourt leader, Wu Qian, who contributed a league-leading 11 assists per game to keep his squad unbeaten over the first three rounds.
Like Sun, the 26-year-old Wu is already being touted as a league MVP contender.
"I wasn't surprised by his game at all," Liu Weiwei, head coach of the Golden Bulls said of Wu.
"He's a proven star in this league and with more minutes on court he will continue growing to be more efficient and dangerous in critical moments."