US says it's not mulling drone strikes
Share - WeChat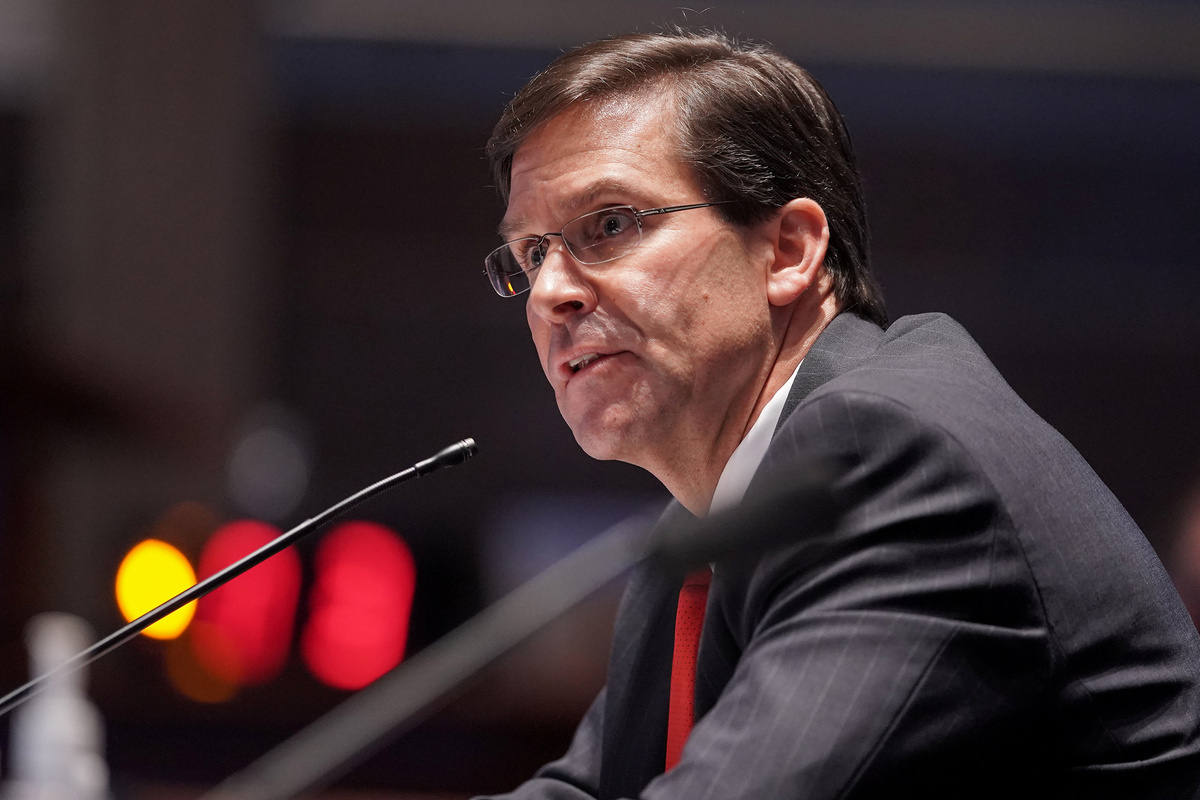 Ministry rejects media reports about possible actions in South China Sea
United States Secretary of Defense Mark Esper has said US media reports that the US is contemplating drone strikes on Chinese islands in the South China Sea go against the facts, Ministry of National Defense spokesman Senior Colonel Wu Qian said on Thursday.
Wu said Esper had clarified the issue via military diplomatic channels. "The US side said it has no intention of creating a military crisis with China," he said.
The US also said it was willing to build stable and constructive Sino-US military-to-military relations by creating necessary mechanisms to reduce risks, enhance dialogue and carry out cooperation in areas of mutual interest, Wu added.
On Oct 20, officials from the Central Military Commission's Office for International Military Cooperation and the US Department of Defense held a telephone conference and exchanged opinions on matters of interest to both sides, Wu said.
On Wednesday and Thursday, officials from both militaries held a video conference on risk management, and they plan to hold another to share knowledge on humanitarian aid and disaster relief. By the end of the year, they will also hold yet another conference on maritime military safety, Wu said.
"The Chinese military is willing to maintain its principles of nonconfrontation, mutual respect and win-win cooperation and proactively support developing Sino-US relations on the path of collaboration, cooperation and stability," he said.
"We hope the US side will work with China, reduce its animosity, stop its provocations, enhance dialogue and properly manage risks so that it can play a constructive role in facilitating the stable development of military-to-military relations."
When asked about Esper recently advocating for a larger budget to deal with challenges from China, Wu said the rhetoric is full of Cold War and zero-sum game mentalities, which China resolutely opposes.
"In recent years, hyping up the so-called China threat has become a crude excuse for the US defense department to get more money, and China has rebutted this action on multiple occasions," Wu said.
"China is well aware of its own capability. Any attempt to bamboozle China and the international community are doomed to fail," he added.
In response to reports of the Chinese military deploying new stealth fighters and missiles near Taiwan, Wu said details of military and weapons deployment are military secrets.
"The People's Liberation Army has always had the ability and determination to safeguard national sovereignty and territorial integrity, as well as thwart any efforts by Taiwan secession forces," he said.
Wu warned Taiwan separatists that using military force to pursue independence is a dead end.
"It is like a mantis trying to stop a chariot and will only bring self-destruction," he said.