Residents in Lhasa lifted from poverty
Share - WeChat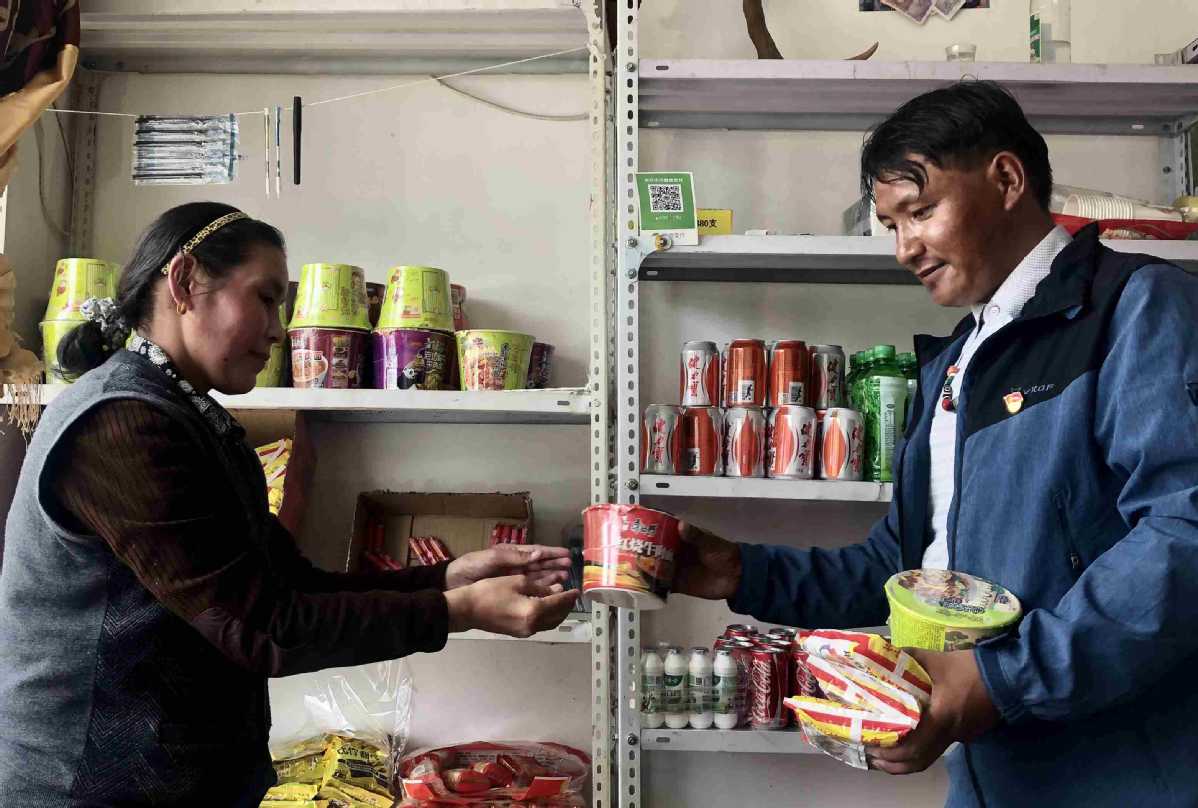 Alleviation measures to relocate poor gives them access to public services
Poverty alleviation through relocation has benefited more than 20,000 impoverished people in Lhasa, capital of the Tibet autonomous region, giving them easy access to public services.
The local government spent more than 1.84 billion yuan ($276 million) on building 32 poverty alleviation relocation sites, offering housing for nearly 23,000 people in Lhasa since 2016, according to a news conference held by the city government on Thursday.
Liu Guangming, deputy head of the city government, said all the relocation sites have already been completed, and residents are able to live in a more comfortable, safer environment.
"Before moving in, they largely lived at a high altitude, with harsh living and environmental conditions. They were vulnerable to natural disasters because of the fragile ecological environment," Liu said.
Wangdrak moved to Tsachuthang village in 2017, a relocation site in Damshung county of Lhasa.
"Before coming to the new site, we lived in a nomadic area at an average altitude of more than 4,800 meters above sea level. My wife suffered from severe arthritis, so she could not get out of bed," the 42-year-old man said.
"Her legs have improved dramatically in recent years thanks to improved living conditions and the convenient healthcare services here at the site," he said.
"She can see a doctor and get medicine at almost any time, and she gets massages, acupuncture and herbal baths," he added.
Now his wife can walk and they have jobs nearby.
More than 90 industrial projects have been launched around these new sites to address the employment needs for the residents.
"We ensure that at least one member of each household gets a job," Liu said, adding that people are encouraged to work in different companies to provide a stable living.
The new settlement is also equipped with public services such as roads, transportation, water, internet, telecommunication and education opportunities.
Wangdrak now works as a security guard in a school near his home. He receives a monthly salary of 2,000 yuan, and his two children have entered college.
"The altitude here is much lower than before, and I can sleep better and be energetic during the day," he said.
In 2019, the city accomplished the historic feat of eradicating absolute poverty and lifted all of its registered impoverished residents out of it.
Back in 2015, the city's eight counties and 231 villages were impoverished, with a registered impoverished population of 44,162 in 11,237 households.
In 2018, all of Lhasa's impoverished villages and counties rose above the region's poverty line, and the poverty incidence rate fell to lower than 3 percent, making Lhasa the first place in the region to be lifted out of poverty since 2016.