Lantern displays brighten dark nights
By JULIAN SHEA in London | China Daily Global | Updated: 2020-10-30 09:15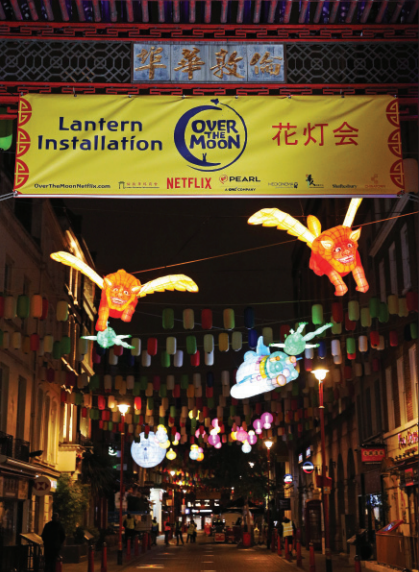 Nights in the United Kingdom became longer and darker last weekend as daylight saving saw the clocks put back one hour, but in the Chinatowns of London and Birmingham, the skies will be brighter for a few more weeks at least, after a series of spectacular Chinese lanterns went on display.
The illuminations are to mark Mid Autumn Festival, a holiday celebrated by Chinese communities all over the world, and also the launch of a new Chinese animation film on Netflix, Over the Moon.
Across both cities' Chinatowns, more than 50 lanterns, incorporating over 12,000 animated LED lights, are on display, having been hand-made in Liverpool, the port city in the Northwest of England that boasts one of the most long-established Chinese communities anywhere in Europe, with the first trading boat having arrived from Shanghai in 1834.
Over the Moon tells the story of Fei Fei and her partner Bungee the Rabbit travelling to the moon in search of Chang'e, the Moon Goddess who inspired the Mid-Autumn festival.
Characters including Bungee, Fei Fei's rocket, the mythical Jade Rabbit, Moon Frogs and lunar guardians the Foo Dogs all feature in the display, with the center piece being a moon decorated with Chang'e, Fei Fei and Bungee.
The voice of Chang'e is supplied by American-Chinese actress Philippa Soo, one of the original cast of hit musical Hamilton, with Cathy Ang, who is of Chinese-Filipino heritage, playing the role of Fei Fei. The film's director is Glen Keane, who previously worked on such popular animated films as Beauty and the Beast, Tangled and Tarzan.
Jo Pocock is artistic director of Liverpool-based The Lantern Company, who made all the decorations. Initially, it was envisaged as being a parade event, before COVID-19 restrictions made that impractical, but she said it had worked out for the best.
"Being out of doors and up for three weeks is actually really helpful, because that way people can come and enjoy what we've done and still be socially distant-we don't want hordes of people turning up all at once," she said.
The company was approached because of work it had done at the London Lumiere in 2018, when it contributed a major lantern display in Leicester Square and also a group of giant illuminated flamingos in London's Chinatown.
"Other than making sure that the characters were depicted, the organizers were pretty open with their brief to us, so we decided between ourselves what would work best to make the most eye -catching display," she explained.
"Altogether, there were about 30 people involved across the creative process, from first sketches to technical design, and we've calculated that since early September we've put in around 3500 hours, which is over 400 working days, working seven-day weeks to get it finished in time.
"Everything is hand-made, some with thin steel bars and others with fibre glass and galvanized wire, so it's been a very labor-intensive process. Social distancing meant we couldn't even work together in big groups, pieces had to be made in isolation and then brought together for assembly, but we're really pleased with how it's turned out and how it's been received."
Despite having almost two decades of experience in the word of illumination displays, this was the first time the company had worked on a specifically Chinese-themed event, an art form that seems to be growing in popularity in the United Kingdom, through other events such as Lightopia.
Pocock said she hoped this might be the start of a bright future for the world of illuminations in the UK.
"There are an increasing number of light installations in the UK now, I'm sure that's a reflection of increased Chinese presence in our communities and culture," she said. "They're a good environmental alternative to fireworks, and in pandemic times they work well as something people can enjoy out of doors, and over an extended period of time."