China ready to boost ties with Japan
By Chen Yingqun | China Daily | Updated: 2020-11-03 10:10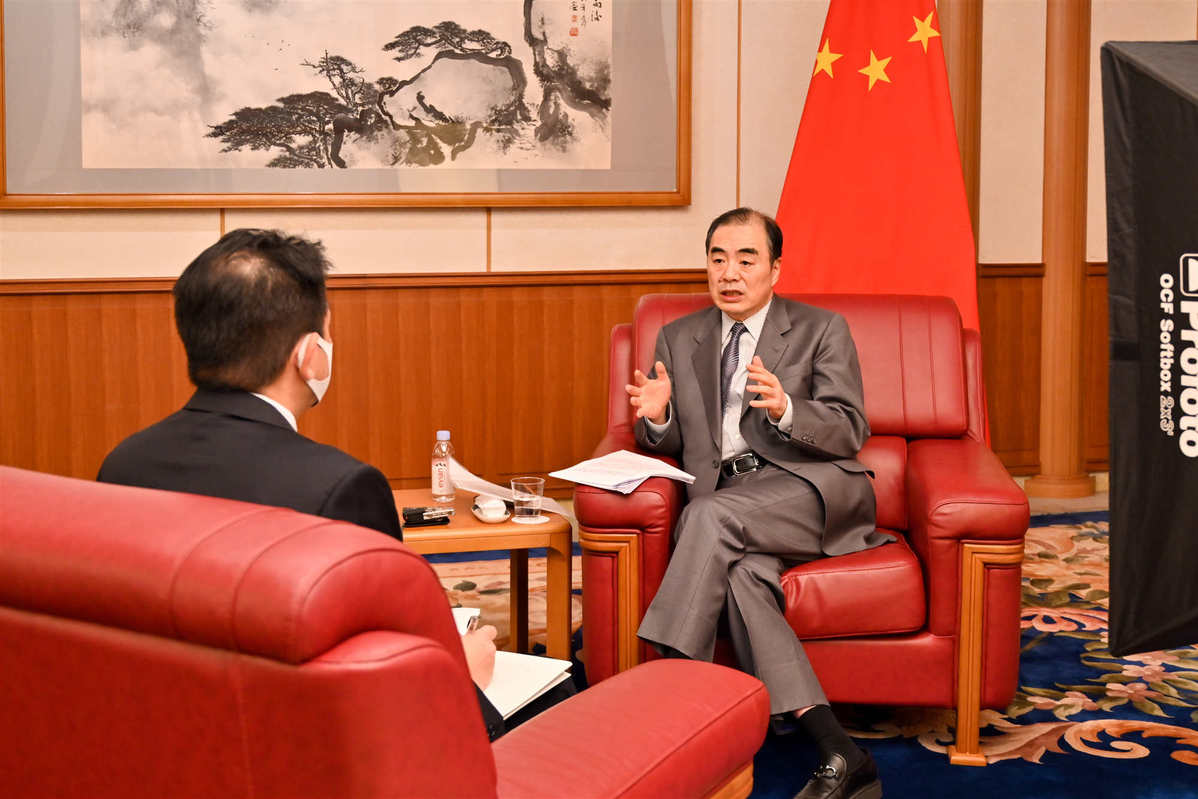 Envoy conveys Beijing's commitment, but calls lack of mutual trust a weak point
China is ready to work with Japan to tackle difficulties and promote the continuous improvement and development of bilateral relations, Kong Xuanyou, the Chinese ambassador to Japan, said in an interview with a Japanese newspaper.
Sino-Japanese relations have maintained a momentum of improvement and development on the whole but still face many issues," Kong told the Asahi Shimbun on Friday.
"As the international situation has undergone complicated changes in recent years, how to continue the positive momentum of bilateral relations under such circumstances requires joint efforts from both sides."
He said that the lack of mutual trust is a weak point in the current relations, while that in the security sector is particularly prominent. Building a constructive Sino-Japanese security relationship is indispensable to the improvement and development of bilateral ties, and both countries should think about how to break through the bottlenecks hampering the development of bilateral relations.
"The current Sino-Japanese relations have gone beyond the bilateral scope and are exerting an increasingly important influence on the region as well as on the world," said Kong, adding that both sides should constantly explore new ways to add value to their strategic ties.
Through his contacts with the Japanese government and society, Kong said he could sense Japanese Prime Minister Yoshihide Suga's willingness to continue a positive policy toward China and stable relations with China, which are in line with China's goals, he told the newspaper.
He added that since the outbreak of the COVID-19 pandemic, economic and personnel exchanges between the countries have been greatly affected, but the current difficulties are only temporary.
"Our economies are still highly complementary to each other and there is still much room for the growth of people-to-people exchanges," he said. "As different countries have different national conditions, the coronavirus situations and containment measures, how to integrate our different policies will be the focus of our work in the next stage."
On China's disputes with the United States, Kong said that there is no doubt that both the China-US relationship and the regional situation have become more complicated.
It's important to note that whatever difficulties and challenges China faces, it will firmly safeguard its sovereignty, security and development interests. China is firmly opposed to the "new Cold War" mentality held by some US politicians to contain China's development, he said.
He added that China's policies and stance toward the US will be consistent no matter who becomes the next US president. That is, China is committed to developing China-US relations featuring nonconflict, non-confrontation, mutual respect, and cooperation.
When asked about the Xinjiang Uygur autonomous region, the Chinese diplomat said that some media have put out a lot of reports that either contradict the facts or are smearing regarding the vocational education and training centers that Xinjiang has set up in line with the law in some places.
He said more than 1,000 diplomats, officials, journalists and religious figures have visited Xinjiang.
"Their consensus is that Xinjiang has made important contributions to the international fight against terrorism and deradicalization and has accumulated valuable such experience for the world," he said, adding that China welcomes all foreigners holding an objective and fair position to visit Xinjiang and learn about its real situation.