Chinese Super League played the 'perfect' host, says Cruyff
Share - WeChat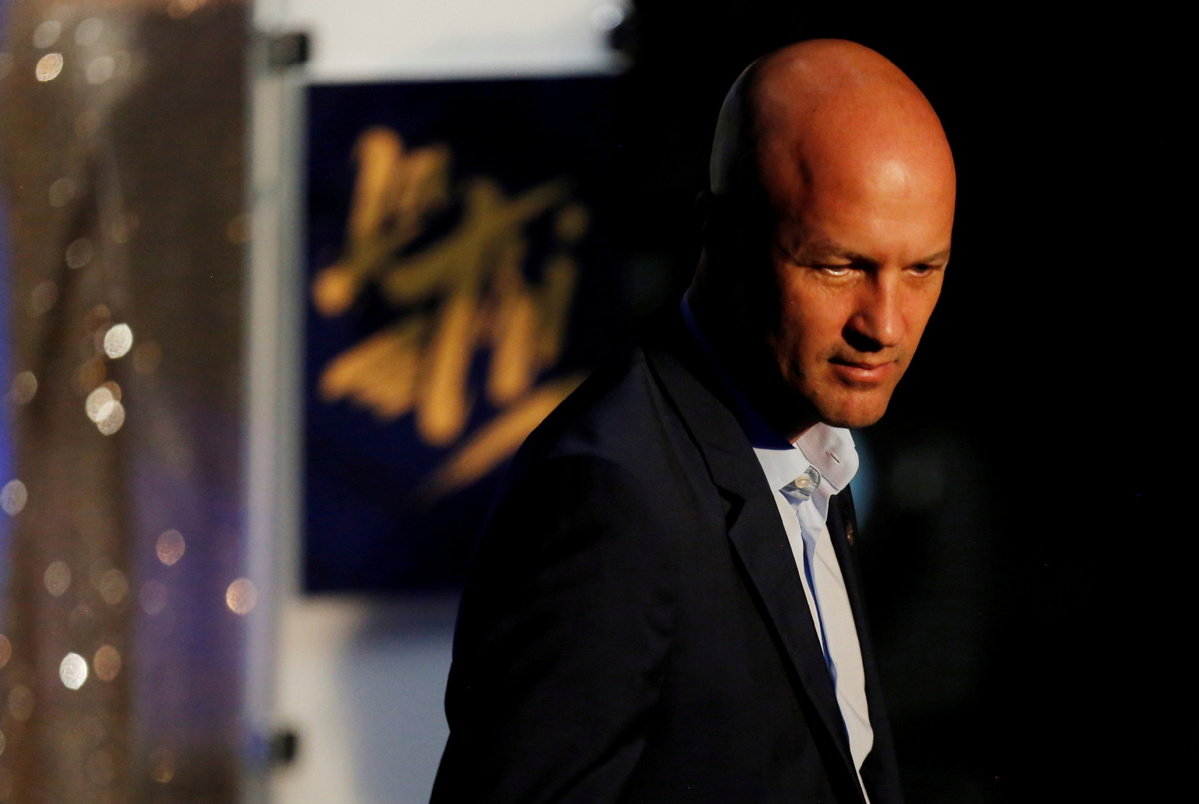 Shenzhen's savior impressed by CSL's safety-first approach during pandemic
Shenzhen head coach Jordi Cruyff has heaped praise on the Chinese Super League's "perfect" 2020 season, which he reckons can serve as a blueprint for other countries amid the sizable challenges presented by the COVID-19 pandemic.
"The whole world is facing this problem, and I think the organizer did a great job in staging this season," Cruyff told media on Wednesday through an interpreter.
"It's perfect because all the teams needed to gather in the same hotels and we trained and competed together. The food, accommodation, logistics and training arrangements were all great.
"It was not just about looking after the clubs, there were also league staff and support teams in the bubbles. Everyone stayed in the same place and maintained good discipline. In such a competitive season, we did not have much time to relax. The schedule was tight.
"But the organizer did a great job in organizing all aspects. I think it's hard to find another league in the world that could organize this in such a comprehensive way. Everything has been excellent, especially in terms of the epidemic prevention details."
When this year's CSL season was suspended in February due to the COVID-19 outbreak, no one could be sure when the 2020 season might kick off-or if it could start at all.
It was late July when the action finally got underway behind closed doors in Suzhou, Jiangsu province, and Dalian, Liaoning province.
A second phase of action, also in these cities, to decide the champion, AFC Champions League slots and relegation places, started in the middle of October and is set to end on Nov 12.
With the epidemic under control in China, the league has allowed limited numbers of fans back into stadiums-although spectators are required to go through a complex health-screening process that includes nucleic acid tests.
Strict epidemic prevention regulations have been implemented inside the bubbles. Apart from frequent tests for COVID-19, the league also required players and coaches to stay in the lockdown areas with no contact allowed with the outside world. Violators of the rules risked possible expulsion from the league.
Cryuff, who took the reins at Shenzhen this August, has also been impressed by the action on the pitch.
"I really like the Chinese Super League and my experience of living in China," said the 46-year-old, the son of late Dutch soccer legend Johan Cruyff.
"There are many impressive foreign players. And personally I'd like to give more opportunities to the young players when they are ready.
"Chinese soccer is developing...but of course there are many things to improve.
"I like my life in China, especially the feeling of traveling to different cities for competitions. I have a comfortable life here. So when Shenzhen invited me, I was very happy to return to the CSL."
Cryuff's brief at Shenzhen was simply to avoid a second successive relegation to the second tier. The former Barcelona, Manchester United and Espanyol winger has lived up to his employer's expectations, securing the team a spot in next season's CSL thanks to a 3-2 aggregate win over Shijiazhuang Ever Bright in the semifinals of the league's relegation group in Dalian.
Shenzhen is the second CSL club Cruyff has coached. The Dutchman also served two seasons at Chongqing Dangdai, which he saved from the drop in 2018.
"It's different for a team to fight against relegation than just playing regular league matches. It's about a different mentality, managing emotional pressure," said Cruyff.
"In regular league matches, you can have smoother performances, arrange more attacks and create more opportunities. But in a relegation fight, it's totally different.
"Take our defeat to Tianjin Teda, for example. Teda had not won a single match during the first phase. So when they faced us in the second phase, they gave everything they had, and we failed to adjust our mentality.
"So in a relegation fight, it doesn't matter that much if you have some eye-catching performances. It matters more that you can grind out a result."
Shenzhen failed to muster that sort of grit when it was relegated from the CSL at the end of the 2019 season. The southern club was fortunate to earn an instant return to the top flight when it replaced Tianjin Tianhai, which was disbanded due to financial difficulties.
Determined not to waste its second chance, Shenzhen splashed the cash in the transfer market-money that looked to be well spent when it finished fifth in the Dalian-based Group A ahead of Giovanni van Bronckhorst's Guangzhou R&F and Rafa Benitez's Dalian Pro.
Hence, Shenzhen's failure to overcome Teda in the second phase came as a big surprise.
"During the first phase, everyone in our team tried hard to enter the championship group. Some of our teammates are injured and some important players were not able to play, which affected our performance," Shenzhen and Team China striker Gao Lin said of the shock loss to Teda.
"It was a hard lesson for us. These are cruel relegation fights. The style we were used to playing was not suitable for this stage.
"In the end, winning the matches at all costs to avoid relegation was what we actually needed."
Most Popular
Highlights
What's Hot