Rich reward for author's 'adventurous spirit'
By Yang Yang | China Daily | Updated: 2020-11-14 10:15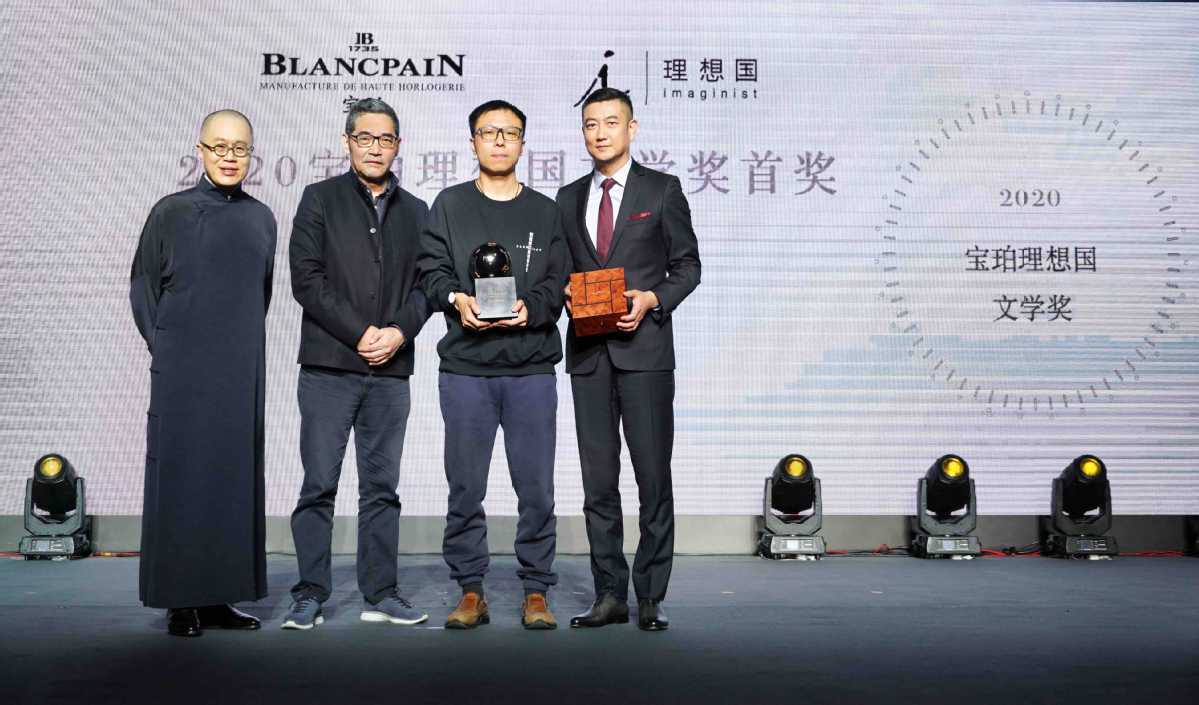 After three rounds of assessment, Shuang Xuetao, 37, has won the 2020 Blancpain-Imaginist Literary Prize for his collection of short stories titled Lie Ren (The Hunter), beating other four short-listed writers.
The award was established three years ago and aims to uncover excellent Chinese writers under 45 years old. It was co-founded by the Swiss luxury watch brand Blancpain and the Chinese publisher Imaginist, and the prize is 300,000 yuan ($45,000) and a Blancpain watch.
"We hope that in such a society where time has been largely fragmented, people, especially young people, can focus their attention on one thing, seeking spiritual nutrition and value from reading," said Jack Liao, vice-president of Blancpain China, at the award ceremony in Beijing on Oct 28.
Commenting on the winning title, Su Tong, author of the novella Raise the Red Lantern and one of the five judges for this year's competition, said: "We saw the new fruit that displays the author's writing style and quality. The reality might be 11 kinds or just one kind. It can be cold and sharp, but it can also be warm-blooded and touching. It is our soft spot and wound, but also lives our bright hope. We unanimously gave an exclamation for the author's adventurous spirit, thanking him for creating a new literary magnetic field that offers us a new method to spin."
Shuang, who started his writing career in 2006, has published six books since 2016, including Fei Xing Jia (The Pilot), which was short-listed for the first Blancpain-Imaginist Literary Prize in 2018 and the latest semi-autobiographical Long Ya Shi Dai (Deaf and Mute Age).
The Hunter, published last year, comprises 11 short stories written in 2018.
"My writing has been quite personal," Shuang said. "I'm always a selfish writer, without much responsibility to shoulder. In the last several books I wrote something I am familiar with, and in The Hunter the writing is more personal."
As in his previous works, Shuang continues displaying his ability to create eccentric fictional realities from which readers can experience what the characters had to go through, and intense suspense, said Yang Zhao, another judge for this year's prize.
Shuang compared the creation of the 11 short stories to an important experimental building process.
"At the beginning I didn't intend to write this book as a whole, but after writing the first three short stories I decided to create it in a way that you would construct a building.
"If a door or a toilet was lacking I would work them out bit by bit, which was fun, but it had its limits too. In general, it was an important trial, and after this book I can construct different buildings from the previous ones."