IOC chief 'confident' of spectators at Tokyo Games
China Daily Global | Updated: 2020-11-17 09:43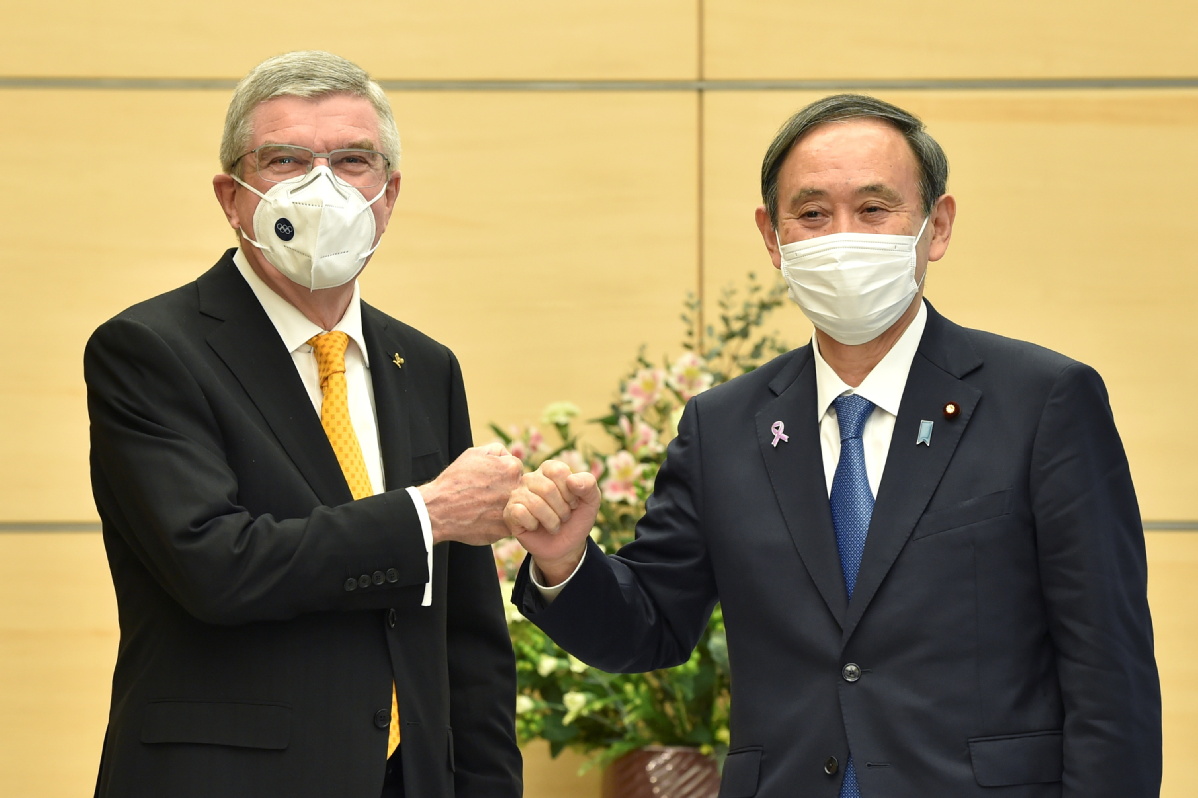 TOKYO-International Olympic Committee President Thomas Bach said on Monday he is "very, very confident" that spectators will attend next year's Tokyo Olympics, as he kicked off a four-day visit to boost momentum for the pandemic-postponed Summer Games.
Spiraling infections and new lockdowns have renewed skepticism the massive international event will be possible if the pandemic is not under control by opening day, now scheduled for July 23.
Bach's long-awaited visit is a confidence booster for Olympic organizers, who are battling a third wave of COVID-19. Japan reported 1,434 new cases on Sunday, including 255 in Tokyo. Some 243 people with severe symptoms were being treated in intensive care, said Japan's state broadcaster NHK.
Organizers and Japanese officials have insisted they can hold the event, and are drawing up a raft of coronavirus countermeasures intended to make the Games safe even if the pandemic is not over.
"We are putting really a huge tool box together in which we will put all the different measures we can imagine," Bach said after meeting Japanese Prime Minister Yoshihide Suga for talks that began with the two masked men fist-bumping for the cameras.
"This makes us all very, very confident that we can have spectators in the Olympic (stadiums) next year," Bach added.
Suga assured Bach that Japan is "determined" to host the postponed Olympics as "proof that humanity has defeated the virus".
The Olympic chief also pledged the IOC would "undertake great efforts "to make sure as many participants and spectators as possible are vaccinated before arriving in Japan, if a vaccine is available by next summer.
Bach, on his first trip to Tokyo since the Games were postponed in March, is hoping to convince athletes, Japanese citizens and Olympics sponsors the Games can be held safely next year.
But polls show a majority of Japan's public believe the Games should be postponed further, or canceled altogether. More than 60 percent of domestic sponsors have yet to commit to extending their contracts for another year, domestic media reported at the weekend.
He told Tokyo Governor Yuriko Koike the IOC was committed to ensuring "a safe environment for the participants of the Games, but also the Japanese people".
Koike said Bach's visit would "be an encouragement for the Japanese people, Tokyo residents, volunteers, children and above all athletes".
Agencies - Xinhua