Frontline heroes fight poverty
By Cheng Yuezhu | China Daily | Updated: 2020-11-18 07:49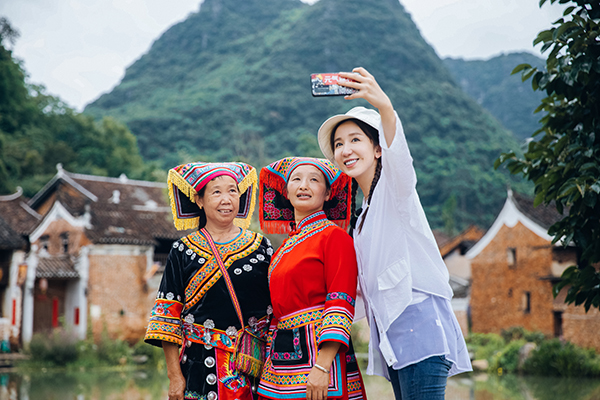 An ordinary person, with an extraordinary tale. A TV show that courageously puts the central character of each episode behind the scenes with their stories played out by actors. Therein lies the recipe for its success. The much-anticipated meeting of actors and the true-life characters at the denouement creates a full circle for the show and provides engaging entertainment. The show is in fact an odyssey. Like a Greek fable it is a journey that details the triumph of the human spirit.
In its first episode, produced by Hunan Satellite TV and which premiered on Aug 30, the program Youth on Record sees actress Lou Yixiao and actor Gu Zhixin set out on an adventure in search of a mysterious person named Jiang Xiaojun. They are also seeking stories and anecdotes about him with the task of reenacting his deeds on stage.
The journey begins at Goulanyao village in Jiangyong county, Hunan province, where clusters of redbrick houses are enveloped by the mountains and veiled in mist.
At the gateway to the village, the two are greeted by a group of women dressed in exquisitely ornate Yao ethnic costumes, singing in the local dialect. From these villagers, the duo receive their first clues about the mysterious figure and attempt to uncover the bigger picture.
Jiang Xiaojun seems to be a hero, as all the villagers they encountered extolled his virtues.
Jiang had, in fact, been a resident cadre working on poverty alleviation in the village from 2015 to 2018.By the end of 2016, all 153 poor households in the village had shaken off poverty, while the locale was accredited as a national-level tourist destination.
Lou says that when she talked with the villagers, "one of the most genuine things is that everyone's smiling", and they all viewed Jiang as their friend. "We were deeply moved when we saw the sincere emotions expressed by the villagers," Lou recalls. "I have to say that leading others to happiness is the greatest human endeavor."