Music of the heart
By Chen Nan | China Daily | Updated: 2020-11-18 08:25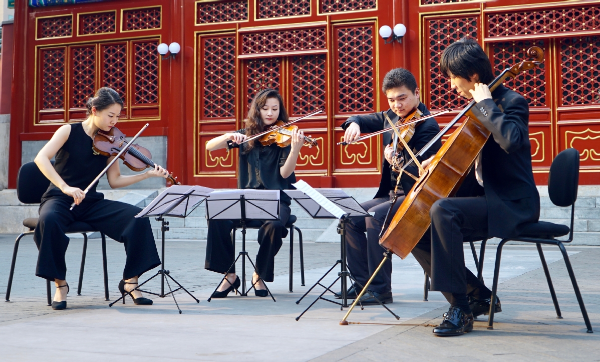 "If music be the food of love, play on" is the oft-quoted opening line from Shakespeare's comedy Twelfth Night. But real life is no laughing matter, especially for young couples who find their heartstrings being pulled. The music of love provided a romantic score for this young couple as well as a convenient disguise to meet without suspicion.
In 2005, Yang Yichen, a then-17-year-old student learning cello at the affiliated high school of the Central Conservatory of Music in Beijing, fell in love with his schoolmate, Ning Fangliang, then 18, who studied violin. To have a decent excuse to spend time with Ning, Yang initiated the idea of founding a quartet, which enabled him to do rehearsals and performances with his dream girl.
Yang, now 32, is going to celebrate 10 years of marriage next year to Ning, 33, who gave birth to their son two years ago.
Before that, they have another important anniversary to celebrate together with the musicians who provided the soundtrack to their romance. Along with violinist Su Yajing and violist Qi Wang, they will celebrate the 15th anniversary of their Amber Quartet, with two concerts on Nov 20 and Dec 20 at the National Library Arts Center in Beijing.
All of the members of the Amber Quartet are now teachers at the Central Conservatory of Music.
"Last year, when my husband told me about his idea of celebrating the quartet's 15th anniversary, I was surprised," says Ning from Xuzhou, Jiangsu province, who learned to play violin at 4. "Time goes by so fast! I didn't realize it had been such a long time."
Ning's parents, despite no musical training of their own, wanted her to study a musical instrument. Their first choice was keyboard, but the class was full, so she chose instead to learn violin and soon displayed a natural talent for the instrument. At 14, she enrolled in the high school affiliated to the Central Conservatory of Music.
To Ning, being in a quartet is like "being in a four-person marriage, which means endless arguments and adjustments". But she is quick to add that "the process is enduring and challenging, but also fun and rewarding".
"When we play together, it's neither about producing louder music nor just about one person showing off his or her techniques. It's about communication, not competition. We search for the perfect sound that we can make as one person."