Pressure mounting on Loew after Germany's 'black day'
Share - WeChat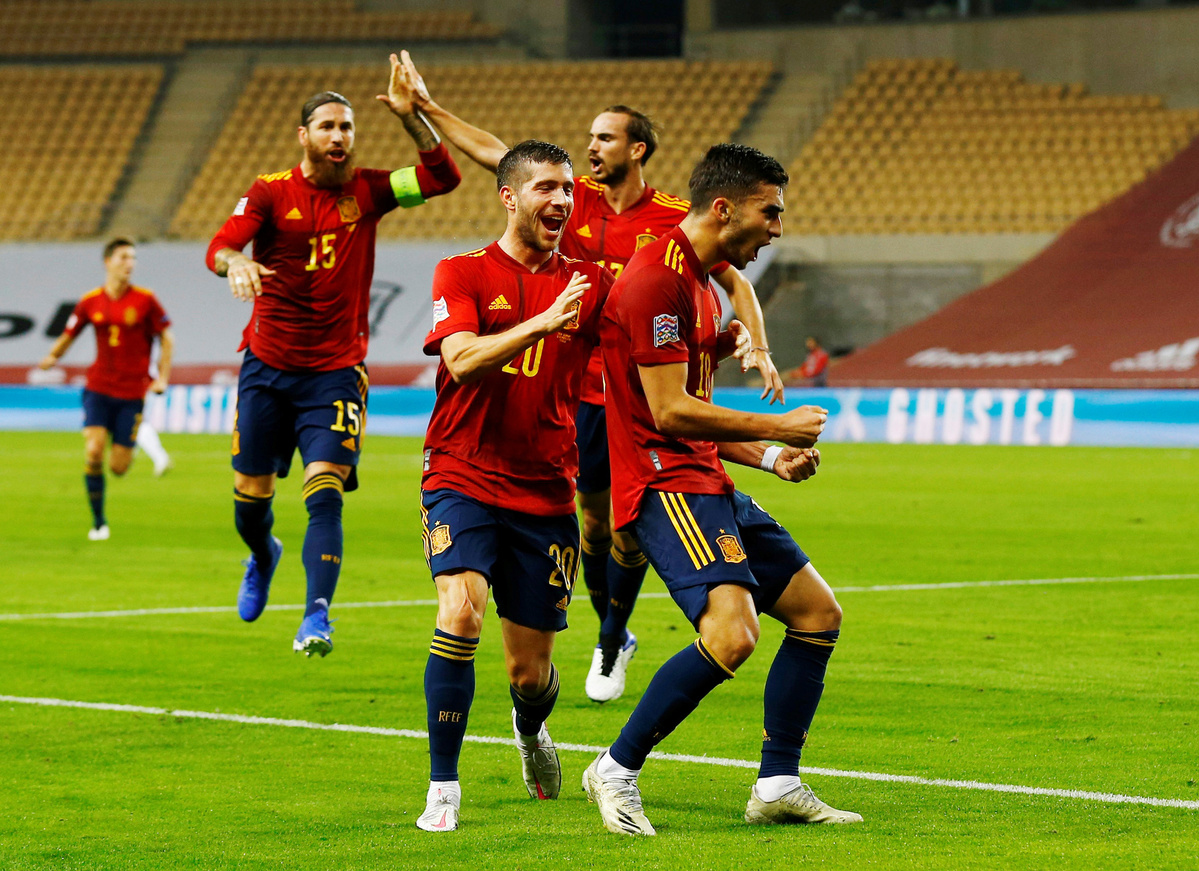 SEVILLE, Spain-Joachim Loew admitted it was a "black day" for Germany after its 6-0 drubbing against Spain in the Nations League piled pressure on the team's coach.
Ferran Torres scored a hat-trick as Spain ran riot in Seville, leaving Loew to pick through the wreckage of Germany's worst defeat for 89 years.
"This has been a black day for us," admitted Loew after Germany's heaviest loss since losing 6-0 to Austria in Berlin in 1931.
"We completely lost track of our plan after we went 1-0 down, which was deadly and the Spanish took their chances. Nothing worked, neither in defense nor attack.
"We left huge spaces, there was a lack of communication between the players."
The thrashing was double that of Loew's previous worst defeat as Germany coach, when his side lost 3-0 to both the Czech Republic in 2007 and to the Netherlands in 2018.
Coming two years after its 2018 World Cup debacle, when Germany failed to advance from its group in Russia, this is the biggest crisis of Loew's 14-year reign.
The 60-year-old, who led Germany to the 2014 World Cup title, insists he can turn things around with seven months to go before the European Championship kicks off in June.
Germany faces France and Portugal, the reigning world and European champions, in its group.
"Of course," Loew insisted when asked if he wants to stay on, with two years left on his German soccer federation contract.
"It's our duty to look at this and ask what we can do better.
"We were second best in every department, it was a black day-there is no way of dressing this up."
Loew has already been given the backing of Germany team director Oliver Bierhoff.
"The trust in Joachim L is still completely there, absolutely," insisted Bierhoff.
"We have to analyze this hard-the Spanish goalkeeper hardly made a save the whole game.
"There was a lack of experience there, no question. We have to get rid of all the coordination problems in defense."
'Showed how it's done'
"That hurt," said Germany and Real Madrid midfielder Toni Kroos. "The Spanish team showed us at every turn how it's done-with and without the ball."
Bayern Munich winger Serge Gnabry said: "There are no excuses. Now we know where we stand."
Spain was as sublime as Germany was abysmal in Seville, where Torres scored a brilliant hat-trick to justify his reputation as one of soccer's most exciting prospects.
Alvaro Morata and Rodri were also on target to make it 3-0 before halftime and while Sergio Ramos went off with a hamstring strain, Germany failed to stem the tide.
Instead, Manchester City's Torres grabbed two more and Mikel Oyarzabal added a sixth late on to put the finishing touches to Germany's second heaviest ever defeat, the only one worse being a 9-0 loss at the hands of England Amateurs in 1909.
Loew oversaw Germany winning the World Cup in 2014 but, after 14 years in charge, even he will be under serious pressure after a humiliation like this.
"It was a night where we did nothing well," said Loew. "We lost every important battle."
Asked if his job was under threat, Loew said: "I trust the players. They are a young team. I am not worried about my job."
Yet just as the result will spark a period of German introspection, Spain finally produced a performance under Luis Enrique that suggests it can win next summer's European Championship.
The Spaniards join France in the Nations League final four, to be played in October next year. They will be joined by either Belgium or Denmark from Group A2 and Italy, the Netherlands or Poland from Group A1.
"It was one of the best and most complete matches of the Spanish national team," said Enrique.
Ramos will return to Real Madrid for treatment ahead of a crucial few weeks for his club. Real Betis midfielder Sergio Canales also went off with a hamstring problem.
"The injuries are minor and I hope they are out for a short time," Enrique said.
Germany now has several months to reflect on this loss before the start of 2022 World Cup qualifying in March.
AFP