Traditional Tibetan folk dance glows with new vitality
Xinhua | Updated: 2020-11-19 11:19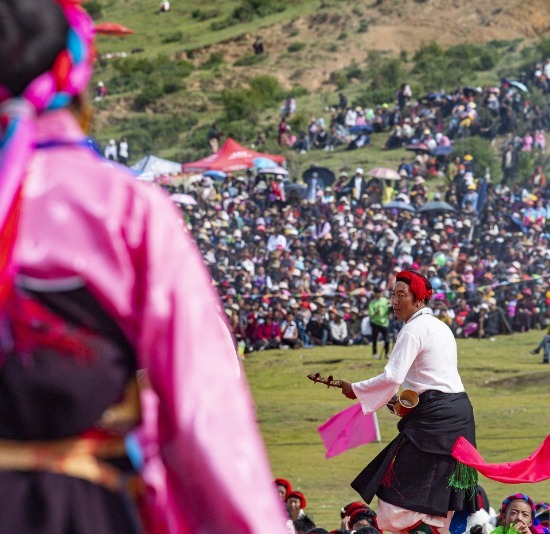 Despite being a veteran performer of the traditional Xianzi Dance, 58-year-old Tashi Wangdu had never staged a performance in front of a big audience.
Yet, he finally got his long-awaited chance.
Xianzi Dance is a kind of folk art that combines song, dance and string music in Southwest China's Tibet autonomous region, with a long history dating back to the Tang Dynasty (618-907).
As the first stop in Tibet along the ancient Tea Horse Road, Mangkam county, in the city of Qamdo, boasts rich and colorful folk culture due to its unique geographical features and profound cultural heritage.
It was here where Tashi Wangdu joined some 3,000 other Xianzi dancers: men and women, young and old.
Dressed in traditional Tibetan costumes, they performed with sheer delight on the "stage" -- a large tract of grassland, changing formations from time to time, sometimes gathering to the center, sometimes spreading out and around, and sometimes holding hands in circles.
"In Tibetan language, Mangkam refers to a place of goodness and kindness," said Tashi, adding that since childhood, he and his family would find an open space to light a campfire and dance together when celebrating holidays.
Tashi learned Xianzi Dance from his father and brother when he was five, and now he teaches his grandson the dance when he has time.
The veteran dancer arrived at the grassland stage one day early to get himself prepared. On the day of the performance, he wore a brand-new Tibetan costume and tied up his long hair.