Broad consensus on shared challenges offers ray of hope
Share - WeChat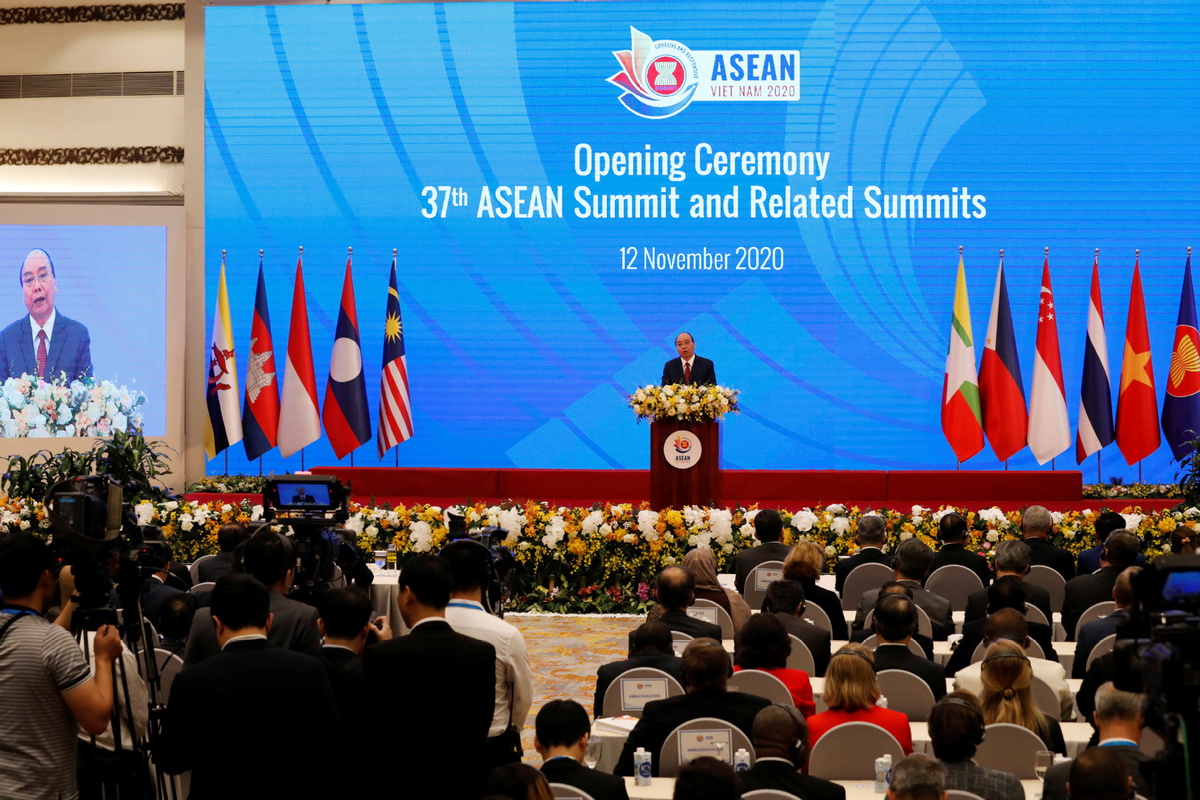 The outbreak of COVID-19 has sent shock waves throughout the world, but East Asia, a hard-hit region, is rising above the pandemic and has maintained impressive economic recovery and social stability.
In such a context, the 37th ASEAN Summit and related meetings have signaled major trends in a new era. Participating countries have reached broad consensus on seeking common development and tackling shared challenges.
Joint efforts to combat COVID-19 are imperative. The virus is still raging around the world, especially in Europe and the United States, and some East Asian countries are also struggling with pandemic control. From the onset of COVID-19, Asian countries have put people first and shown solidarity in pooling resources and sharing information. Keynote speakers and political leaders at the summit have reiterated the importance of strengthening cooperation in disease prevention and treatment.
China has been a bellwether in promoting regional cooperation in the fight against COVID-19. It has reaffirmed its commitment to consider the ASEAN countries' request for COVID-19 vaccines and taken practical actions to make the vaccines available and affordable. ASEAN has commended China's actions and expects its continuous support in this regard.
Economic recovery was the focus of the meeting. The top officials of all nations have expressed the strong desire to enhance regional cooperation and accelerate the resumption of work and production. ASEAN has had an in-depth discussion with China, Japan and South Korea, proposing a host of pragmatic measures to induce growth. Expanded industrial chains, more market access, easier flow of goods and people, and infrastructure projects to improve connectivity were frequently mentioned.
East Asian countries, to which COVID-19 has dealt a heavy blow, all aspire to end sluggish economic performance and restore prosperity. Nations should join hands to drive growth in trade, investment and tourism. A victory over the epidemic and a robust economic recovery both need regional cooperation.
East Asian countries are the only areas projected to enjoy positive growth for 2020. In particular, China, South Korea and Vietnam have shown strong momentum. As long as all the stakeholders-China, the biggest regional economy; Japan and South Korea, two regional powerhouses; and ASEAN countries with their rich resources and smooth economic integration-work together, the economic prospects for the region bode well.
The freshly signed Regional Comprehensive Economic Partnership was the climax of this summit. The deal is a milestone of eight years of negotiation between ASEAN and its five dialogue partners: China, Japan, South Korea, Australia and New Zealand.
The RCEP has heralded the biggest trade bloc, which accounts for one-third of the world's population, GDP and trade. It is expected to increase trade and drive mutually beneficial cooperation in investment, finance and technology. Much larger than the ASEAN-China Free Trade Area, the RCEP offers immense potential and will play a bigger role in promoting multilateral and bilateral exchanges, regional development and stability.
The inking of the RCEP at this moment by East Asian nations and ASEAN countries has brought a ray of hope to a divided world. They have explicitly expressed the will to champion multilateral trading systems and the ambition to promote regional economic integration. A united, cooperative, stable and thriving East Asia conforms with the best interests of its people and the underlying trend of global peace and development.
Hu Zhengyue is former Chinese ambassador to Malaysia. The views do not necessarily reflect those of China Daily.