No Christmas COVID-19 truce, says Johnson
By JULIAN SHEA in London | China Daily Global | Updated: 2020-11-24 09:34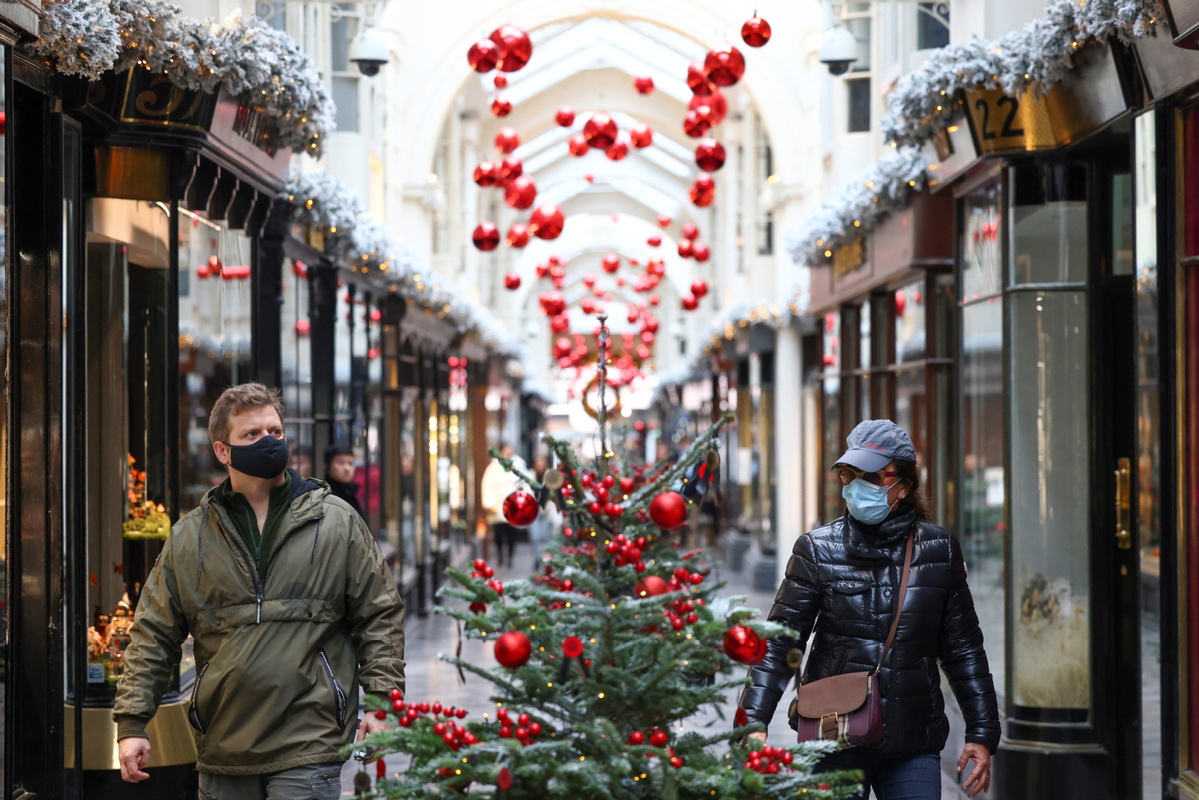 UK govt reveals post-lockdown steps it will take to keep lid on spread of illness
Britain's prime minister, Boris Johnson, has revealed the new rules that will apply to English shops and businesses trading in the weeks leading up to and around Christmas, following the end of current restrictions on Dec 2, but people seeking guidance on socializing and family gatherings must wait to hear what they can do.
The three-tier system previously deployed will be reintroduced. Non-essential shops on all three tiers will be permitted to reopen, providing the economy with a hugely welcome boost. Collective worship can resume, spectators will be allowed back in limited number at some sporting events and regular testing will allow care home residents more visitors.
Addressing the House of Commons remotely, because of his own quarantine conditions, Johnson said that the virus "is not going to grant a Christmas truce".
"We are not out of the woods yet," he continued, adding that "with expansion in testing and vaccines edging closer to deployment, the regional tiered system will help get the virus back under control and keep it there". He also said the tiers were a uniform set of measures, with no room for local negotiations.
As Johnson spoke, a 64-page COVID winter plan was published on the government website, plotting what it called a "route back to normality".
Cinemas in tier 1 and 2 regions can reopen, and pubs and restaurants are subject to different rules in all three tiers.
The specifics of which category different areas will be put on will be announced later in the week, but it is expected that more areas will be placed on tier 2 or 3.
Opposition Labour Party leader Keir Starmer said his party would offer "any support we can in the national effort to deliver the vaccine safely across the country".
But he queried the return of the tier system, based on its previous ineffectiveness, saying "to impose it runs the risk of not getting buy-in from local leaders and local communities, which is incredibly important".
Monday's announcement did not include details of how people will be able to socialize during the Christmas period.
It is understood that Johnson had wanted to set out the government's plans but any announcement has now been delayed until Tuesday at the earliest, so the Welsh and Scottish governments can agree on one policy.
Scotland's first minister, Nicola Sturgeon, said that although no final decision had yet been made, there was what she called progress toward a "common position" and she was aware that the health impacts of loneliness and isolation were factors that had to be taken into account.
Speaking on the BBC radio Today program earlier, Health Secretary Matt Hancock said the government hoped there could be agreement on a "cautious, balanced approach" for Christmas "that can allow people to see their families, but also makes sure that we can keep the virus under control".
More encouraging news has come from Adrian Hill, director of the Jenner Institute in Oxford, which is the home of the latest vaccine breakthroughs, as he has said vaccination could start soon.
"I think we are on track for the timeline ... to start getting this vaccine rolled out from December," he told the Reuters news agency.
"I think that could be done. It's going to be an enormous effort ...hopefully there will be vaccine available for all adults, but that's likely to be springtime rather than in January."
Meanwhile, Chancellor of the Exchequer Rishi Sunak has warned that people will soon see an "economic shock laid bare" as the country comes to economic terms with the long-term impact of the pandemic.
On Wednesday he will reveal his Spending Review, containing details of how public services will be funded, and the billions of pounds that have had to be diverted toward fighting novel coronavirus will have impacted what he had hoped to do.
Sunak has insisted that funding promises for schools, nurses and policing will be kept, and that the public will not see a return to the austerity policies of years gone by, but there have been reports that other public-sector workers could face a wage freeze.
In addition, comments he made to the Sunday Times at the weekend suggested tax rises and spending cuts could lie ahead further down the line.
Elsewhere, Berlin's Brandenburg Gate, which is usually one of Germany's main points of New Year celebration, will not be hosting a party this year. This follows on the announcement in September that London's New Year's Eve firework display would also be cancelled.