Protests loom as drag on Thailand's recovery
By YANG HAN in Hong Kong | China Daily | Updated: 2020-11-26 10:21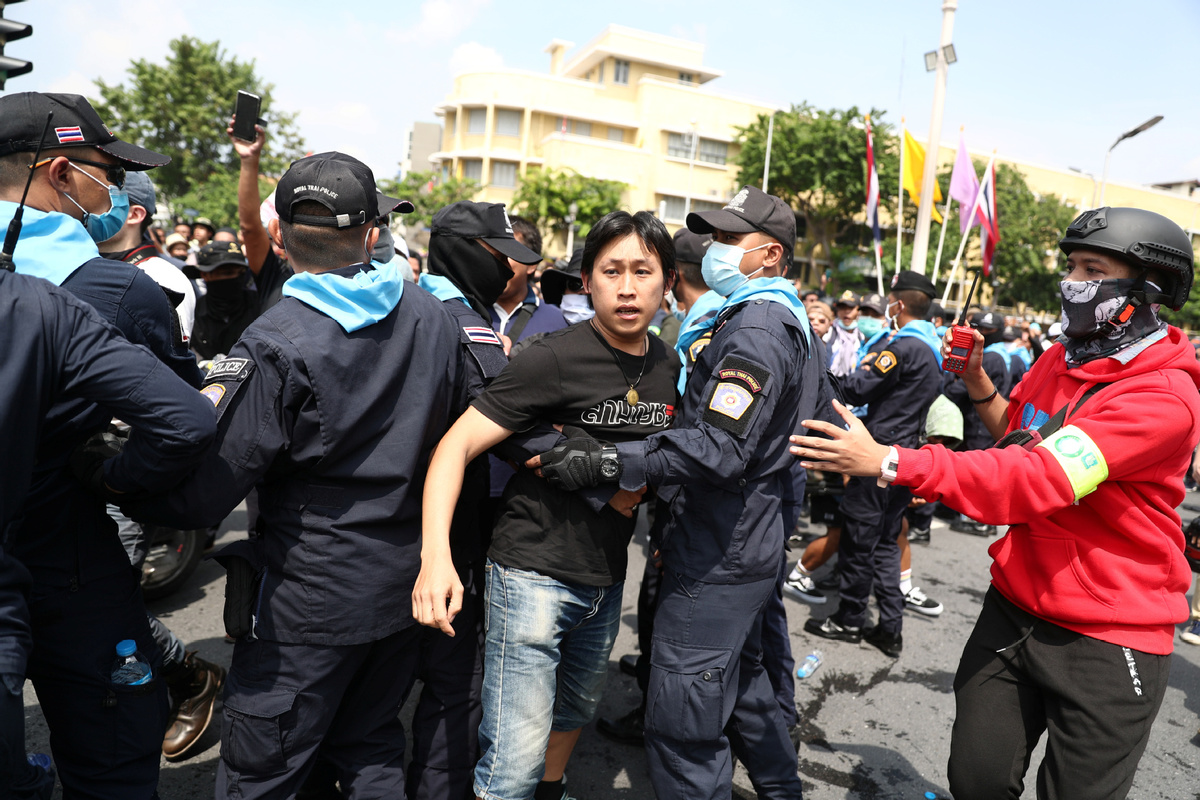 With hopes pinned on tourism revival, unrest could deter arrivals, experts say
Thailand's efforts to revive its coronavirus-hit economy are facing a double whammy with anti-government protests taking a toll and posing a prolonged risk to recovery alongside movement restrictions.
The protests starting in July against the government show no sign of ending, with a major rally held on Wednesday in Bangkok outside the head office of Siam Commercial Bank, in which King Maha Vajiralongkorn is listed as the biggest shareholder. The protesters also want the king's powers to be curbed.
Suan Teck Kin, head of research at Singapore's United Overseas Bank, or UOB, said it is a very challenging time for Thailand. "With economic activities already impacted by the pandemic, the domestic protests will weigh further on sentiment and businesses," Suan said.
Though Thailand has largely put COVID-19 under control, the country has been hit hard by the economic consequences of the restrictions brought in to control the pandemic. UOB forecasts Thailand's economy will contract 6.5 percent this year. That would make it the second-worst-performing economy-behind only the Philippines with a forecast 9.3 percent shrinkage-among the 10 members of the Association of Southeast Asian Nations.
In the second quarter, GDP shrank 12.2 percent, the biggest decline since 1998, amid the Asian financial crisis, according to Xinhua, citing Thailand's National Economic and Social Development Council.
Alicia Garcia-Herrero, chief economist for Asia Pacific at French investment bank Natixis, forecasts the economy will shrink 7.5 percent this year, before rebounding with growth of 5 percent next year.
Noting that COVID-19 will remain a key factor affecting Thailand's economy, Garcia-Herrero, also a senior research fellow at European think tank Bruegel, said: "Higher political risk is weighing negatively on investment. I don't think protests are as important as travel bans and quarantine rules, at least not so far, so I am more optimistic about 2021."
Business disruption
Of the protests, Suan said: "The large gatherings in close proximity could also spread the virus, which in turn could cause further business disruption if infections cases rise and the government has to institute lockdowns to slow the spread."
If Thailand wants to boost its economy by attracting foreign tourists, Suan said that controlling the virus is the only way to give people confidence. The main risk from the protests is that it could turn tourists away when international travel is freed up, said Suan.
Michael Langham, senior Asia country risk analyst for Fitch Solutions, said tourism receipts typically account for around 13 percent of Thailand's GDP, and combined tourism and travel made up 22 percent of GDP last year.
"Of this, Chinese tourists are by far the most significant for Thailand, accounting for 27.6 percent of arrivals and 28.1 percent of tourist receipts," said Langham.
Thailand is working to gradually open its doors to international tourists. In late October, it welcomed the first batch of Chinese tourists under a special tourist visa program.
Thailand's Ministry of Tourism and Sports on Nov 6 said that it is eyeing a travel bubble with China.
Wantanee Suntikul, assistant professor at the School of Hotel and Tourism Management at the Hong Kong Polytechnic University, said the protests might affect tourists' travel plans.
For foreign tourists, "instead of going to Bangkok, they might like to focus on the routes to the southern or northern part of Thailand, where there are not many big groups of protests", said Suntikul.
Noting that the protests have been largely peaceful, Suntikul said the travel bubble plan is not likely to be affected unless there is a sudden change in the COVID-19 situation or if there is a coup d'etat, which last occurred in 2014.
Suan said an underlying issue in the protests is an income gap that has been exacerbated by COVID-19, as many young people usually work in tourism-related industries and may have been greatly affected during the pandemic.