Iran mulls response to scientist's assassination
China Daily | Updated: 2020-12-01 09:53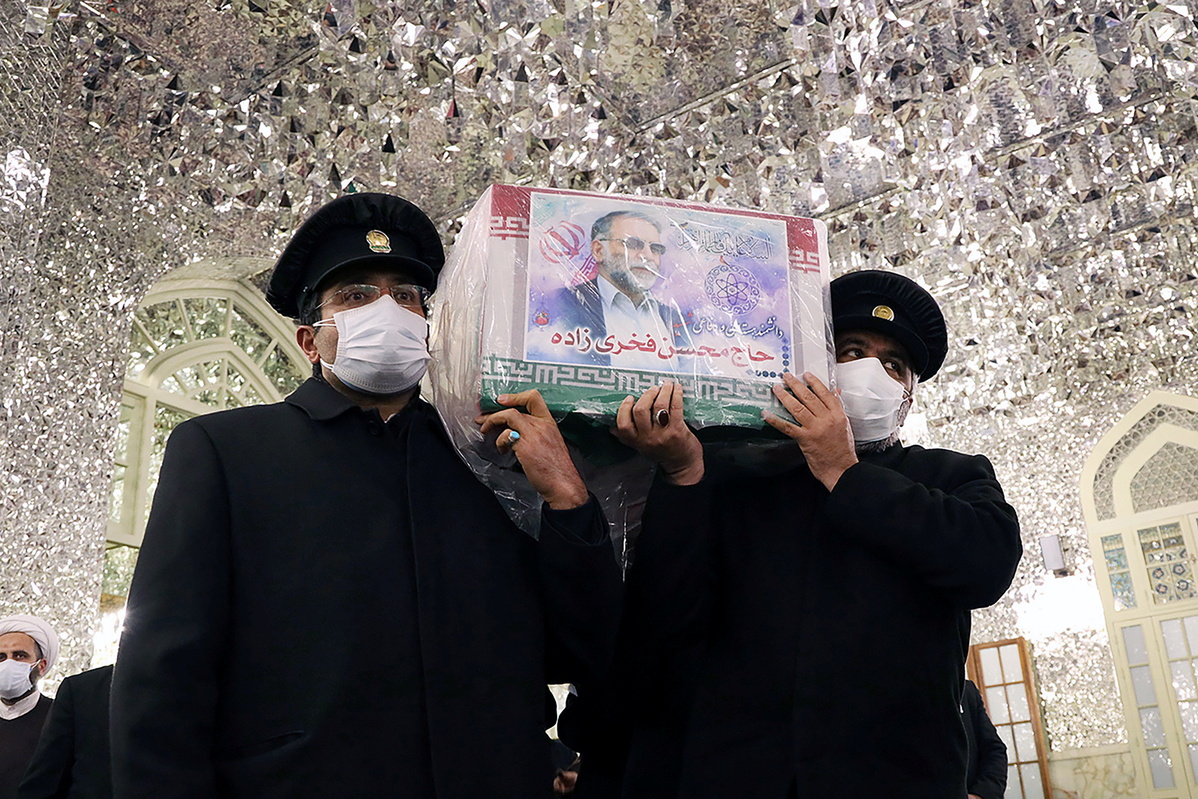 TEHERAN-Debate raged in Iran on Sunday over how and when to respond to a top nuclear scientist's assassination, as his body was honored at Shiite shrines for burial.
Two days after Mohsen Fakhrizadeh died from wounds sustained in a firefight between his guards and unidentified gunmen near Teheran, parliament demanded a halt to international inspections of Iranian nuclear sites while a top official hinted Iran should leave the global Nuclear Non-Proliferation Treaty.
President Hassan Rouhani has stressed the country will seek its revenge in "due time" and not be rushed into a "trap".
Israel says Fakhrizadeh was the head of an Iranian military nuclear program, the existence of which the Islamic republic has consistently denied. Israel's Mossad intelligence agency has been accused of standing behind the killing.
Secretary of Iran's Supreme National Security Council, Rear-Admiral Ali Shamkhani on Monday said Fakhrizadeh was killed in a new type of "complex operation".
The People's Mujahedeen of Iran were "certainly" involved, along with "the Zionist regime and the Mossad", Shamkhani said, referring to the Israeli government.
Fakhrizadeh's funeral was held on Monday at an outdoor portion of Iran's Defense Ministry in Teheran, in the presence of senior military commanders and his family.
Israel has not officially commented on Fakhrizadeh's killing, less than two months before US President-elect Joe Biden is set to take office after four years of hawkish foreign policy under US President Donald Trump. Trump withdrew the US from a multilateral nuclear agreement with Iran in 2018.
The head of Iran's Expediency Council, Mohsen Rezai, said there was "no reason why (Iran) should not reconsider the Nuclear Proliferation Treaty".
For Israeli newspaper Haaretz, Fakhrizadeh's killing was clearly tied to Biden's arrival in office.
"The timing of the assassination, even if it was determined by purely operational considerations, is a clear message to President-elect Joe Biden, intended to show Israel's criticism" of plans to revive the deal, it said.
The United Arab Emirates, which in September normalized ties with Israel, condemned the killing and urged restraint.
In Russia, a top lawmaker said on Sunday that the killing is a terror attack aimed at provoking Iran and Russia condemns the crime. "The murder of Iranian physicist Fakhrizadeh is a terrorist attack aimed at new provocation against Teheran," said Leonid Slutsky, chairman of the State Duma's Foreign Affairs Committee.
Agencies, Xinhua and Ren Qi in Moscow contributed to this story.