Honor mulls retail expansion with offline stores in more cities
By Ma Si | China Daily | Updated: 2020-12-03 07:45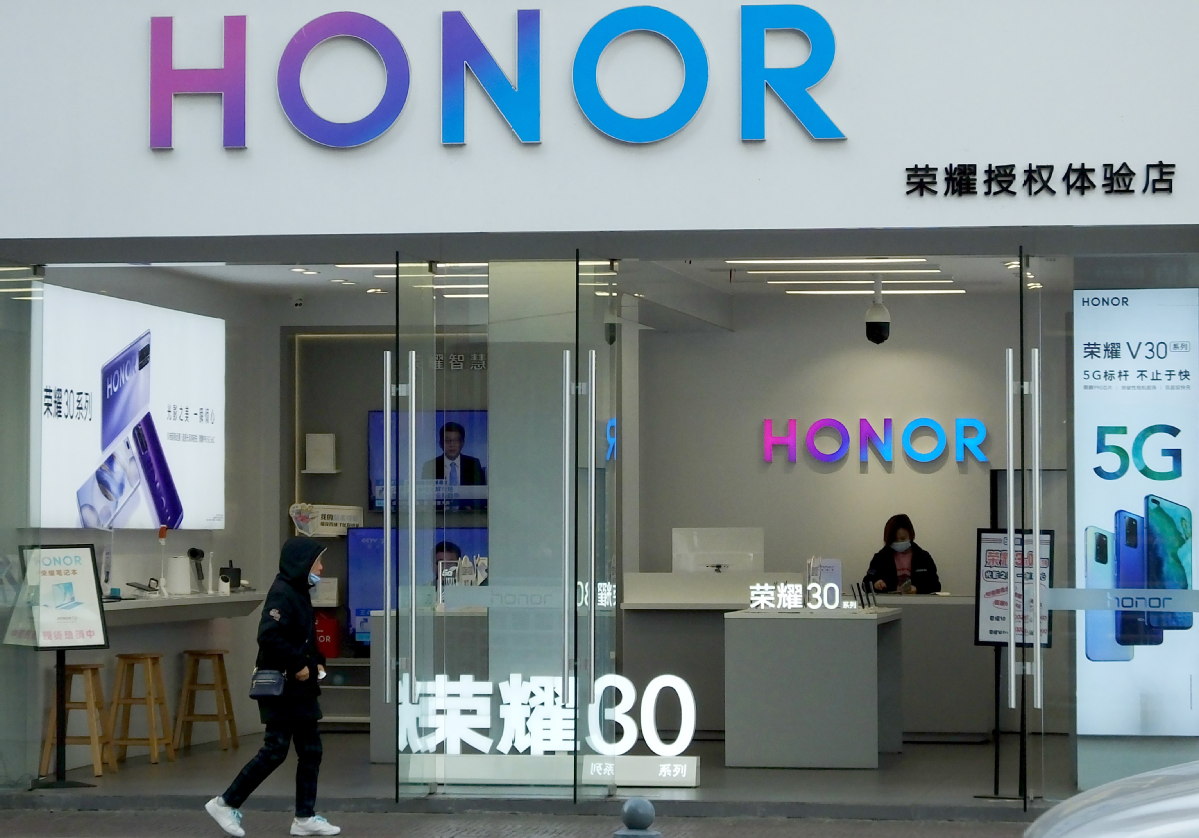 Honor, the Chinese smartphone brand sold by Huawei to a group of investors last month, is further expanding its retail footprint in the country by setting up offline stores in more cities, people familiar with the matter said on Wednesday.
The retail expansion plan comes close on the heels of the brand getting an unofficial vote of confidence from US chip giant Qualcomm Inc, which said it welcomes the entry of new participants and would discuss cooperation opportunities with the Chinese company.
Sources told China Daily that Honor has set up more stores in cities such as Chengdu in Sichuan province and Wuhan in Hubei province and the same has been going on since September. In addition, it is also setting up two new experience stores this month and one more in January, sources said, without revealing the locations.
Huawei said in November that it was selling all of its Honor business assets as its smartphone business has been facing severe pressure, due to the persistent unavailability of the necessary technical components.
At that time, the sale was dubbed a market-driven investment made to save Honor's industry chain. It is the best solution to protect the interests of Honor's consumers, channel sellers, suppliers, partners and employees, more than 30 agents and dealers who bought Honor said in a joint statement.
"At an internal meeting of the new Honor group, everyone reached an agreement that only a stronger offline growth can help the new company increase shipments amid intense competition," sources said.
Analysts said the growing presence of Honor in offline markets shows that retailers are optimistic about the company's prospects and are willing to become partners in the new company.
Fu Liang, an independent telecom expert who has been following the industry for more than a decade, said: "Honor has been accelerating its offline presence and building a better offline retail network after gaining its independence."
In July, Zhao Ming, then president of Honor, said in an interview with media outlets including China Daily that during the first six months of this year, Honor's offline sales exceeded its online sales for the first time.
On Tuesday, Qualcomm President Cristiano Amon said in an interview that Honor's presence will increase the consumption potential in the market. Consumers will like it, he said, when asked about the US company's cooperation with Honor, such as whether it can ship chips to the new company.
Amon said he likes the vitality of the Chinese mobile phone market and hopes that Honor can bring more good products. But everything has just begun, and the two companies will have a discussion in this regard.