Sports take to the comeback trail
Share - WeChat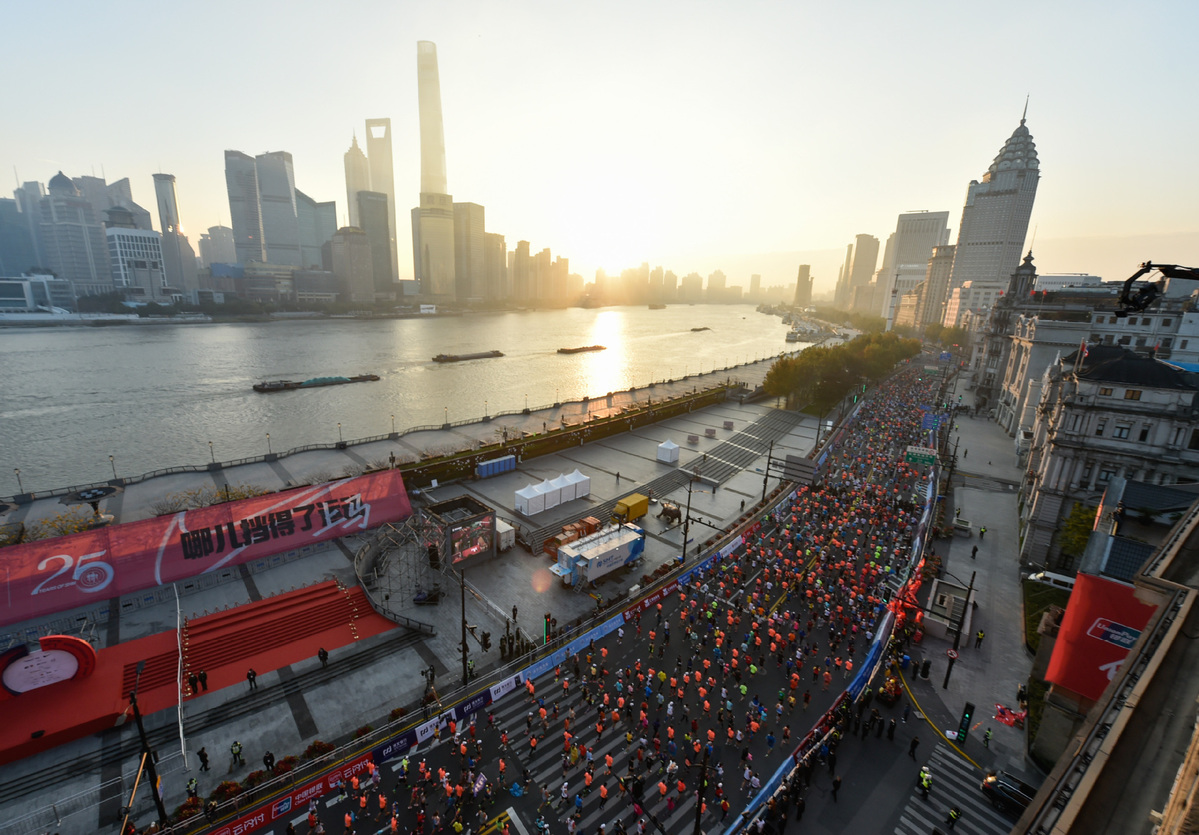 Marathons held as nation contains pandemic
On Sunday, running enthusiast Ning Juan took part in her fifth Shanghai Marathon, but the event was a little different this year.
Due to the pandemic, it was the only Platinum Label road race to be staged worldwide as scheduled.
Platinum Label races require at least three athletes from each gender with Platinum Status and at least four with Gold Status to start an event and compete by making a genuine effort.
Ning applied to take part in the marathon on Oct 21. Six days later, she learned that she had been selected as one of the 9,000 runners from 120,000 applicants.
Before collecting everything she needed for the race, including her competition number, she had to produce her travel history for the past 14 days, a negative nucleic acid test result and her ID card.
On race day, Ning left home at 5 am, arriving at the starting point on the Bund an hour later. She wore a face mask and had her temperature checked.
She then waited for the start at a fixed point marked by race officials to ensure social distancing was observed.
As the starting gun fired three times, Ning got into her stride.
After finishing the event in close to 4 hours 19 minutes, she said, "Unlike previous races, we started from different points this year to avoid crowds."
With the pandemic successfully contained in China, marathons and many other mass sports events have returned after a break of more than six months.
In addition to the Shanghai race, the Dongfeng Nissan Chengdu Marathon was staged on Sunday in the capital of Sichuan province, along with the Nanjing Marathon and National Marathon Championships in the provincial capital of Jiangsu.
The smooth return of three major events on the same day was unthinkable earlier this year, when nearly all sports activities were suspended or canceled due to the pandemic.
Runners had to stay indoors, where many took part in events online, which required the use of smart devices.
Due to pandemic control measures, organizers of the Shanghai Marathon, the only road race in China with a Platinum Label-which was granted in March-limited the field this year to 9,000 competitors. Last year, some 38,000 runners took part.
Hosted by the Shanghai Sports Federation, the authorities in Huangpu, Jing'an and Xuhui districts, and Shanghai Donghao Lansheng Event Management Co, the race started at 7 am.
The event ended after six and a quarter hours, with a 97 percent completion rate among male competitors and 96 percent for female runners.
Due to health control measures, all specially invited athletes were Chinese. The race was won by Jia'e Renjia, from Qinghai province, who broke the event record for domestic male runners with a time of 2:12:44. Li Zhixuan, from Inner Mongolia autonomous region, was the first female runner home, in 2:26:39.
Jia'e, 27, said: "After long hours of training and waiting, we finally ran the race. All of this has not been easy because of the pandemic, but I'm very happy with this result in Shanghai."