Attorney general rejects fraud claims on US vote
China Daily Global | Updated: 2020-12-03 10:13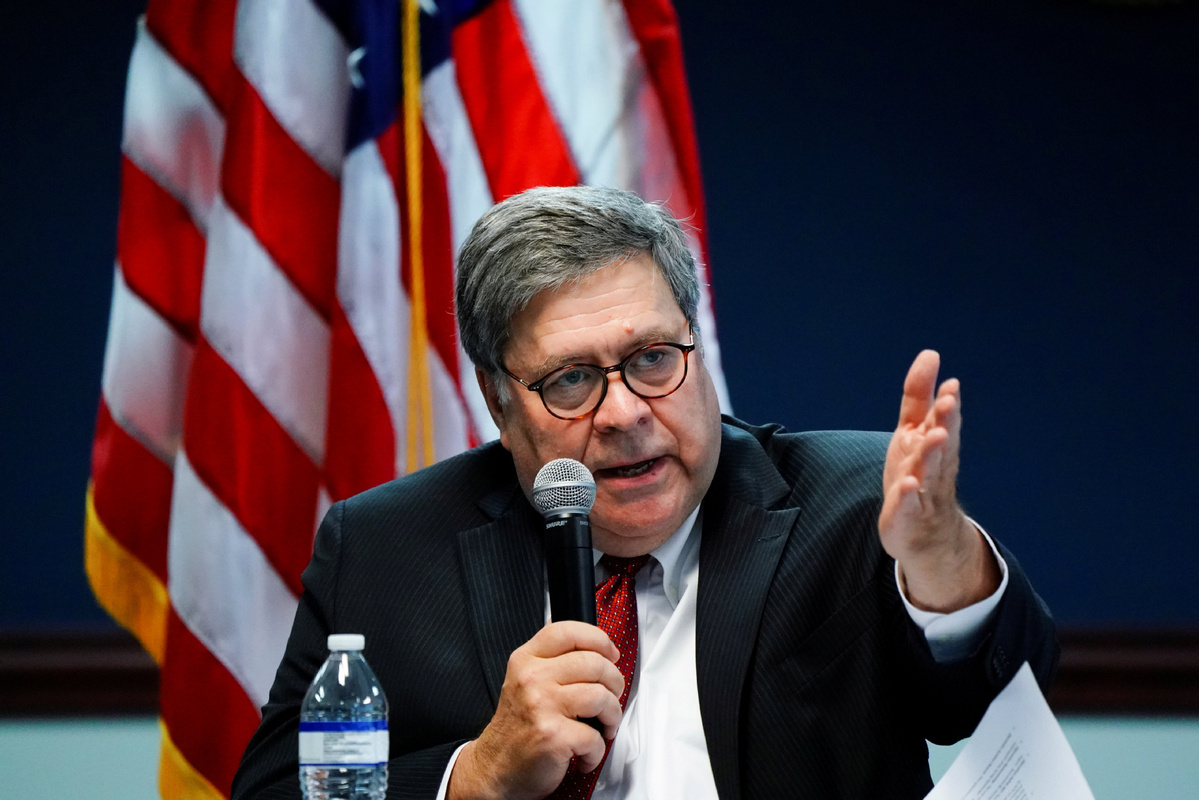 WASHINGTON-The US attorney general rejected Republican claims of significant voter fraud in the presidential election on Tuesday, adding to pressure on President Donald Trump to give up his quixotic effort to overturn President-elect Joe Biden's clear victory.
William Barr's comments confirmed the conclusions of the Department of Homeland Security, US intelligence, and independent poll watchers that the 2020 presidential election was, in the language of government officials, the "most secure in American history".
"To date, we have not seen fraud on a scale that could have effected a different outcome in the election," he told The Associated Press.
Barr's interview came as Trump persisted in claiming that fraudulent voting practices and systems in key states such as Michigan, Pennsylvania and Georgia had robbed him of a second term.
According to official vote tallies, Biden earned 6.2 million more votes than Trump and captured 306 state-by-state Electoral College votes, well above the 270 needed to win.
But Trump's campaign has striven to delay the popular vote tally from being finalized before the Electoral College meets on December 14 to certify the election winner.
His attorneys, led by Rudy Giuliani, have made numerous allegations ranging from ballot-box stuffing and fake ballot printing to thousands of dead people having voted and vote-counting machines being programmed to favor Biden.
The campaign to challenge the results has led to rising unease within the Republican party, including an emotional rebuke from the man in charge of Georgia's voting systems.
"All of you who have not said a damn word are complicit in this. It's too much," said Gabriel Sterling in a news conference condemning the president for not speaking against violent threats to election officials in the state.
Separately on Tuesday, staunch Trump supporter and Senate Majority Leader Mitch McConnell gave his clearest acknowledgment yet that Biden would move into the White House next month.
Discussing stalled negotiations over a stimulus package to jump-start the virus-battered US economy, McConnell said: "There's likely to be a discussion about some additional package of some size depending on what the new administration wants to pursue."
'Insignificant' number
Barr, an ally of Trump, did not address specific claims, but dismissed the idea of any "systemic "fraud that would have changed the outcome of the vote.
Any problem for which there has been evidence, Barr noted, would impact an insignificant number of votes. "There's been one assertion that would be systemic fraud, and that would be the claim that machines were programmed essentially to skew the election results," he said.
"And the DHS and DOJ have looked into that, and so far, we haven't seen anything to substantiate that," he added, referring to the departments of Homeland Security and Justice.
Agencies - Xinhua