Biden wants face masks worn for his first 100 days in office
By AI HEPING in New York | Updated: 2020-12-04 12:29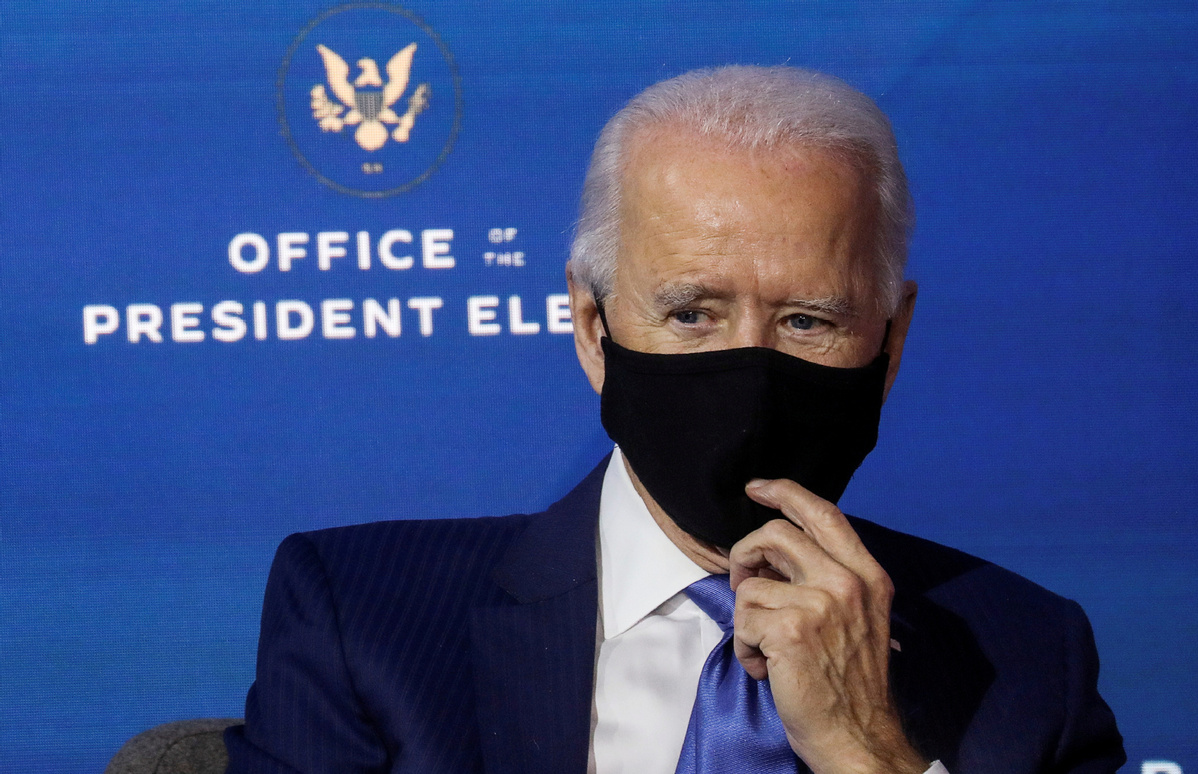 President-elect Joe Biden said Thursday he will ask Americans to wear masks for the first 100 days of his administration and that he will order masks to be worn where he has authority, such as in federal buildings or in interstate transportation on airplanes and buses.
"Just 100 days to mask, not forever. A hundred days. And I think we'll see a significant reduction," Biden told CNN during his first joint interview with Vice-President-elect Kamala Harris since winning the election.
The US Centers for Disease Control and Prevention (CDC) and health officials throughout the country have strongly advised people to wear masks to protect themselves and those around them from transmitting the virus, which now is spreading throughout the country and taxing the capacity of hospitals to handle patients.
Biden's comments come one day after the US recorded 3,157 deaths on Wednesday, according to Johns Hopkins University, breaking the record of 2,603, set on April 15. New daily cases have been topping 200,000, according to Johns Hopkins. The number of Americans in the hospital also was at an all-time high at more than 100,000, according to the COVID Tracking Project. Hospitalizations have more than doubled over the past month.
States face a Friday deadline to submit requests for doses of the Pfizer vaccine and where they should be shipped. The Associated Press reported that many appear to be heeding nonbinding guidelines adopted this week by the CDC to put healthcare workers and nursing home patients first.
In California, Governor Gavin Newsom said Thursday he will impose a new stay-at-home order for areas where capacity at hospital intensive care units falls below 15 percent. The nation's most populous state reported more than 20,000 new coronavirus cases on Wednesday, shattering the state's previous one-day record as Newsom quarantined himself at home after his family was exposed.
The new order divides the state into five regions. Newsom said none of the regions currently meet the threshold for the new rules, but when they do, the state will order them to close hair salons and barbershops, limit retail stores to 20 percent capacity and allow restaurants to offer only take-out and delivery. The rules don't apply to school districts.
Biden also said that he spoke with Dr Anthony Fauci, the director of the National Institute of Allergy and Infectious Diseases and a member of President Donald Trump's coronavirus task force, earlier in the day and asked him to remain in his position leading the institute and to serve as his chief medical adviser and on his COVID response team.
"I asked him to stay on the exact same role he's had for the past several presidents," Biden told CNN's Jake Tapper.
Fauci has been an outspoken member of Trump's White House coronavirus team, issuing warnings about the importance of wearing masks, social distancing and halting large-scale gatherings — all positions that Trump has not fully supported.
At a campaign rally in Pennsylvania on Nov 2, Trump suggested he would fire Fauci following the presidential election. As a crowd at the rally chanted "Fire Fauci," Trump paused and then responded: "Don't tell anybody but let me wait until after the election … he's a nice man, but he's been wrong on a lot."
Biden said his plan to fight the coronavirus is a balance between ensuring that Americans believe the vaccine is safe and instituting plans that will curb the spread of the virus without shutting down the economy.
Biden also said during the interview that he will be "happy to" get a coronavirus vaccine once Fauci says it is safe and that he will get the vaccine publicly to demonstrate his confidence in it.
"People have lost faith in the ability of the vaccine to work,'' he said. "And it matters what the president and vice-president do."
On Wednesday, former presidents Barack Obama, George W. Bush and Bill Clinton said they would publicly get the coronavirus vaccine to demonstrate its safety and efficacy.
Agencies contributed to this story.