Kenyan woman scoops UNEP award
By EDITH MUTETHYA in Nairobi, Kenya | China Daily | Updated: 2020-12-19 08:34
When Nzambi Matee left her job to venture into the field of ecopreneurship in 2017, many thought she was crazy and tried to discourage her.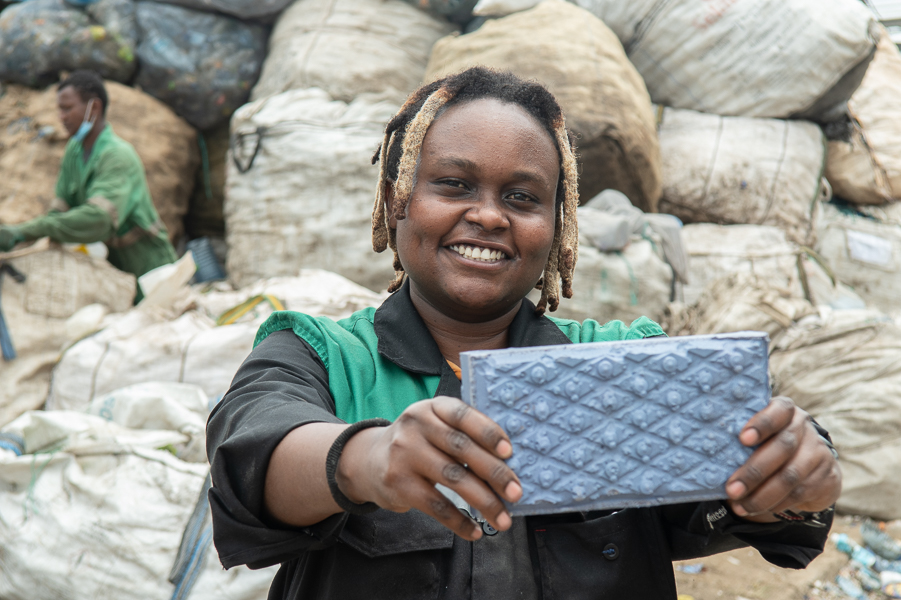 Today, she is being celebrated not only by her family members and friends but by the entire continent and the world for being the 2020 African winner of the United Nations Environment Programme's Young Champions of the Earth Award.
The prize is given annually to seven entrepreneurs under the age of 30 with bold ideas for sustainable environmental change. It provides seed funding and mentorship to promising environmentalists as they tackle some of the world's most pressing challenges.
The 29-year-old was awarded for her efforts to innovatively solve the challenge of plastics in Kenya. She sees the prize as recognition of her hard work together with her team of nine others and says it has publicized her products, which should allow them to get more customers.
Matee is the founder of Gjenge Makers, a social enterprise that recycles and upcycles waste plastic into construction products such as paving bricks, paving tiles, hatch and maintenance hole covers.
In her workshop based in Kenya's capital Nairobi, the plastics are turned into construction materials. Her enterprise churns out 1,500 plastic pavers daily. The cost of the pavers range from $8-$18 per square meter, depending on their size, color and design.
The Gjenge pavers have a melting point of over 350 C, making them much stronger than concrete ones. Due to their durability and affordability, the products are greatly valued by schools and homeowners.
Matee, who majored in material science and worked as an engineer in Kenya's oil industry, was inspired to launch her business after routinely coming across plastic bags strewed along Nairobi's streets.
When her family and friends learned of her decision to leave a good job and venture into the business, most of them did not like the idea and thought it was a mistake.
Matee though had made up her mind and her vision was crystal clear. She was not ready to give into all the discouragement she got.
Equipped with passion and determination, she quit her job as a data analyst in 2017 and set up a small lab in her mother's backyard.
Her project was given a boost when she won a scholarship to attend a social entrepreneurship training program in the United States.
With her paver samples packed in her luggage, she used the material labs in the University of Colorado Boulder to further test and refine the ratio of sand to plastic.
Matee also used the opportunity to develop the machinery she would use to make the bricks.
"The first time we produced a full batch of recycled plastic pavers, it was the best day ever. This was three years of hard work," she said.
Going forward, Matee looks forward to her enterprise being the leader in alternative building materials. She plans to expand to Nigeria, Uganda and Tanzania.
"The negative impact we are having on the environment is huge. It's up to us to make this reality better. Start with whatever local solution you can find and be consistent with it. The results will be amazing," she said.