Credit Suisse seeks 'clean slate' after damaging year
By JONATHAN POWELL in London | China Daily Global | Updated: 2020-12-22 09:24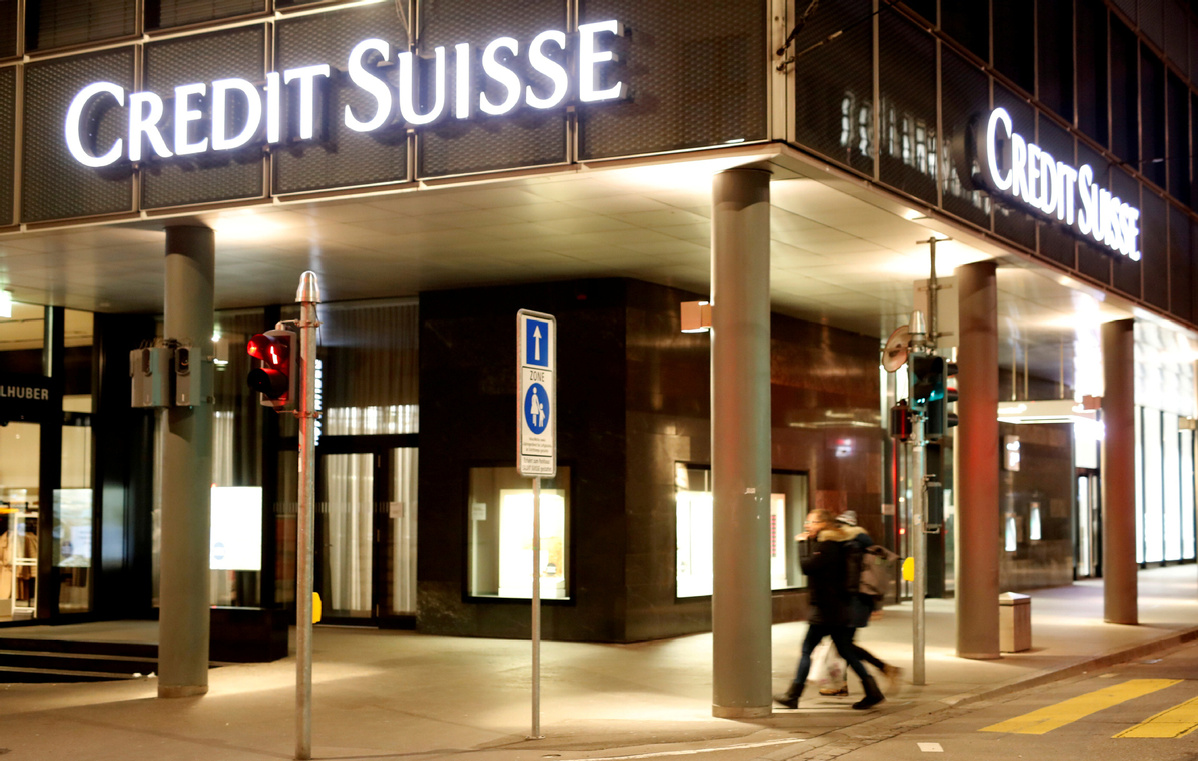 The chief executive of Credit Suisse said the banking giant is seeking to start 2021 with a "clean slate" following a damaging year that included a spying scandal, lending failures and ended with an indictment filed against it for failing to tackle money-laundering practices connected to drug trafficking.
Switzerland's attorney general's office last week indicted Credit Suisse over alleged "organizational" failings related to a Bulgarian criminal organization.
The Office of the Attorney General said a former manager at Credit Suisse and two alleged members of the criminal organization had also been indicted before the Swiss Federal Criminal Court, Reuters reported.
Switzerland's second-largest bank said in a statement that it rejected the allegations against it, adding that it is convinced its former employee is innocent.
"There will never be a totally clean slate," said the bank's chief, Thomas Gottstein, in an interview with the Financial Times before the indictment was issued.
"We will always have issues, but it's certainly my goal to start 2021 with as clean a slate as possible," said Gottstein, who replaced Tidjane Thiam in February as head of the Swiss lender.
Thiam resigned after the bank admitted to having hired private detectives to spy on former executive staff that it had concerns about related to talent poaching.
After a 12-year investigation, Credit Suisse is now accused of "failing to take all the organizational measures that were reasonable and required to prevent the laundering of assets belonging to and under the control of the criminal organization," according to a statement by the Office of the Swiss Attorney General.
The bank responded in its statement, saying it "rejects the allegations about supposed organizational deficiencies and intends to defend itself vigorously".
Gottstein told the Financial Times that 2020 had been "a cleanup year" for the bank, which was also involved in alleged frauds at Luckin Coffee and Wirecard, according to the report.
Credit Suisse last month said it faces up to $680 million in losses from a civil suit in the United States relating to residential mortgage-backed securities issued in 2007.
It had also revealed that it expected to suffer a $450 million loss on its stake in York Capital Management, which intends to close its European hedge fund operations.
"My clear intention is to work through these legacy cases," said Gottstein. "2021 is the new era for Credit Suisse where we want to go into offense and we want to grow."