Ancient murals restored in labor of love
Share - WeChat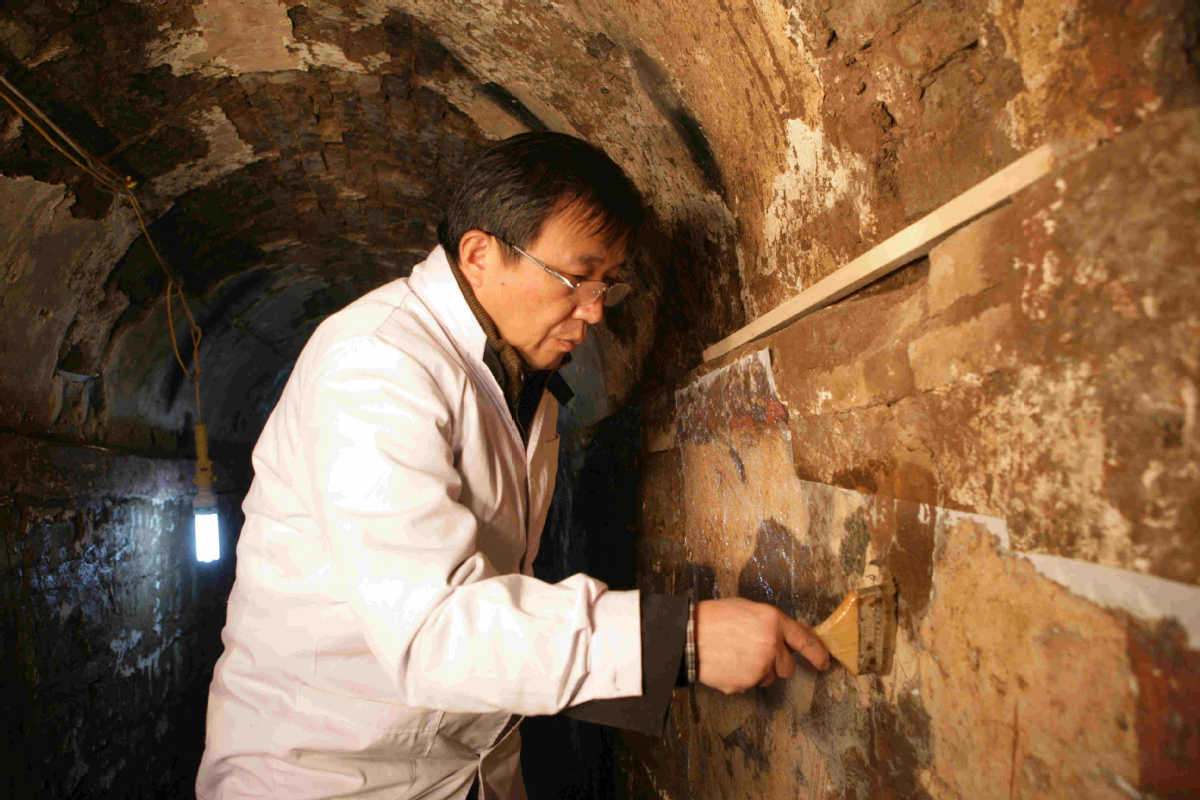 Arduous business
Most of the time, restoring murals is an onerous task.
In 2014, after the tomb of senior Tang Dynasty official Han Xiu was unearthed in the Chang'an district of Xi'an, Yang and his colleagues spent three months painstakingly dipping cotton swabs in ionized water to clean dirt from the surface of murals found at the site.
"We need to ensure that the cleaning agent we use does not affect the murals' color. Cultural relics can't be used for testing, so the restoration work has to be infallible in order to gauge their historic, artistic and scientific research value," Yang said.
"Discovering these exquisite wall paintings in a tomb created a real stir in the archaeological academic world," Yang said.
"The tomb was initially found by grave robbers, and after opening it, there was nothing left inside except these murals."
Yang said experts and painting scholars arrived at the site in droves at the time, and he was responsible for relocating the murals, which involved a series of complicated procedures.
Based on his years of experience, Yang said two factors play a key role in restoring murals-minimum interference and reversibility.
"Reversibility means that when our specialists want to restore the murals later on, the materials added for restoration work can be replaced with new ones at any time," he said.
Wang Jia, deputy director of the mural painting restoration department at Shaanxi History Museum, said the pigments used in murals are "extremely precious".
Supervising 18 specialists working in the mural restoration laboratory, Wang said that before they enter the lab every day, the technical staff members have to pass through a special machine that eliminates bacteria.
"The lab is kept ventilated and dry all year around. Each specialist uses unique skills to restore the murals, and this work includes archaeological drawing, copying, collecting information and treating mold.
"We remind ourselves not to panic and to avoid rushing our work. Pigments and brushes used for writing are our friends, as we use them widely each day in restoration work," Wang said.
"It's vital that we preserve the original pigments on the murals while we clean any contamination."
After cleaning is completed, conservator-restorers add a strengthening agent to fill in any loose areas on the back of the artworks.
Wang said that in recent years, honeycomb aluminum, a new material, has helped restorers with their work by providing additional support for the murals.
For Yang and Wang, their work not only involves restoring murals, but also telling a story and showcasing features from a particular era to bring ancient art back to life in modern times.
Over the years, protecting murals has been a tough task in safeguarding cultural relics at home and abroad.
In the West, murals can be traced to prehistoric times, and during the Renaissance in Italy, they demonstrated the era's immense prosperity.
Records show that murals were first protected in Western countries hundreds of years ago.
Zhou Weiqiang, a researcher in the cultural relics protection technology department at Northwest University, said that during the Renaissance, maintaining and repairing murals began immediately an artwork was completed.
For example, such work was carried out on Genesis, the Michelangelo fresco on the ceiling of the Sistine Chapel in the Vatican, Zhou said.
"Michelangelo created the most striking mural at that time. The fresco was so huge that once it was completed, his students started maintenance work on the chapel ceiling," he added.