Virus sends SoCal hospitals near crisis levels
By LIU YINMENG in Los Angeles | chinadaily.com.cn | Updated: 2021-01-14 12:47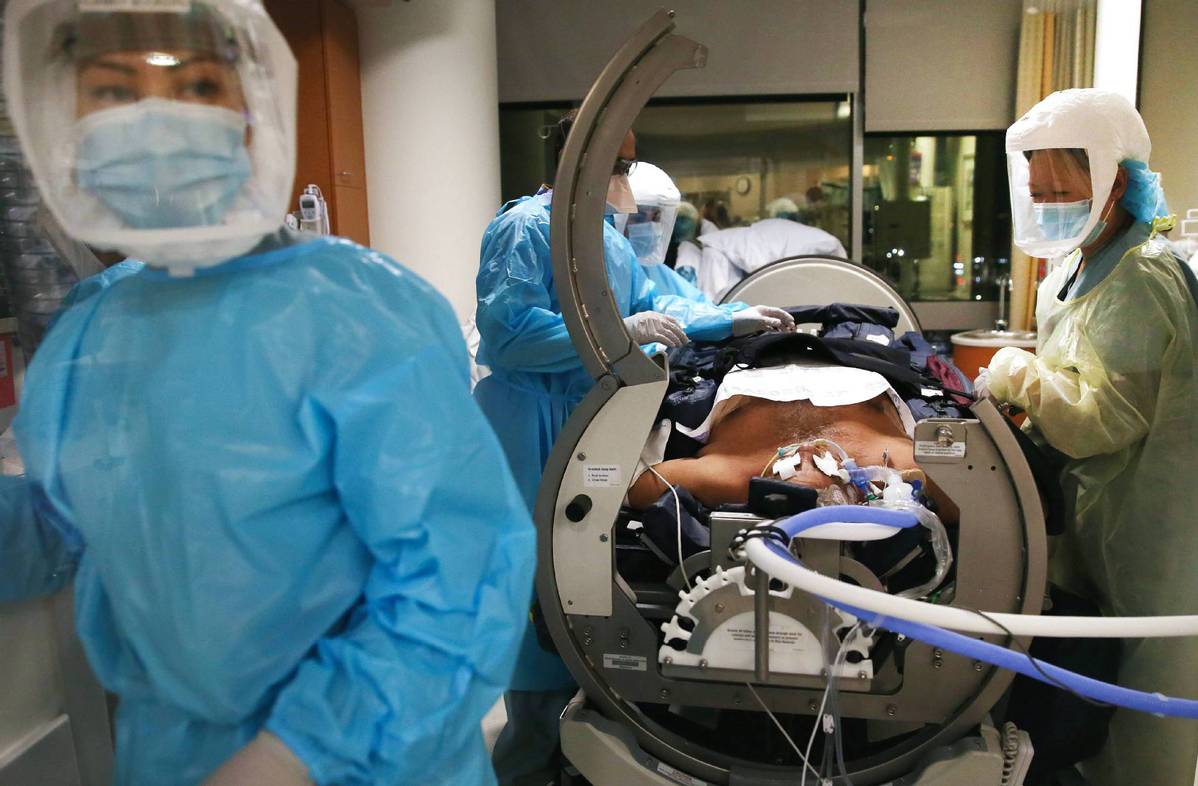 A Southern California hospital executive said the coronavirus situation at her facility was approaching a crisis compared with the summer, which she called "a bit of a walk in the park".
In an update Monday to the Pasadena City Council, Dr Lori Morgan, president and CEO of Huntington Hospital, painted a grim picture of rising novel coronavirus infections in the area.
"We spent quite a bit of time talking to each other through the summer when we had such a large number of COVID patients, and now last summer starts to look like it was a bit of a walk in the park," she said.
On Monday morning, the 619-bed hospital reported more than 200 COVID-19 patients, 27 of whom were fighting for their lives in the intensive-care unit (ICU), Morgan said. The facility is using 51 of its 75 available ventilators for COVID and non-COVID patients.
Many California hospitals are on the brink of implementing crisis-care guidelines as a post-holiday spike of cases continues to push the state's healthcare system to the limit.
The state recorded 33,751 new coronavirus cases Wednesday, putting the total at 2,781,039. There have been 31,102 COVID-19 deaths in California.
The new-case number was a welcome decline from Tuesday, when the Golden State recorded 36,487, California Health and Human Services Secretary Dr Mark Ghaly said in an update Tuesday.
Los Angeles County, the nation's most populous county, is likely to hit 1 million confirmed coronavirus cases by the end of this week, according to the Los Angeles Times.
Huntington Hospital's leaders informed patients of the tough decisions its medical teams will have to make if resources continue to run scarce amid the soaring infection rate.
A team including doctors, a community member, a bioethics designee and a spiritual care provider will review the cases of all patients who are critically ill and allocate resources "based on the best medical information possible", the hospital stated on its website.
"We are not at a point where we have invoked our scarce-resources policy. Quite frankly, I still pray every night that we won't have to do that. As a clinician, it's anathema to me that we would limit clinical resources in the most medically resourced country in the world. It's just painful," Morgan said.
The 600-bed Los Angeles County + USC Medical Center (LAC+USC) said in an emailed statement that the COVID-19 pandemic and the recent surge have put all hospitals in LA County, including LAC+USC Medical Center, in a very difficult situation.
"We still have beds available, but we do not have enough trained staff and are relying on support from the State of California and the Department of Defense. We occasionally have to go on ambulance diversion, and we have to treat patients in the emergency room instead of moving them into inpatient beds," the hospital added.
A new guideline released last week by Los Angeles Department of Health Services directed the county's four public hospitals, including LAC+USC, to designate triage officers who will apportion care during a public health emergency.
"Decisions of allocation will be to decide which patients get which resource, and in some circumstances, may involve decisions to take scarce resources from one patient and give them to another who is more likely to benefit from them," read the guideline, which also emphasized fairness and equity.
LAC+USC said the goal is to "save as many lives as possible", if and when the hospital enters crisis standards of care.
Harbor-UCLA Medical Center, another county-run hospital, is "extremely concerned about the impact of the post-holiday surge of patients".
"We continue to assess our bed capacity daily. We have already opened several ICU-expansion areas to treat COVID-19 patients and continue under our surge plan to increase capacity to meet patient care needs," hospital Communications Manager LaVasha A. Floyd wrote in an email.
Although the facility is not currently under crisis standards of care, hospital leadership has "carefully prepared for the worst-case scenario" and is "doing everything we can to meet care needs and avoid having to move into crisis standards of care", Floyd said.
Kaiser Permanente, the Oakland, California-based hospital chain, said it is monitoring each area it serves, including Southern California, and has increased treatment space and supplies "to meet the evolving demands of the pandemic".
"And, though we expanded inpatient capacity early in the pandemic, the current surge has required us to add even more space in our Emergency Departments and ICU areas," said the statement to China Daily, adding that Kaiser is "converting and using every available space possible", including former conference rooms, waiting rooms, recovery areas and other nontraditional areas in the hospital.
The chain said it has not yet had to implement formal crisis standards of care in its hospitals but is trending closer to that.
"If the number of new infections doesn't slow, it's only a matter of time. We hope not to get to the place where we have to start making extraordinarily difficult decisions that most of us have never had to face before. But with resources spread so thin — especially staffing — the only way we can avoid reaching crisis levels is if everybody takes action to stop the current spread of the virus," it added.
The California Department of Public Health said that "no hospital is currently practicing crisis care".
"The four facilities that previously notified us had the situations mitigated by CDPH through immediate support and technical assistance, improving conditions to better care for patients," the health department said.
It's not publicly sharing the specific hospitals because doing so would "discourage these critical notifications", it added.