Decoupling threatens European firms in China
By JONATHAN POWELL | China Daily | Updated: 2021-01-16 07:28
The damaging impact of economic decoupling trends between the United States and China on European businesses with operations in the two countries has been laid out in a report from the European Chamber of Commerce in China.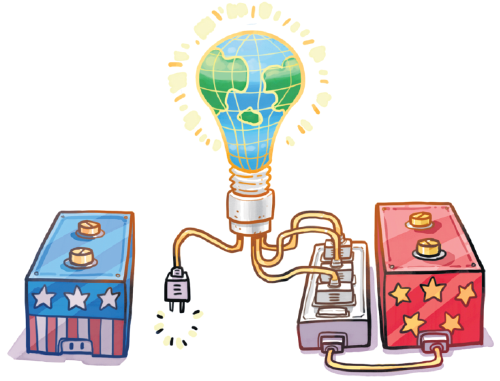 Along with trends toward political, trade and financial decoupling, the digital sector presents a serious cause for concern, said the chamber in its report, released on Thursday with the Mercator Institute for Chinese Studies, a Berlin-based think tank.
Titled Decoupling: Severed Ties and Patchwork Globalization, the report highlights how European companies are caught in the middle as the US attempts to "purge its networks of Chinese-made software and components", and China, heavily dependent on imports of semiconductors, pushes for "digital self-reliance".
The report, based on surveys of about 120 members of the chamber and conducted late last year, warns that EU businesses in China should "prepare for the worst", and that decoupling could force a costly separation of international operations, according to a Reuters report.
The decision of the US to cut the supply of semiconductors to China has already disrupted operations for some European companies, the report noted, adding that decoupling trends were likely to worsen in future, "catalyzed by political and strategic divergence".
About 68 percent of European companies said that supply-chain decoupling would hurt their business, and 27 percent of respondents said they relied on US semiconductors and software.
European businesses with operations in the US claimed they would be badly affected if they were asked to remove all Chinese hardware and software from their telecom networks.
"The pain is most keenly felt in the areas where China's self-reliance campaign collides with the US and other actors' efforts to engineer economic decoupling-most clearly in all things digital," the report said.
European businesses were already experiencing "significant negative impact", business groups said in the report, with some describing decoupling as the "death knell" for their operations in China.
"Many fear that a continuation along this perilous route toward a complete fracturing of economic and technological ties between the US and China may sound the death knell for their China business or force them into a dual track approach to technology and supply chains, either of which will cause irrecoverable damage to their global operations and home markets alike," it said.
After 35 rounds of talks, China and the EU announced last month the completion of the China-EU Comprehensive Agreement on Investment.
The deal was expected to provide greater market access, a higher level of business environment, stronger institutional guarantees and brighter cooperation prospects for mutual investment.
China has become the biggest trade partner of the EU while the EU is now China's second-largest trade partner.