Italian PM Conte seeks to stay in power
China Daily | Updated: 2021-01-20 10:32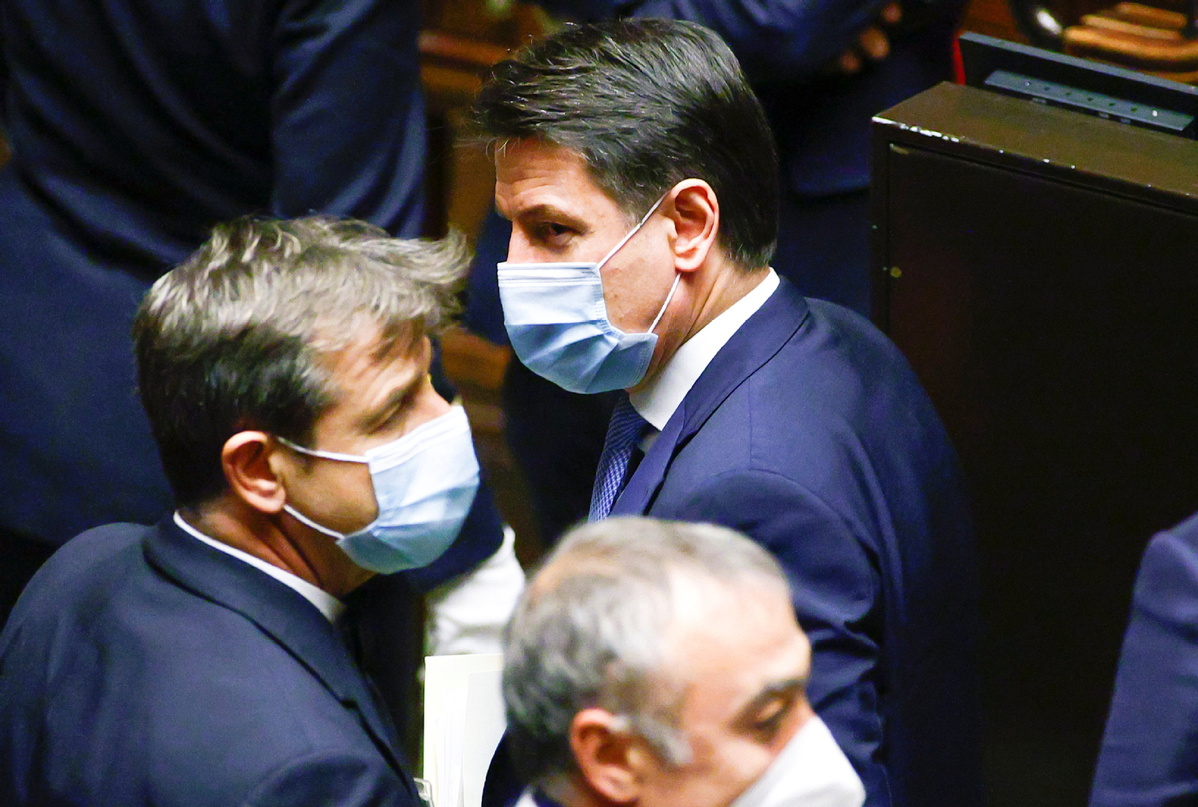 Italian Prime Minister Giuseppe Conte made a second impassioned plea to lawmakers on Tuesday to support his government, calling on them to repay the sacrifices of citizens during the pandemic by voting to back his government and overcome a political crisis provoked by a coalition partner.
"With today's vote, I trust that the institutions will be able to repay the trust of citizens in order to put behind us this great act of irresponsibility as soon as possible," Conte said.
Conte gave almost the same speech to the upper house as he had delivered on Monday to the Chamber of Deputies, where he won by a wider than expected margin of 321 votes to 259, securing an absolute majority.
Conte had only a slim majority in the 321-seat Senate even before former prime minister Matteo Renzi withdrew his Italia Viva party from the coalition last week.
The Senate vote later on Tuesday will be even tighter.
"Numbers are important, today even more so. But even more important is the quality of the political project," Conte said. "We ask all the political forces to help us relaunch with the maximum speed and help us repair the damage to citizens' trust that the crisis has produced."
The result of the confidence vote, at the end of what promises to be a fiery debate, is due some time after 7 pm local time.
If the prime minister loses, he will be forced to resign, putting an end to his 17-month government led by the anti-establishment Five-Star Movement and the center-left Democratic Party.
The most optimistic recent tally by political analysts has put Conte on 157 votes, four short of an absolute majority, though Monday's wider than expected victory margin in the Chamber of Deputies may buoy the premier's hopes.
He does not need an absolute majority to remain in office, he merely needs to win the vote, but leading a minority government would put him in a precarious position if he tries to push through any contested legislation.
Looking to entice centrist lawmakers, Conte has promised to revamp his policy agenda and shake up his cabinet, vowing to modernize Italy and speed up implementation of a recovery plan.
Renzi, who withdrew his party from the cabinet due to disagreement over Conte's handling of the coronavirus and economic crises, has said his Italia Viva will "probably" abstain in Tuesday's vote as it did in the Chamber of Deputies.
Agnese Ortolani from The Economist Intelligence Unit told the Politico website that if Renzi's senators abstain from the vote in the Senate, Conte should survive, but that would not be the end of the difficulties.
"This would deliver an extremely fragile minority government which would be under pressure to secure external support to pass any pieces of legislation," she said.
Agencies and Julian Shea in London contributed to this story.