Lampard fears Chelsea chop as Blues' woes continue
Share - WeChat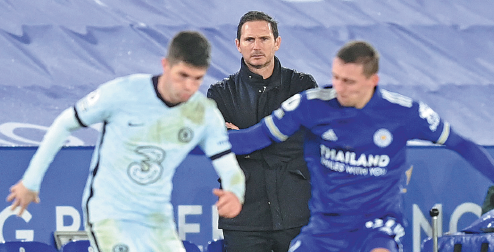 LEICESTER, England-Frank Lampard admitted he is unsure if he can hang on to his job as Chelsea manager after his expensively assembled Blues side crashed to a fifth defeat in eight games at Leicester City on Tuesday.
The result lifted Leicester to top spot in the Premier League and increased the heat on Lampard after last weekend's win at Fulham had afforded him a little respite.
After spending nearly $300 million in the transfer market in the offseason, an expected Chelsea title challenge has failed to materialize, with reports suggesting Blues owner Roman Ambramovich is considering axing the relatively inexperienced Lampard, who arrived at Stamford Bridge from second-tier Derby County in July 2019.
"It intensified for me a while ago," said Lampard of the growing scrutiny on his position. "Because the expectations at this club, whether they are right or wrong, are always high.
"I know we are in a different position with our squad-if you look at our squad today and the age in our squad and look at the composition of our squad, it's a mixture of a young squad, a lot of players, some new players. I keep talking about a transition but when you perform like that, it's normal people will ask questions."
Lampard is revered by Chelsea fans as one of the club's greatest-ever players and its all-time top scorer. However, with the former England international failing to get the best out of pricey offseason acquisitions Kai Havertz, Timo Werner and Hakim Ziyech, it remains to be seen whether his legendary status at the club can buy him more time with Russian owner Ambramovich.
Asked whether he was confident Abramovich would show patience with him, Lampard replied: "It's not my decision. That's something that will always be there.
"When I came into this job, the job of management, you understand some things are beyond your control."
Lampard said he was "worried "about his team, which was outplayed in all departments by the Foxes.
"From the form we were in, to get so quickly into the form we're now in … we should be better than that. Five losses in eight isn't where we want to be," the 42-year-old said.
"It takes character to turn from that-I went with quite a young team today so they won't be feeling nice. I'm not against the lads in the dressing room because they're disappointed. They learned a lesson from a team playing well and we were that team a month ago."
"There are moments," Lampard added, "you have to dig in and do the basics, and the bare minimum is to run and cover ground. Many of our players didn't do it."
Flying Foxes
Chelsea got off to a terrible start when Wilfred Ndidi smashed home a Marc Albrighton cross from just outside the box in the sixth minute.
The Blues showed signs of life when Callum Hudson-Odoi fired into the side-netting and the visitor thought it had won a penalty when Christian Pulisic was upended by Jonny Evans. A VAR review, though, judged the foul had taken place outside the box, and four minutes before the break it was 2-0.
An Albrighton long ball forward found James Maddison unmarked inside the area and the in-form England midfielder slotted home his eighth goal of the season.
Lampard responded by turning to $120 million worth of talent on the bench as Werner and Ziyech were introduced for the final 25 minutes.
Werner has now gone 11 Premier League games without a goal and even when the Germany international did find the net to flick home a late freekick, the offside flag rescued Leicester, which leapfrogged Manchester United into first place in the standings.
"It sounds nice-'top of the Premier League'," said Maddison. "It's a good one psychologically because we've worked really hard. It's a great achievement halfway through the season."
The Foxes are exceeding even their own expectations by going for a second title in five years.
"There might be teams able to spend a lot more money than us and bring in quality from abroad and pay big wages, but our team spirit and togetherness will continue to try and keep us up there," added Maddison.
"We're not up there by a fluke, we're up there because we work hard. People might talk about (Manchester) United, Liverpool, Tottenham or whatever but let them talk. We'll do our business in the background and hopefully come the end of the season it will give us a chance of being right up there."
Foxes boss Brendan Rodgers-who has previously worked at Stamford Bridge as a youth and reserve team coach-is reportedly one of Chelsea's potential targets should Lampard be dismissed.
AP/AFP