Trump leaves DC, vows to 'be back'
By AI HEPING in New York | chinadaily.com.cn | Updated: 2021-01-21 12:38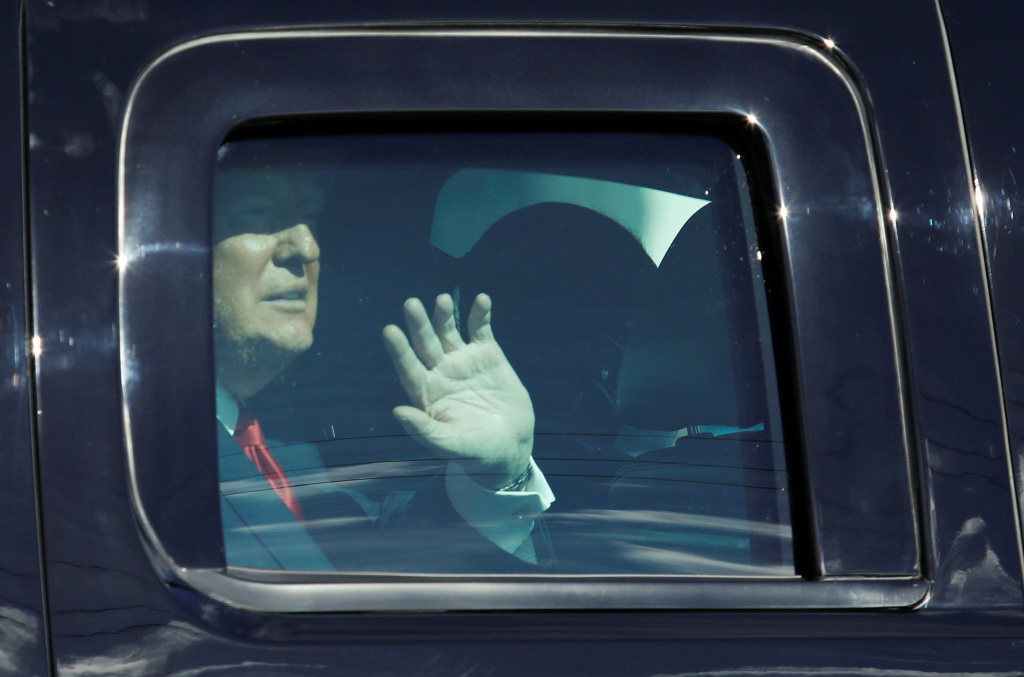 President Donald Trump left the White House on Wednesday morning for the final time as president and vowed to "be back in some form".
Shortly after 8:10 am, Trump walked out of the White House onto a red carpet, hand in hand with first lady Melania Trump.
He walked over to a group of reporters and told them the last four years have been "the honor of a lifetime". He then boarded the Marine One helicopter for the short flight to Joint Base Andrews in nearby Maryland, to board Air Force One for a flight to his residence in Florida — the Mar-a-Lago resort that he once dubbed the "Southern White House".
Trump was greeted at the airfield by a 21-gun salute, and a small crowd of supporters, including members of his staff and family.
Teleprompters had been set up on a stage, and a speech had been prepared for the president by aides who thought he should thank President-elect Joe Biden by name, but the teleprompters were removed before he arrived. He discarded the speech and he didn't mention Biden's name. He did thank Vice-President Mike Pence, who didn't attend the farewell event but attended Biden's inauguration.
He spoke without notes, telling the crowd, most not wearing masks, "We were not a regular administration," and asked them to "remember" all of his accomplishments. "We will be back in some form," he added.
"I will always fight for you. I will be watching; I will be listening. And I will tell you that the future of this country has never been better. I wish the new administration great luck and great success," he said.
"I hope they don't raise your taxes. If they do, I told you so," he said.
His last words before getting on the plane were, "Have a good life, we will see you soon."
With a recording playing Frank Sinatra's My Way, the 45th president and his family members took off on Air Force One for Florida, where he will reside.
The plane landed at Palm Beach International Airport around 11 am. There was no crowd to greet Trump and his family.
Trump, 74, plans to maintain a small staff of former White House officials in Florida and has begun talking to associates about raising money for his presidential library and discussed with advisers the possibility of delivering paid speeches, The Wall Street Journal reported.
Though he didn't attend the inauguration — the first outgoing president to skip the event in 152 years — Trump did follow a three-decade-long tradition of departing American leaders by leaving his successor a note in the Oval Office.
The tradition started in 1989 by departing president Ronald Reagan. Past presidents have left their notes in the ornate Resolute Desk in the Oval Office, where the new chief executives have found their good wishes immediately upon starting their four-year terms.
White House spokesman Judd Deere said that Trump had left a letter of between 45 and 46 words.
Biden later told reporters Wednesday afternoon from the Oval Office, "The president wrote a very generous letter. Because it was private, I won't talk about it until I talk to him. But it was generous."
Vice-President Mike Pence also left a note for his successor, Kamala Harris.
On his final night in the White House, Trump signed last-minute pardons and other clemency orders for 143 people, including Stephen Bannon, his former chief strategist, well-connected celebrities and nonviolent drug offenders. But he didn't pre-emptively pardon himself or his family.
The White House didn't announce the pardons until after midnight and then followed up with an order revoking the ethics rules Trump had imposed on his own former aides.
Polls indicate that Trump left office retaining strong support among rank-and-file Republicans, but he also left as the most unpopular president in the history of polling, according to Gallup polls, with a 41 percent job approval over four years in office, the lowest of any president in the last seven-plus decades.
Barack Obama averaged 47.9 percent job approval in his eight years, while George W. Bush averaged 49.4 percent.
Trump also is the first president to never break 50 percent job approval in any poll conducted by the Gallup organization over his term. The final Gallup poll pegged Trump's job approval at 34 percent.