Unemployment soars to 4-year high in UK
By JONATHAN POWELL in London | China Daily Global | Updated: 2021-01-27 09:33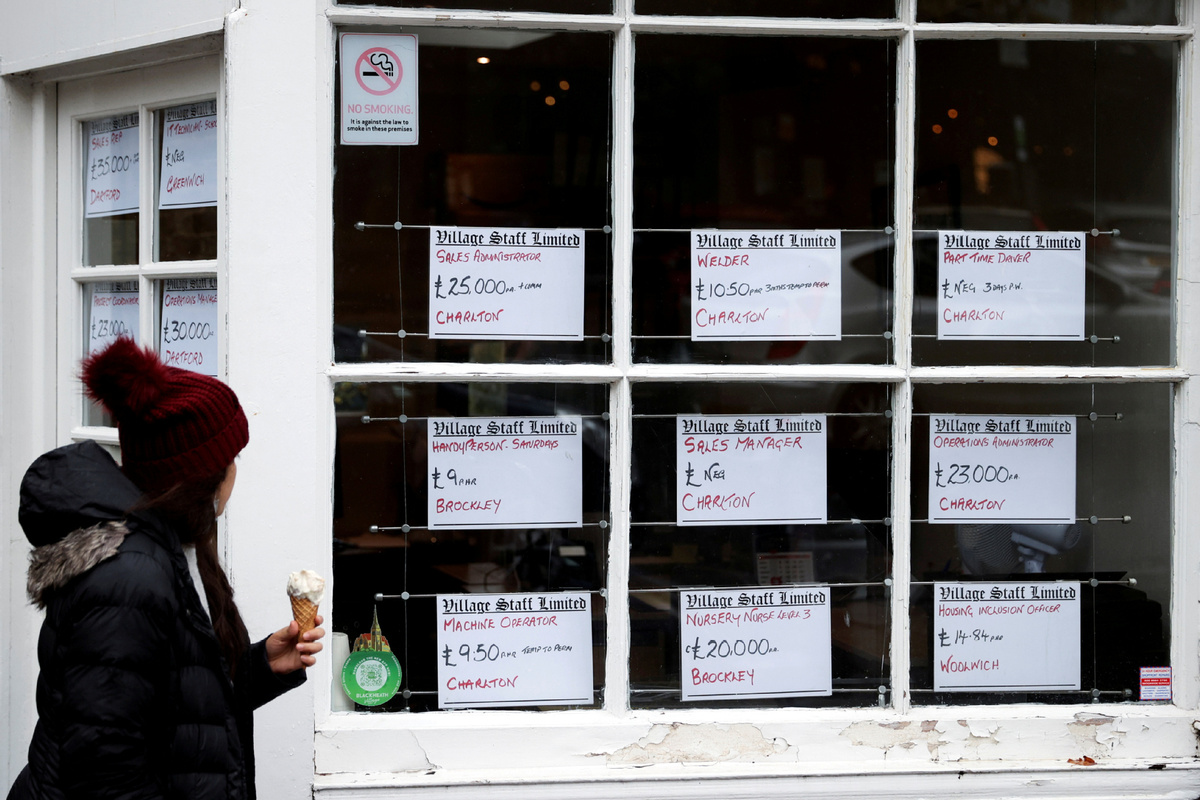 Business leaders call for govt support for sectors including hospitality, retail
The United Kingdom's unemployment rate soared to a four-year high of 5 percent, as the novel coronavirus continued to impact the economy, latest official figures showed on Tuesday.
According to the data from the Office for National Statistics, more than 200,000 people lost their jobs in the three months to November, and 828,000 fewer people were on company payrolls in December compared to the start of the pandemic in February.
The ONS said redundancies reached a record high of 14.2 per thousand between September and November, and the recovery in vacancies slowed between October and December.
An estimated 1.72 million people were unemployed from September to November, up 418,000 on the same period the previous year.
The core statistics were better than economists had predicted, and the ONS noted that the figures cover a period when strict restrictions were in place to curb the spread of the virus that included a four-week lockdown in November for England.
Business leaders have called on the government to extend support measures to save jobs, especially in the hospitality and retail sectors.
The Trades Union Congress, or TUC, noted that the two largest rises in unemployment last year occurred in months when business support programs were reduced or expected to end.
Quoted in The Guardian, the TUC's general secretary, Frances O'Grady, said: "When the government planned to withdraw support last autumn, despite restrictions still being in place, unemployment surged.
"We can't let that happen again. It's time to end the uncertainty and anxiety. The chancellor must urgently extend furlough support to the end of the year to keep jobs safe."
Sky News said that retail has been the worst affected sector to date, with new lockdowns forecast to prolong the gloomy jobs situation.
British newspapers reported on Monday that as many as 20,000 jobs are at risk from the collapse of the department store Debenhams and the Topshop fashion chain.
The online retailer Boohoo announced a deal to buy the Debenhams brand, and its rival Asos said it was poised to buy Topshop.
Chancellor of the Exchequer Rishi Sunak is understood to be considering an extension to the furlough program and other business support measures in his March budget.
In response to the ONS figures, Sunak said the government is "throwing everything we've got" at supporting businesses and families.
"This crisis has gone on far longer than any of us hoped - and every job lost as a result is a tragedy," he said.
"Our Plan for Jobs includes grants and loans so that firms can keep employees on, the furlough scheme to help protect jobs, and programs like Kickstart alongside record investment in skills so that people can find their first job, their next job, or a new job if needed."