Spring Festival takeout trade poised to take off
By LI YINGXUE | CHINA DAILY | Updated: 2021-01-29 07:52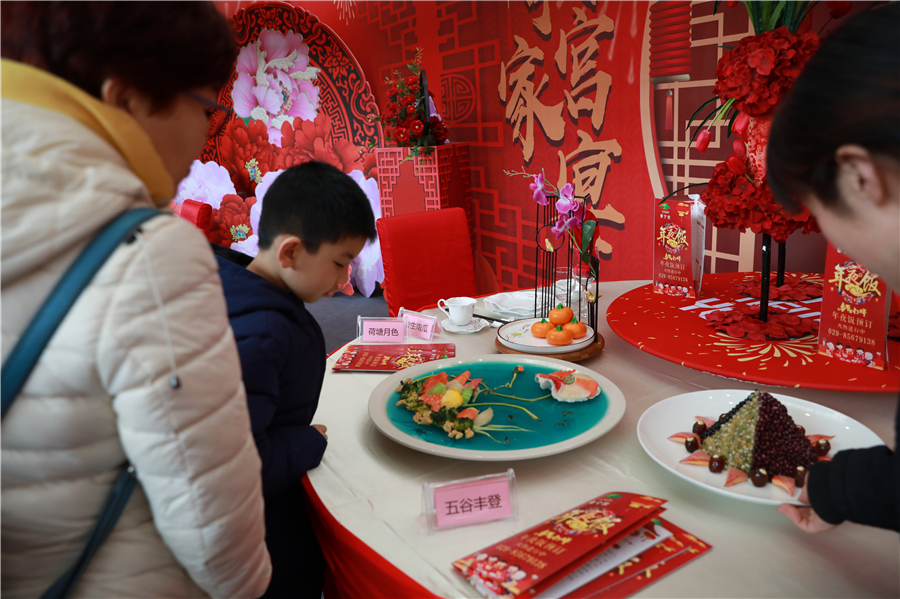 Coping with pandemic
The Nanjing Dapaidang restaurant chain usually offers a set Lunar New Year's Eve dinner for eight to 12 people, but marketing director Han Yan said that this year, set meals for two to four diners are being provided at a cost of 398 yuan ($61).
These meals, which feature duck, fish, chicken, prawns and vegetables, comprise four cold dishes, five hot ones, two staple foods and a fruit platter.
"The dishes in our restaurants are mostly served in small portions, so for our 398-yuan set we have included nine dishes with a variety of our signature menu offerings. This way, customers can sample more food for this special dinner," Han said.
"We are preparing Lunar New Year's Eve dinners in our 80 restaurants across China. Take Nanjing (capital of Jiangsu province) for example, where we have prepared 1,200 set dinners to ensure each of our dozen restaurants in the city can offer some 100 such meals," she said.
Han said the 398-yuan sets make up about one-third of the dinners the business has prepared for the eve of Spring Festival. The meals must be ordered two days in advance.
"As some people are still choosing where to spend Spring Festival, we are giving our customers more time to decide. They can opt to dine at our restaurants, collect meals themselves or have them delivered," she said.
Han feels that due to the pandemic, the chain's eateries have put more effort into online services. They have also changed their menus more often to meet customer demand, and upgraded takeout meals.
Nanjing Dapaidang has prepared special packaging for Spring Festival. "We have tested it to ensure it keeps food hot for at least an hour and a half," Han said.
She estimates that 80 percent of the company's 6,000 employees will work during the holiday.
"Our purchasing and kitchen staff members are ready for the busiest season of the year, and if delivery platforms are short of manpower, our employees are ready to join these teams," she said.
Han said a crisis plan has been drawn up in the event of a COVID-19 outbreak emerging in a particular area. If a community needs to be quarantined, Nanjing Dapaidang will collaborate with residents to ensure food is delivered.
The chain has also launched several gift boxes featuring semi-cooked dishes that only need to be reheated. These dishes include traditional Nanjing food such as boiled salted duck and preserved meat. Han said tens of thousands of the gift boxes have been sold.
"It's a special year for the catering industry, with most restaurants preparing to deliver food for Lunar New Year's Eve dinner. All we can do is prepare well and meet customers' needs," she said.
During the pandemic, the Meizhou Dongpo restaurant chain has launched semi-cooked takeout dishes and online vegetable stores. Both services have proved popular and have been upgraded for Spring Festival.
Zhou Miao, who is responsible for the chain's brand marketing, said six signature dishes were selected for takeout services, including Dongpo braised pork hock and spicy boiled blood curd.
"For these meals, we use a seal to avoid the soup spilling. The meals can also be heated directly on a stove in the bowl provided, so customers don't have to wash their own pots," Zhou said.
Vegetables can be ordered online from Meizhou Dongpo for delivery the next day. "For Beijing diners, we provide fresh local vegetables shipped from Sichuan province each day," Zhou said.
The chain is offering Lunar New Year's Eve takeout dinner sets ranging in price from 399 yuan to 1,899 yuan, together with an onsite chef.
Zhou said its restaurants nationwide would remain open during the holiday, providing breakfast, lunch and dinner.
For those eating alone on Lunar New Year's Eve, Japanese restaurant Nadaman in Beijing has launched a special Spring Festival hotpot set, which will be available throughout the holiday.
These sets, which cost 688 yuan, feature a bottle of sake, two types of sashimi and other hotpot ingredients such as prawns, salmon, beef, pork, chicken and a variety of vegetables.