EU must resist US pressure and prevent global divisions
Share - WeChat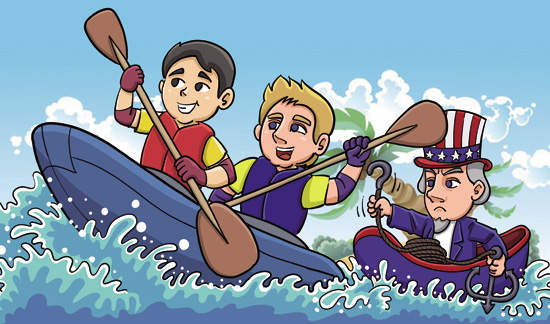 The report of the European Union's statistics agency Eurostat on Monday saying that China replaced the United States as the EU's largest trading partner in 2020 is another encouraging news following the conclusion of negotiations on the China-EU Comprehensive Agreement on Investment on Dec 30.
The Eurostat report reflects, once again, the huge potential for China-EU cooperation, which would further expand once both sides ratify the CAI. China and the EU should also start talks on a free trade agreement that would take their trade and economic relations to a new level.
The two sides have gained a great deal by deepening cooperation over the past decades. Their current priorities to strengthen the global fight against the COVID-19 pandemic and climate change, boost the global economic recovery, facilitate green development, promote digital revolution and maintain international peace mean they need to further strengthen their cooperation in order to produce even better results.
Besides, the Eurostat report is also a slap in the face of those advocating "decoupling" from China. It would be self-defeating for any business to go down that path.
The Eurostat report coincided with a Bloomberg report which said China overtook the US as the world's largest movie market in 2020. There will be many such reports-from total retail sales to nominal GDP growth-in the years ahead as China deepens reform and further opens up its economy through such efforts as inking the Regional Comprehensive Economic Partnership agreement in November and upgrading the FTA with New Zealand in January.
Another promising news came from Ministry of Commerce spokesman Gao Feng two weeks ago when he said that China is mulling the possibility of joining the Comprehensive and Progressive Agreement for Trans-Pacific Partnership.
These news reports have scotched rumors that China's "dual circulation" development paradigm is not conducive to further opening up the economy. That China will reverse its drive to deepen reform and opening-up, which has benefited the country more than anything else, is simply unthinkable.
The EU has taken the right decision to expand cooperation with China despite rising competitions in some fields. Also, the EU, unlike the previous United States administration, has sought dialogue to improve communication and narrow differences.
The strategic autonomy pursued by the EU leadership reflects its public opinion, as surveys have indicated. Leaders of major EU member states such as German Chancellor Angela Merkel and French President Emmanuel Macron have unequivocally refused to gang up with the US against China.
Such strategic autonomy has existed since France and Germany opposed the disastrous Iraq War in 2003. And many European countries overcame US pressure in 2015 to join the Asian Infrastructure Investment Bank.
However, that doesn't mean the new US administration will stop persuading and coercing the EU and its member states to toe its line.
Most Europeans are much more clear-eyed now, though. They are wary of a new Cold War, which some US politicians tried to trigger against China. They are scared of a possible return of Donald Trump to the White House in 2024 given that 75 percent of Republicans want Trump to play a prominent role in the Republican Party, according to Quinnipiac University poll released on Monday.
The new US administration is a departure from the Trump administration in many ways, but it has not moved as fast as expected to return to the Iran nuclear deal. It has not revoked, as promised, Trump's punitive tariffs and restrictive trade measures. And only time will tell if the so-called "extreme competition" with China is not a euphemism for Trump's sabotage policies.
US President Joe Biden will address the virtual Munich Security Conference on Friday and US Secretary of State Antony Blinken will hold talks with EU foreign ministers via video link on Monday. It is high time that the EU leaders made clear their total rejection of a divided world, not to mention a new Cold War.
The author is chief of China Daily EU Bureau based in Brussels.
chenweihua@chinadaily.com.cn
Most Viewed in 24 Hours
China Views