UK left with astronomical bills after Grenfell fire
By EARLE GALE in London | China Daily Global | Updated: 2021-02-22 09:16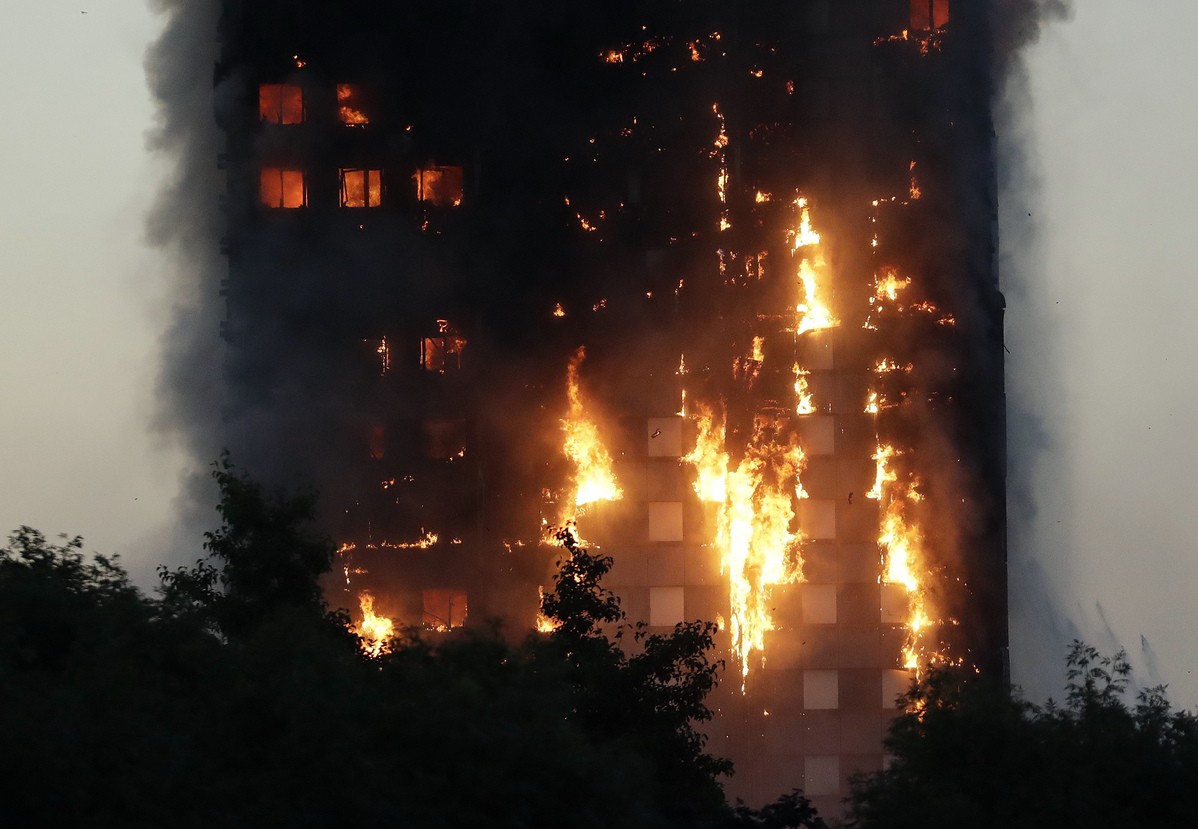 When the 24-floor Grenfell Tower apartment building in the affluent West London neighborhood of North Kensington was engulfed in flames with the loss of 72 lives in June 2017, millions of shocked Britons were united in their disbelief that such a thing could happen on their doorstep, and in their certainty that it would never happen again.
Many remarked, after seeing the television footage, on the speed at which the fire raced up the outside of the building and how the flames seemed to be fueled by the cladding.
People assumed cladding had to be fire-retardant. They thought the United Kingdom authorities would conclude almost instantaneously that the cladding on Grenfell Tower was either illegal or defective.
But, more than 3.5 years after an inquiry was set up to find out what happened to the 127 flats in the building that fateful night and what needs to change, it still grinds on.
Retired judge Martin Moore-Bick, who was asked to establish the facts of what happened at Grenfell Tower in order to take the necessary action to prevent a similar tragedy from happening again has, however, published 46 recommendations so far, including one that calls for a new law requiring owners and managers of high-rise residential buildings to provide their local fire and rescue service with information about external wall materials and building plans.
The inquiry has also suggested fire departments to be called upon to inspect high-rise buildings, and that crews to be trained to carry out thorough risk evaluations.
Many people, especially those living in high-rise buildings that have similar cladding to Grenfell Tower, must have felt the conclusions were a long time coming.
Finally, the British government announced that it will set aside 3.5 billion pounds ($4.9 billion) to pay for the removal of unsafe cladding from medium-rise residential buildings, funds that complement the 1.6 billion pounds it has already set aside for similar work on high-rises.
Robert Jenrick, the UK's housing secretary, said the money will come in part from new taxes to be collected from developers.
But people living in the UK's estimated 80,000 medium-rise apartment buildings, which are described as those between 11 meters and 18 meters tall, will only be offered loans, not grants, to pay for their work.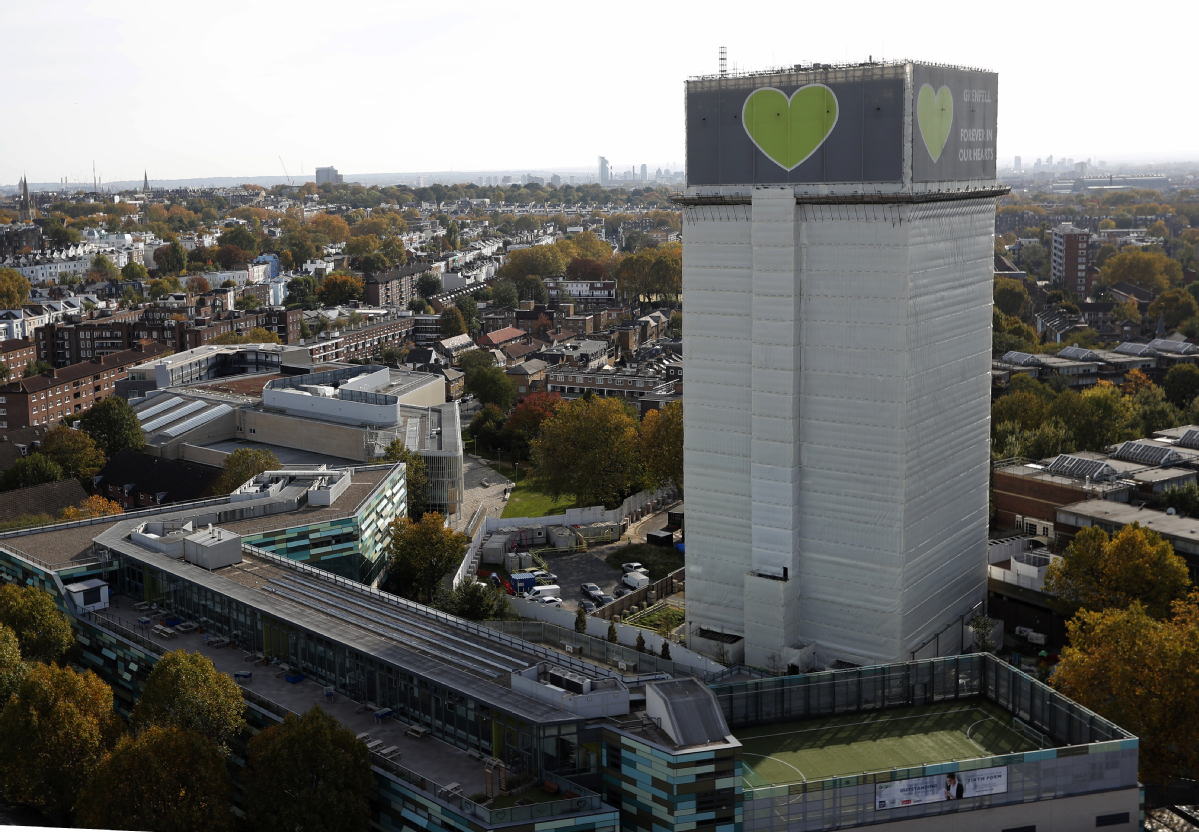 Jenrick said in the House of Commons that the cost to the government to fund the removal of all dangerous cladding from both high-rise buildings and medium-rise buildings-which lawmakers have heard would likely be around 15 billion pounds-was prohibitive and that loans for people in medium-rise buildings, which he said are at a "significantly lower" risk, was the only way forward.
"This is a comprehensive plan to remove unsafe cladding, support leaseholders, restore confidence to this part of the housing market and ensure this situation never arises again," he said. "These measures will provide certainty to residents and lenders, boosting the housing market, reinstating the value of properties and getting buying and selling homes back on track."
But the fact that people living in medium-rise buildings will ultimately have to foot the bill for the removal of potentially life-threatening cladding has drawn a barrage of criticism.
Dominic Agace, chief executive of realtor Winkworth, told The Times: "A loan scheme will mean that these homeowners will be shackled with another financial burden, which could make it extremely difficult to sell the property."
Shocking incompetence
Conservative Party member of Parliament Stephen McPartland said the government had simply betrayed apartment owners.
"I am listening to Robert Jenrick's announcement with my head in my hands wondering how he can have got this so wrong," McPartland said. "It is a betrayal of millions of leaseholders. It is not good enough. It is shocking incompetence. It is clear the prime minister has to step in now."
However, the UK Finance and the Building Societies Association said the fact that the government has put some money on the table is likely enough to ensure around 700,000 people who had been stuck in potentially unsafe buildings now at least have the chance to make their homes safe for themselves, or safe enough to be able to find a buyer and move on.
The Sunday Times' Hidden Housing Campaign said it believes around 3 million people in the UK may have been unable to sell their homes because of construction faults highlighted in the Grenfell Tower inquiry, which extend beyond cladding alone.
It notes that banks have not been issuing mortgages to apartment owners who have been unable to obtain proof that their homes meet tightened fire safety guidance.
The paper also said that many apartment owners have installed expensive fire alarm systems and forced to pay far higher insurance premiums while waiting to be able to afford to make their buildings safe.
Sebastian O'Kelly of the Leasehold Knowledge Partnership told the Evening Standard the government's contribution to the cost of removing dangerous cladding is insufficient.
"Leaseholders are learning their service charges are going to rocket now and some people are not going to be able to afford them," he said. "Housebuilders should pay considerably more ... because they are responsible and why should taxpayers bail them out?"
The BBC said campaigners have dubbed the government's promise to help pay for the removal of dangerous cladding "too little, too late" and noted that the Grenfell United campaign group, which lobbies for safer buildings, has said it feels let down.
"Residents living in unsafe homes will go to bed tonight worrying if their building will qualify or be left out once again," said the group in a statement. "And bereaved and survivors of Grenfell will lay awake fearful that what happened to us could still happen again."