Britain's job market shows recovery
By JONATHAN POWELL in London | China Daily Global | Updated: 2021-02-23 09:45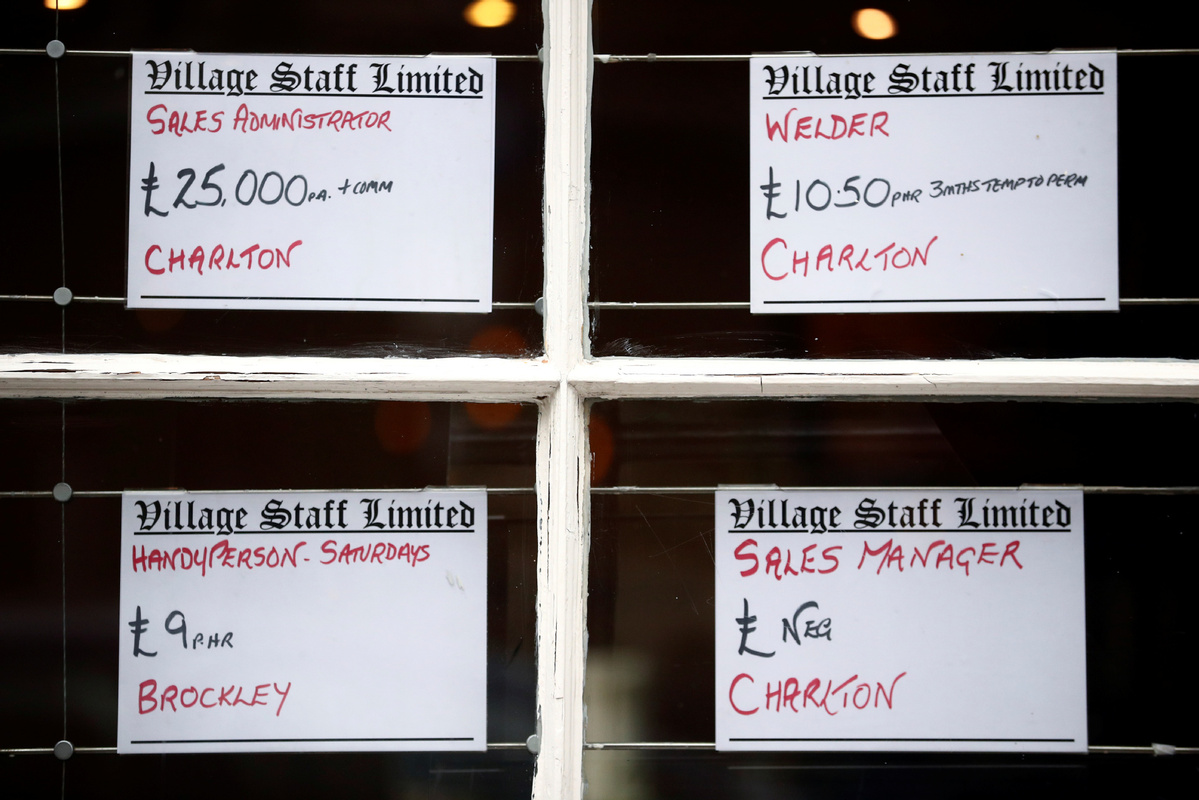 New figures indicate the United Kingdom labor market is close to showing growth, as employers reported their strongest recruitment intentions since the onset of the COVID-19 pandemic, according to latest research.
Of the 2,000 employers surveyed, 56 percent indicated they are looking to recruit in the first quarter of 2021, up from 53 percent in the previous quarter and 49 percent six months ago.
Sectors with the strongest hiring intentions include healthcare (80 percent), finance and insurance (65 percent), education (65 percent) and information and communications (67 percent).
But industries most affected by social distancing measures show less optimism. In the hospitality sector, which has stagnated for a year, just 36 percent of companies intend to recruit.
The annual survey is carried out by the Chartered Institute of Personnel and Development, or CIPD, with recruitment company Adecco.
Its net employment intentions figure, which measures the difference between the proportion of employers expecting to add jobs and those planning to cut positions, rose to +11 for the first three months of 2021, its highest in a year. This compares to-1 in the previous quarter. "These are the first signs of positive employment prospects that we've seen in a year," said Gerwyn Davies, from the CIPD.
"Our findings suggest that unemployment may be close to peak and may even undershoot official forecasts, especially given the reported fall in the supply of overseas workers," he added.
The number of organizations saying they are planning redundancies dropped from 30 percent to 20 percent compared with the last quarter. Of the companies surveyed in the hospitality sector, 27 percent indicated they are prepared to reduce their headcount further in the first quarter.
A statement from the CIPD, said: "Employer confidence may be increasing due to a combination of factors, including the Brexit free trade agreement, the extension of the Coronavirus Job Retention Scheme to the end of April and the anticipation of economic recovery later this year."
The government's furlough program has slowed down the number of redundancies, but it is due to end on April 31. British media have reported that Chancellor of the Exchequer Rishi Sunak is considering extending the program to the summer.
The CIPD said that it is "urging the government to extend the Coronavirus Job Retention Scheme until at least the end of June" to help support sectors most affected by the restrictions.
Figures from the Office for National Statistics, or ONS, show UK companies had 819,000 fewer workers on their payrolls in November than at the beginning of the pandemic.
BBC News noted that the most recent unemployment rate, for September to November, was 5 percent, according to the ONS. It said this represents an increase of 0.6 percent during the previous three months, and means that 1.72 million people were unemployed.