How Texas freeze went from novelty to tragedy
By MAY ZHOU in Houston | China Daily Global | Updated: 2021-02-23 10:59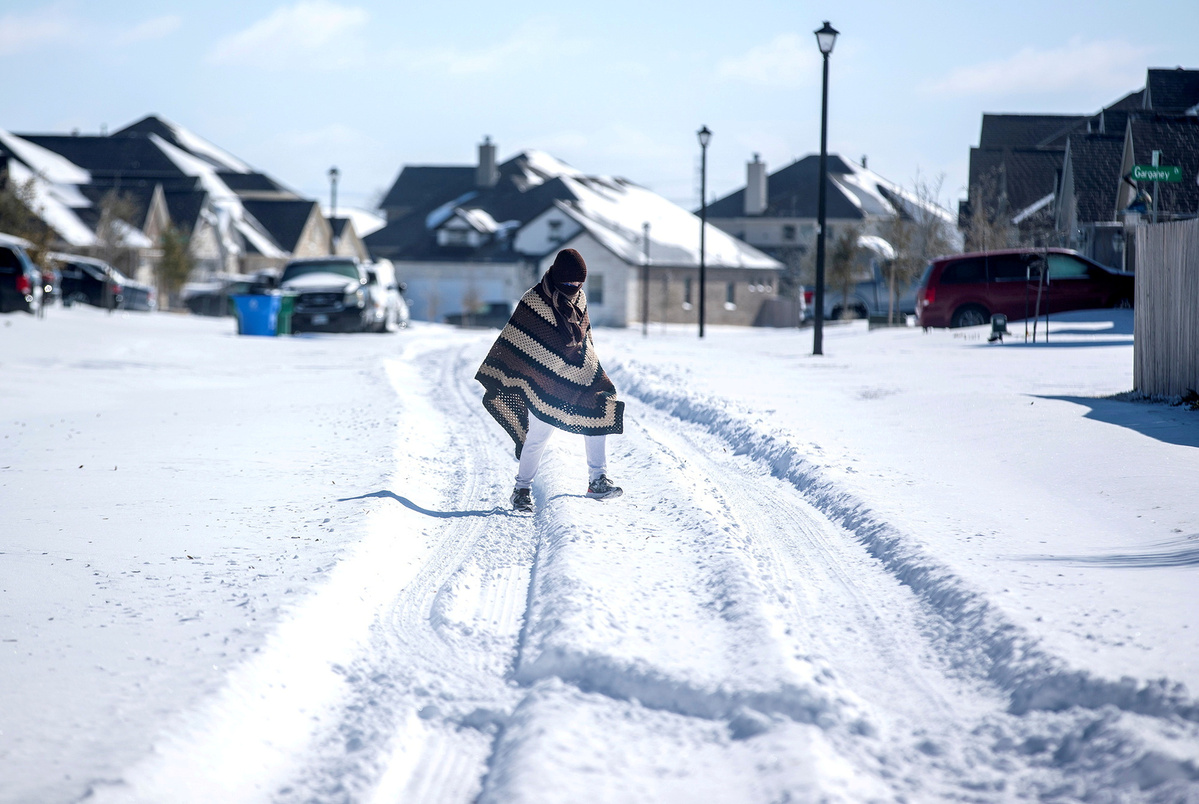 I opened my eyes on the morning of Monday, Feb 15, to a beautiful snow-covered world, a sight I had never before seen in my 30 years living in Houston.
On social media, most of my Texas friends were sharing snow photos and having a ball. Children were making angels in the snow and a snowman. "We are so happy!" one of them declared.
Little did we or the rest of the state know what was happening. A couple of friends said they were out of power. One said he was showing off his generator and Boy Scout skills. But I wasn't alarmed, not at that point.
After making the first snow footprints in our street and admiring spring flowers half covered in snow, I turned my focus to my work.
But more and more news about power outages was pouring in as the day went by. The situation seemed more dire than during any previous natural disasters I have experienced, including the 2017 Hurricane Harvey, which dumped more than 60 inches of water on us.
I was confident our house would continue to have power because none of the previous disastrous hurricanes had ever left our neighborhood in the dark.
Tuesday morning dawned with below-freezing temperatures just like Monday. But there were reports of more power outages, the widespread bursting of frozen water pipes, and a mother and daughter dying from carbon monoxide poisoning after running a car in a garage for warmth.
Many social media posts from my friends in the state were about a "romantic fireplace time" and a "cozy candlelight dinner". Then there were photos of empty shelves in supermarkets, and people seeking refuge in a hotel not finding a vacancy. One person asked: "Am I living in the United States?"
The road in front of our house was still icy, and we couldn't go out. Sirens seemed to scream constantly. I then learned that the Lone Star State has one of the country's three power grids, but it's ours alone, and no one could provide help from other states. I began to see a power outage at home as s possibility.
The water pressure began to drop Tuesday afternoon on Feb 16, but little else happened as I worked from home. But then around 10:30 pm, our house went dark. Other than far-off sirens, there was an unfamiliar quiet. We added extra blankets.
On Wednesday, I woke up to water pressure being reduced to dripping and had to forgo a shower. We put a few plastic boxes under a patio eave to catch the water from the slowly melting snow and sliding ice blocks, the runoff that was used to flush the toilet. Though we had no power, my cell phone was still charged.
As a family fond of camping, we have some outdoor gear. My husband boiled water on a portable gas stove and made me a cup of coffee.
The ice finally melted in front of our street, and I ventured out for lunch. Traffic lights were out, and what traffic there was, was chaotic. Almost all restaurants were closed. When I finally saw one open, the long line outside and the cold made me change my mind. I gave up.
I tried a shopping center and found most stores closed. Target was open but there was also a line.
I told myself that maybe I will just get some gasoline for our generator in case the power is out for days. However, the gas station was so jammed with other cars that I couldn't get in; I went home empty-handed. We boiled water and made instant ramen noodles for lunch.
I checked the news periodically and knew that we were in a relatively good place compared with what others were experiencing.
Power came back at dusk; we had been without power for 20 hours.
But we were lucky — no burst pipes because we had wrapped all of them, including those in the attic, and because we had some power until the coldest days had passed.
The toll of the natural disaster so far has been an estimated 30 dead, with more than 4 million people without electrical power at one point.
The temperature hit 74 degrees Fahrenheit here on Monday and was forecast to be in the 40s and 50s at night. Those snow angels and that snowman are long gone, but what remains are thousands of people dealing with broken pipes and flooded homes. All can be fixed. The loss of lives cannot be.