Could China's power grid withstand a Texas-sized disaster?
By Ma Chi | chinadaily.com.cn | Updated: 2021-03-01 17:22
A severe winter storm recently caused massive blackouts in the US state of Texas, leaving millions in freezing temperatures and darkness for days and claiming more than 30 lives.
That led to some netizens in China wondering "If similar extreme weather hit China, would the same tragedy happen?"
The answer is probably "no", as China's power supply system has several advantages.
Texas has an almost completely isolated grid system – power from other states accounts for only 1.7 percent of its maximum capacity. As a whole, the United States doesn't have a national grid system and lacks coordination among states.
In comparison, China has a national grid system, which is composed of six regional systems. Except the northwestern region, which has a 750-kilovolt backbone power network, the other five regions all have 500-kV networks, with networks in the North China and East China boasting 1000-kV ultra-high voltage power transmission lines.
When Texas was hit by the blackout, residents had to wait for electric grid operators to increase power generation. To their disappointment, they only saw spikes in their electricity bills.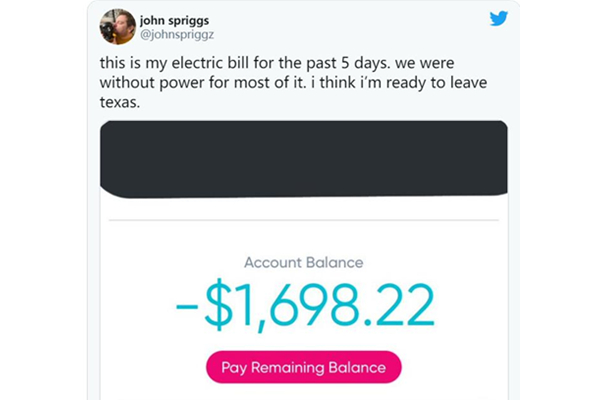 By comparison, China has maintained a stable and affordable electricity price for residents for years – around 0.5 yuan (8 cents) per kilowatt-hour.
The country also boasts an energy industrial internet platform, which ensures security of the energy system.
By the end of 2020, the platform has connected more than 3,000 power plants or stations, covering all State-owned power enterprises above the designated size as well as five major energy sources – wind, solar, hydro, thermal and nuclear power.
China now ranks top in the world both in terms of power generation and installed power capacity. Its power supply reliability rate is 99.84 percent.
China has also adopted smart technologies that can ensure smooth power supply.
The first "Source-Grid-Load Smart Grid" has been in operation in the eastern province of Jiangsu since 2017.
The smart grid uses intelligent technology to coordinate plants' power generation as well as users' power consumption in order to achieve a dynamic equilibrium.
The system can connect a large number of scattered power supply channels and equipment, which can all be controlled separately.